Like the cold lemon cake, this tiger nut milk cake is an ideal option to enjoy a delicious and refreshing dessert on the warmest days of the year.
It is a sweet and fresh cake with an authentic summer flavor and a smooth and creamy texture. Moreover, it is prepared without oven.
It is a dessert that perfectly combines some of the most irresistible specials of the summer: tiger nut horchata and cold cake (with its crunchy biscuit base included); uniting the best of both worlds thus.
A plus to give this cake a colorful and eye-catching touch is to serve it with a little cinnamon sprinkled on top. In this way we will create an exquisite contrast.
On the other hand, being made with horchata , it allows us to benefit from its fantastic properties, such as its fiber content, omega 9 oleic acid, amino acids , vitamins E and C , calcium , phosphorus , iron , magnesium , potassium and zinc
Below you can see what ingredients you need and the steps to follow to be able to make one of the queen cakes of summer in its most delicate version.
| | | |
| --- | --- | --- |
| Difficulty level | Preparation time | Rations |
| Half | 1 h. | For 10 servings |
* Plus 8 hours of refrigeration
Ingredients for the base
250 gr. organic vegan cookies
100 gr. non-hydrogenated margarine (melted)
Ingredients filling
90 ml. aquafaba
9 gr. agar-agar (powdered)
ground cinnamon
Instructions
Crush the cookies and mix them with the margarine until obtaining a dough. Then put it in a removable mold and put it in the freezer while making the filling of the cake.
In a bowl, whisk the aquafaba with the electric rods until it will stand in soft peaks. When it is stiff, put it in the refrigerator.
In another bowl, add the whipping cream and whip it with the electric rods until a firm consistency is obtained. When the cream is whipped, put it in the fridge too.
Separate ⅕ of the total horchata, add the agar-agar and stir until it has been completely diluted. Set aside.
Put the rest of the horchata in a saucepan, heat it over medium heat and, when it is hot (not boiling), add the mixture of horchata and agar-agar that has been prepared and stir continuously. When the mixture begins to thicken, leave it for 1 minute and then remove from the heat.
Let the mixture rest for a couple of minutes and, after this time, add the aquafaba and stir carefully.
Next, add the whipped cream and mix with enveloping movements so that it does not come apart.
When everything is mixed, remove from the freezer the mold where the base of the cake is and fill it with the dough. Next, protect it by covering it with a lid and place it in the fridge for a minimum of 8 hours so that it acquires a good consistency. After this time, unmold and serve with a little cinnamon sprinkled on the surface of the cake.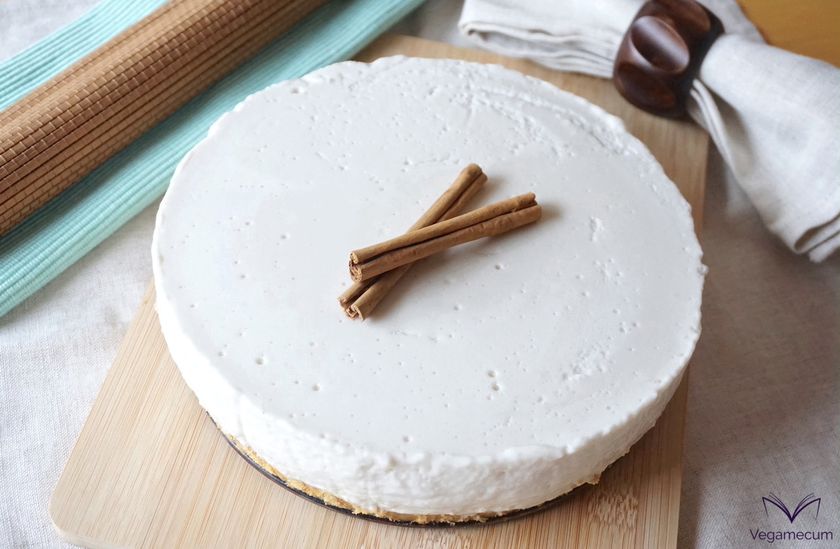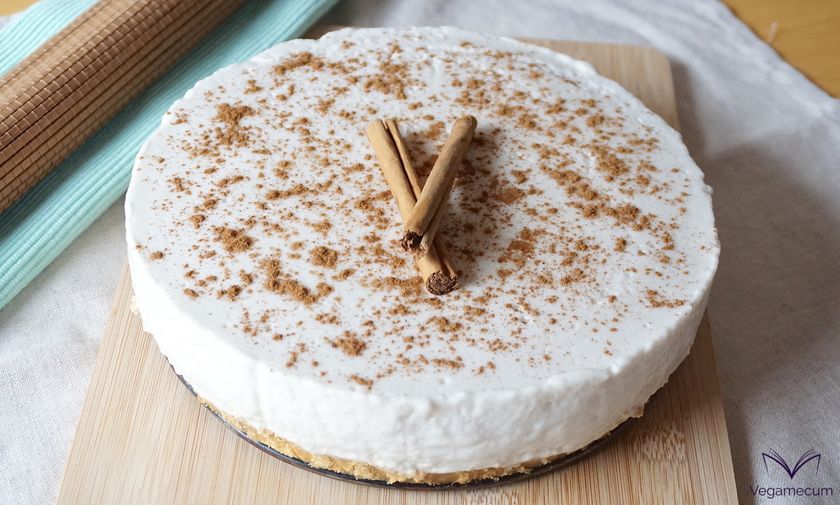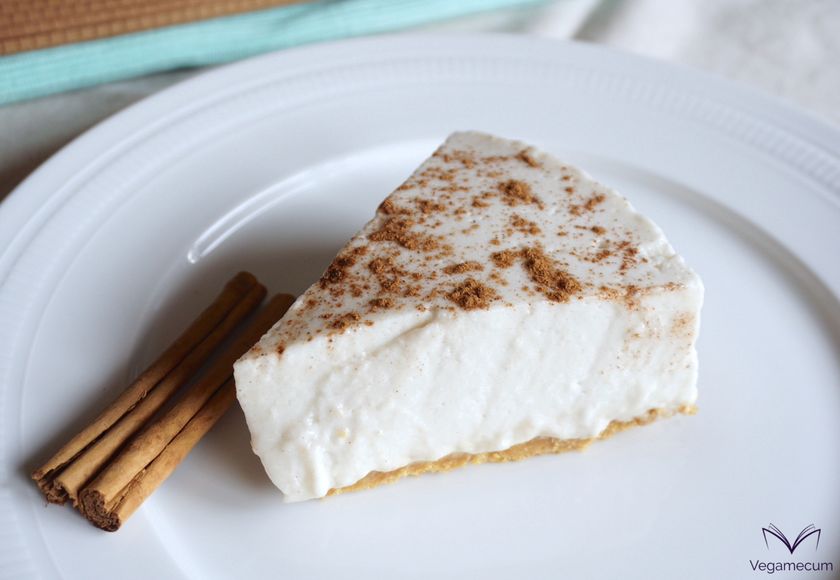 Notes
We recommend that you make sure that the cookies do not contain, in addition to ingredients of animal origin, palm oil.
When choosing margarine, make sure that it is not hydrogenated and that it does not contain palm oil among its ingredients or any component of animal origin (eg: gelatin or whey).
If you use tiger nut horchata already prepared, make sure that it does not contain ingredients of animal origin.
Aquafaba is the liquid obtained from cooking legumes, especially chickpeas. You can use both the one obtained from cooking them, and the one found in jars of already cooked vegetables, although in the latter case, it is better to make sure that it does not contain more than water and salt. Aquafaba does not leave any flavor and provides texture.
To make this cake we have used a 22 cm diameter mold.
Although after 8 hours in the refrigerator, the cake will be ready to eat, the ideal is that, once finished, it stays refrigerated for 12 hours so that it has an optimal consistency.
If you have any questions, you can leave it to us in the comments. And if you dare and want to show your creations to the world, do not hesitate to label us, we will love to see them through the networks!
Do you join us on social networks? You will find us on Facebook, Twitter, Instagram and Pinterest!