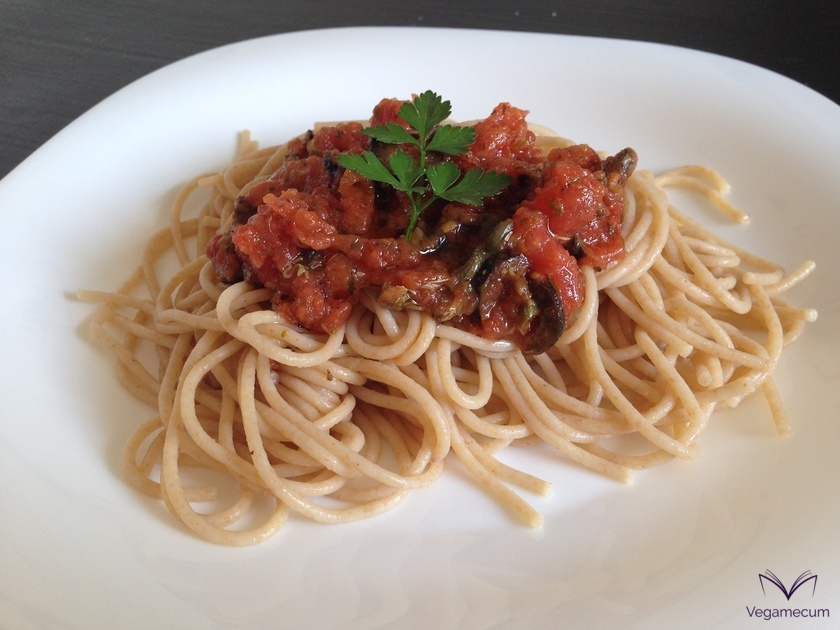 This recipe is one of the quickest to make that exist, since it consists of a pasta dish with a sauce that, as you know those who know it, is very easy to make, and in turn is full of nuances thanks to the mixture of its ingredients, which provide different touches of flavor: from the salty, to the spicy, through the sweet and acid.
In this dish we find carbohydrates that provide us with energy to replace the wear that the normal functioning of our body causes and to recover from overexertion, fiber to slow down the absorption of these carbohydrates and reduce the rise in blood glucose and the insulin response, lycopene (related to the prevention of some types of cancer), heart-healthy unsaturated fatty acids , vitamins A , B2 , B9 (folic acid), C and E , and minerals such as potassium , calcium , iron , zinc , magnesium and sodium .
As you will see, this recipe dispenses with anchovies, which makes it healthier and smoother without implying that it is less delicious.
Below you can see what ingredients you need and what steps you have to follow in order to enjoy a delicious dish of pasta a la puttanesca.
| | | |
| --- | --- | --- |
| Difficulty level | Preparation time | Rations |
| Easy | 30 m. | For 2 people |
Ingredients
250 gr. of whole spaghetti
1/2 kg. of ripe tomato
2 cloves of garlic
3 tablespoons of extra virgin olive oil
10 black olive
1 spoonful of caper
1 spoonful of oregano
1 teaspoon dried basil
1/2 teaspoon pepper
1 bay leaf
1 pinch of salt
1 teaspoon whole cane sugar
1 cayenne chilli (dry)
Instructions
In a pan, put water to heat with a few drops of oil, a bay leaf and salt. When it breaks to boil, we toss the pasta and let it cook for the specified minutes in the container.
While the pasta is cooking, heat the 3 tablespoons of oil in a pan. When it is tempered, we toss the garlic cut into slices and let them brown a little. Then we add the washed tomatoes, peeled and without seeds and cut into small pieces; all the spices, salt and sugar, and let them cool over medium heat until the tomatoes are done.
Next, we toss the pitted olives into pieces, the capers minced, and the cayena pepper open and without pips. Mix with the tomatoes and let 5 minutes with the fire to the minimum so that all the ingredients are mixed well.
Finally, when the pasta is cooked, we pass it through cold water, drain it and mix it with the sauce.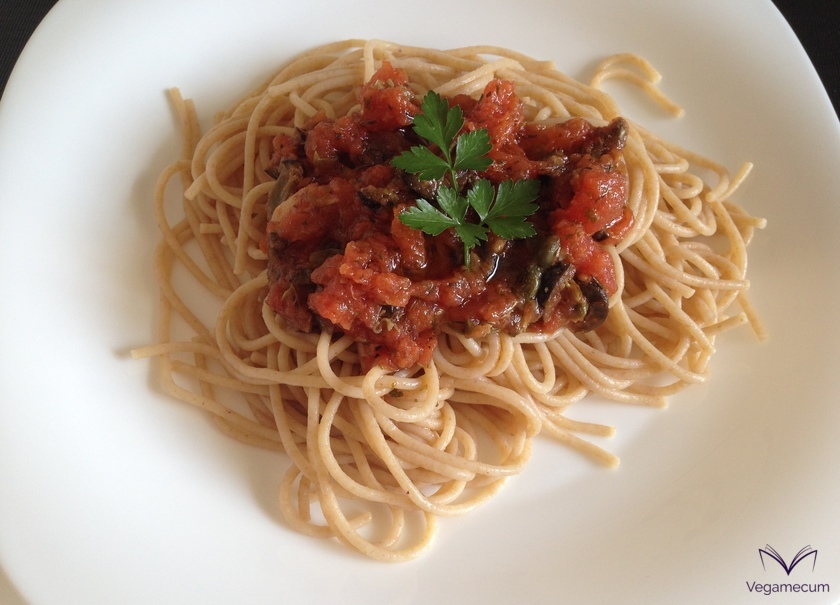 Notes
We recommend using pear tomatoes because they have a lower degree of acidity, but you can also substitute them with a 1/2 kg jar of whole tomatoes.
When buying whole wheat pasta, make sure that it is made with whole wheat flour, not with durum wheat semolina and bran, since in refinement the cereal loses its nutrients and all that remains is the fiber of the added bran.
In the event that you miss a saltier flavor like the one that the anchovies bring to the traditional recipe, you can add a tablespoon of Mugi miso sauce after adding the rest of the ingredients, stirring so that it dissolves in the sauce, but without bring it to a boil.
The smaller the type of pasta (macaroni, spirals, bows ...), the better it will mix with the sauce and the greater prominence it will have.
If you have any questions, you can leave it to us in the comments. And if you dare and want to show your creations to the world, do not hesitate to label us, we will love to see them through the networks!
Do you join us on social networks? You will find us on Facebook, Twitter, Instagram and Pinterest!