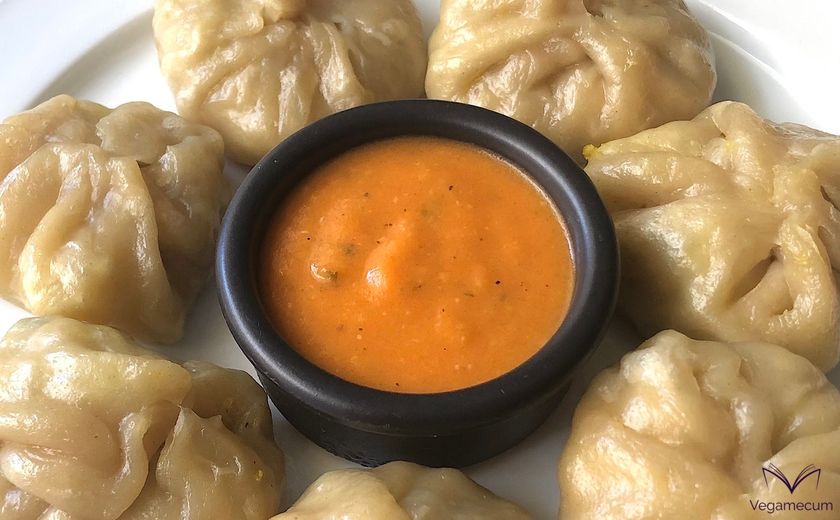 This spicy tomato sauce is the ideal accompaniment for countless dishes, such as preparations based on seitan, soy or textured peas, empanadas and dumplings, and especially those with Asian notes such as the irresistible momos.
The ingredients that make it up make this sauce provide lycopene ( antioxidant ), glutathione ( antioxidant ), amino acids, omega 9 fatty acids, alliin , flavonoids , curcumin , fiber , terpenoids ( antioxidants ), beta- carotene , beta-cryptoxanthin (precursor of vitamin A ), vitamins C , E , K and group B ( B1 , B2 , B3 and B6 ); calcium , cobalt , chromium , phosphorus , iron , magnesium , manganese , potassium , selenium , silicon , sodium , and zinc .

Below you can see what ingredients you need and the steps to follow to make a different tomato sauce with an explosive flavor and full of delicious notes.
| | | |
| --- | --- | --- |
| Difficulty level | Preparation time | Rations |
| Easy | 20 m. | For 300 milliliters |
Ingredients
4 tomatoes
1/4 teaspoon cayenne pepper (ground)
2 garlic cloves (large)
1 tablespoon fresh ginger (minced)
2 tablespoons extra virgin olive oil (Smooth flavor)
1/4 teaspoon salt
1/2 teaspoon pepper (ground)
1 teaspoon coriander (minced)
1/2 teaspoon cumin (ground)
Instructions
Mince the garlic and set aside.
Wash and cut the tomato into cubes and set aside as well.
Heat the oil in a pan and, when it is lukewarm, add the garlic and ginger, lower the heat and stir for a couple of minutes so that it does not burn.
Then add the tomato, cayenne pepper, salt, black pepper and cumin and cook for 10 minutes over low heat. When the tomato is cooked, remove from the heat.
Transfer the mixture to the blender glass, add the chopped cilantro and blend until obtaining a smooth sauce. Once the sauce is ready, serve it together with the dishes that you want to accompany with it.
If you have any questions, you can leave it to us in the comments. And if you dare and want to show your creations to the world, do not hesitate to label us, we will love to see them through the networks!
Do you join us on social networks? You will find us on Facebook, Twitter, Instagram and Pinterest!