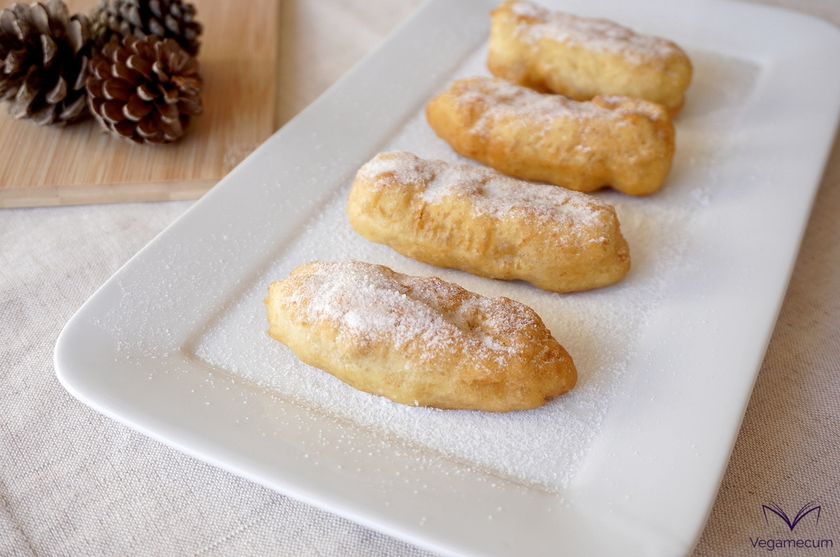 This is a very simple and easy-to-make traditional recipe that is prepared to celebrate All Saints' Day, although as often happens with 'pan sweets', it is also typical of Holy Week, especially in Seville (Spain).
This typical sweet of Spanish gastronomy is especially popular in Andalusia, Extremadura, Salamanca, Guadalajara and Madrid, places where patisseries begin to fill their shop windows with these striking "bones" at the beginning of autumn.
With this recipe free of ingredients of animal origin we get a cruelty free and a little healthier version of this delicious sweet, also great to take as a dessert or snack.
Below you can see what ingredients you need and the steps to follow to enjoy All Saints' Day with an exquisite and not cloying dessert, without any hassle or investing too much time.
| | | |
| --- | --- | --- |
| Difficulty level | Preparation time | Rations |
| Easy | 1 h. | For 19 units |
Plus 30 minutes of rest
Ingredients
250 gr. wheat flour
1 tablespoon baking powder
2 tablespoons flax seeds (ground)
290 ml. water
2 tablespoons whole cane sugar
2 tablespoons extra virgin olive oil
2 tablespoons aniseeds
300 ml. extra virgin olive oil (mild flavor) (for frying)
4 tablespoons icing sugar
Instructions
Warm 90 ml. water, mix it in a bowl with the ground flax seeds and let it hydrate for 10 minutes.
Put to heat the rest of the water with the aniseeds in a saucepan and, when it starts to boil, let it cook over medium-low heat for 10 minutes, until it halves. After this time, remove from the heat, strain the aniseeds and let it temper.
In a bowl, add the oil, the sugar, the baking powder, the mixture of flax and water, the water where the aniseeds have been boiled and mix everything with some rods until obtaining a mixture without lumps.
Next, add the flour little by little and knead. When all the flour is added, transfer the mixture to a clean flat surface and continue kneading until obtaining a smooth dough. Next, form a ball, put it inside the bowl, cover it with a clean cloth and let the dough rest for 30 minutes.
After this time, put a little oil on the work surface, anoint your hands with a little oil and take small portions of dough and shape them into a finger about 2 cm thick by 7 cm long.
When all the "fingers" are formed, make a longitudinal cut, not very deep, in each one of them with the help of a knife and set aside.
Put to heat the oil in a deep frying pan over medium heat and, when it is hot (without smoking), add the bones in batches, with cut side down, and let them brown. When they are golden on the cut side, turn them over and let them brown on the other side. When they are golden brown on both sides, put them in a colander or drainer to release the excess oil.
When the bones have expelled the excess oil, transfer them to a plate, sprinkle a little icing sugar on top and serve.
Notes
If you don't have icing sugar on hand, you can make it using a mixture of 95% sugar - 5% cornstarch, and grinding this in a coffee grinder. In this way you can make icing sugar using whole cane sugar or panela.
It is very important to strain the aniseeds just after removing from the heat, since if not, the aniseeds will absorb the water and the remaining water may be insufficient.
It is very important to strain the anise grains just after turning off the heat, otherwise the anise will absorb the water and what remains may be insufficient.
It is advisable not to add many "bones" when frying each batch so that they do not stick together and can be manipulated and turned over without problem.
So that the sugar is dusted evenly, you can sift it with the help of a strainer.
If you have any questions, you can leave it to us in the comments. And if you dare and want to show your creations to the world, do not hesitate to label us, we will love to see them through the networks!
Do you join us on social networks? You will find us on Facebook, Twitter, Instagram and Pinterest!