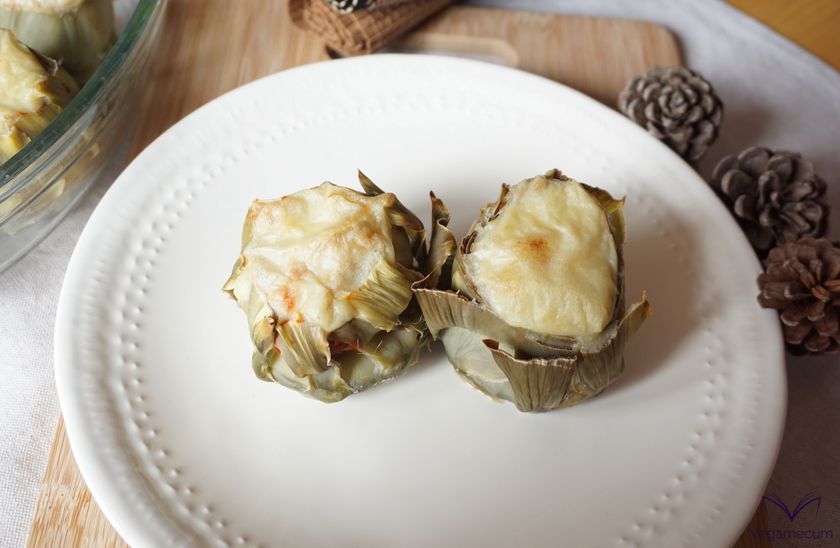 This recipe translates into an exquisite combination of accents by mixing the subtle notes of the artichoke with the intense flavor of the vegetable sobrassada and the creamy mouthfeel of the potato cheese.
It is an ideal dish to comfort the body and mind during the coldest months of the year, since it allows to nourish, pamper and warm the body with a food with a rustic, lively and delicious flavor.
The smoky accents of the sobrasada and the creaminess of the cheese make this dish a true delicacy, which is why this recipe is an ideal way to eat artichokes and benefit from all their nutritional properties while enjoying an authentic explosion of flavors in the mouth where the delicious creamy potato cheese gratin provides the most special touch.
A curious fact about artichokes is that, among other things, they are rich in cynarin, a substance that inhibits taste receptors, making that when we eat certain foods after eating artichokes, and especially when we drink water, they taste sweet.
Thanks to the richness of the ingredients with which it is made, this recipe is rich in protein, fiber, flavonoids, antioxidants such as cynarin, caffeic acid, ferulic acid and terpenoids; lycopene, carbohydrates, essential fatty acids omega 3, omega 6 and omega 9; vitamins A, C, K and group B (B1, B2, B3, B5, B6 and B9 or folic acid); calcium, copper, chromium, iron, phosphorus, lithium, magnesium, manganese, molybdenum, potassium, sodium, vanadium, and zinc.
Below you can see what ingredients you need and the steps to follow in order to make delicious, different and cruelty-free stuffed artichokes.
| | | |
| --- | --- | --- |
| Difficulty level | Preparation time | Rations |
| Easy | 1 h. | For 8 units |
default
2kg artichoke
1 tablespoon of salt
1/2 lemon juice
extra virgin olive oil
Instructions
Remove the toughest leaves from the artichokes and cut off the tips and stem a little so that they can stand up straight. Then put them in a pot with the water, salt and lemon juice and cook them for 15 minutes to soften. After this time, put them in a strainer to release all the water.
Preheat the oven to 185ºC and, meanwhile, grease a baking dish with a little oil, place the well-drained artichokes on it and open them a little to stuff them.
Fill each of the artichokes with a teaspoon of vegan sobrassada and, on this, put a teaspoon of creamy potato cheese and spread it a little over the entire surface of the artichoke. When all the artichokes are stuffed, place the baking dish in the oven at medium height and cook them au gratin for between 6 or 10 minutes, until they are slightly brown, being careful not to burn them. When they are au gratin, take them out of the oven and serve them.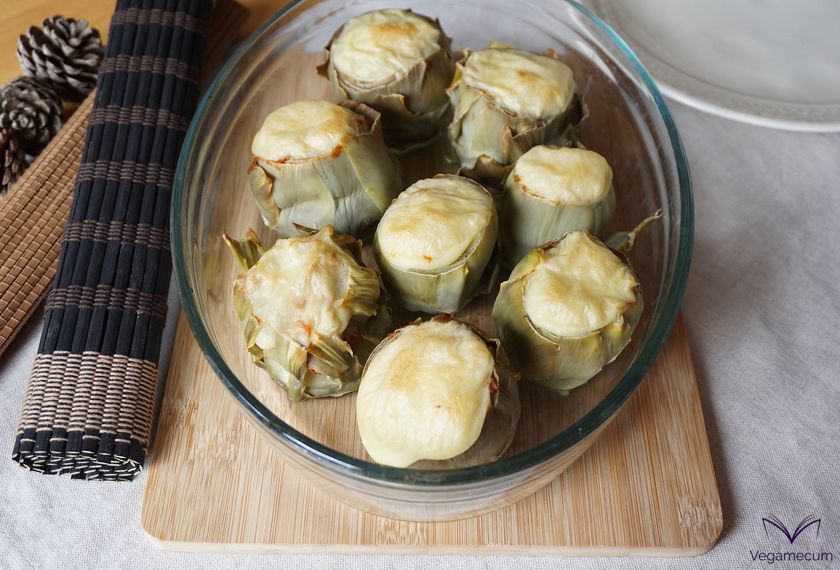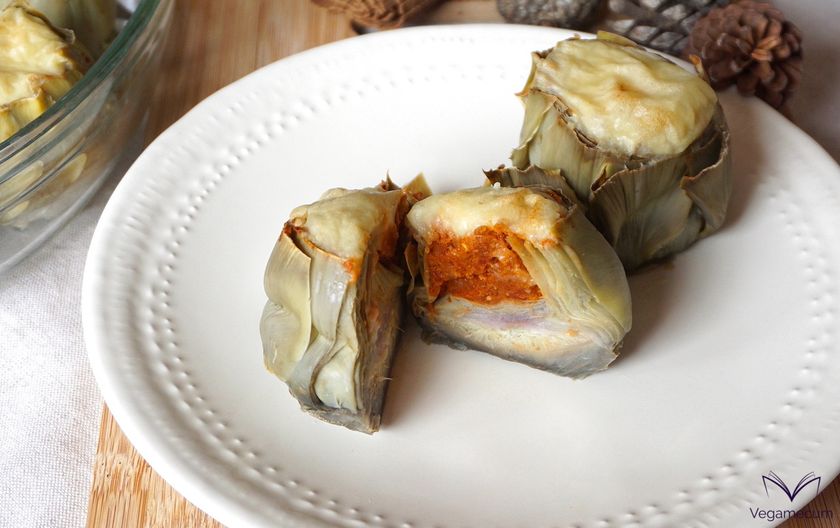 Notes
If you have any questions, you can leave it to us in the comments. And if you dare and want to show your creations to the world, do not hesitate to label us, we will love to see them through the networks!
Do you join us on social networks? You will find us on Facebook, Twitter, Instagram and Pinterest!