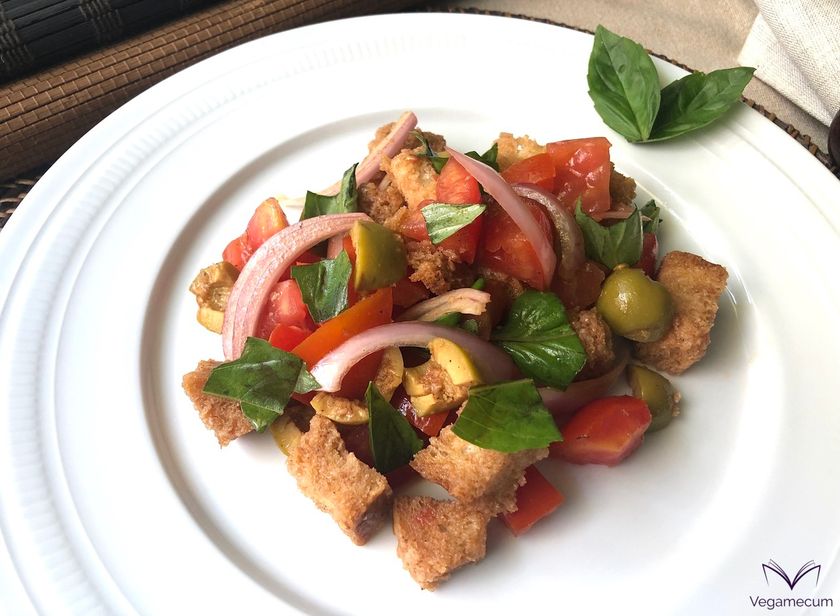 Originally from the Italian region of Tuscany, this salad also called "Panmolle" is a salad that refreshes and satisfies in a delicious way, because the mixture of the tomato, with the aromatized toasted bread, the basil and seasonings, make consuming it a true pleasure. This is a salad that admits a great variety of ingredients, but to which we have added those that, in our opinion, give a greater harmony of flavors and accents to the dish. In addition, in this recipe we leave you a trick so that the bread is more textured, tastier and with an irresistible touch.
On a nutritional level, this fresh dish is rich in lycopene , fiber , allicin , alliin , omega 3 , omega 6 and omega 9 fatty acids ; carbohydrates , flavonoids , amino acids , beta- carotene , terpenoids ( antioxidants ), essential oils , caffeic acid and rosmarinic acid , vitamins C , E and group B (especially B1 , B6 and B9 or folic acid ); sulfur . calcium , phosphorous , iron , magnesium , manganese , potassium , selenium , sodium , iodine , and in lesser amounts, copper and zinc .
Below you can see what ingredients you need and the steps to follow to enjoy the most popular salad in Florence.
| | | |
| --- | --- | --- |
| Difficulty level | Preparation time | Rations |
| Very easy | 45 m. | For 3 people |
Ingredients
4 plum tomatoes (ripe)
200 grams bread (of the previous day)
1 garlic clove
50 gr. green olives (pitted)
1/2 red onion
10 fresh basil leaves
9 tablespoons extra virgin olive oil
1/4 teaspoon pepper
1/2 teaspoon salt
1 teaspoon balsamic vinegar
Instructions
Wash the tomatoes and cut them into medium-sized dices. Set aside.
Cut the bread into slices approximately 1.5 cm thick, and toast them lightly or to taste.
Once the bread slices are toasted, peel the garlic, rub it on both sides of each slice of bread and cut the bread into 2 cm thick cubes. Set aside too.
Peel the onion, julienne it (cut it into strips) and set aside.
Next prepare a vinaigrette. To do this, put the oil, salt, pepper and vinegar in a small bowl and, with a fork, stir until emulsified. Set aside.
Cut the pitted olives into small pieces and place them in a large bowl. Add the tomato, the bread and the onion, and then season all the ingredients with the vinaigrette and stir carefully so that the bread does not fall apart and the tomato cubes remain whole.
When all the ingredients are uniformly impregnated with the vinaigrette, wash and chop the basil into medium-sized pieces, add it to the salad and serve it immediately so that the basil does not oxidize.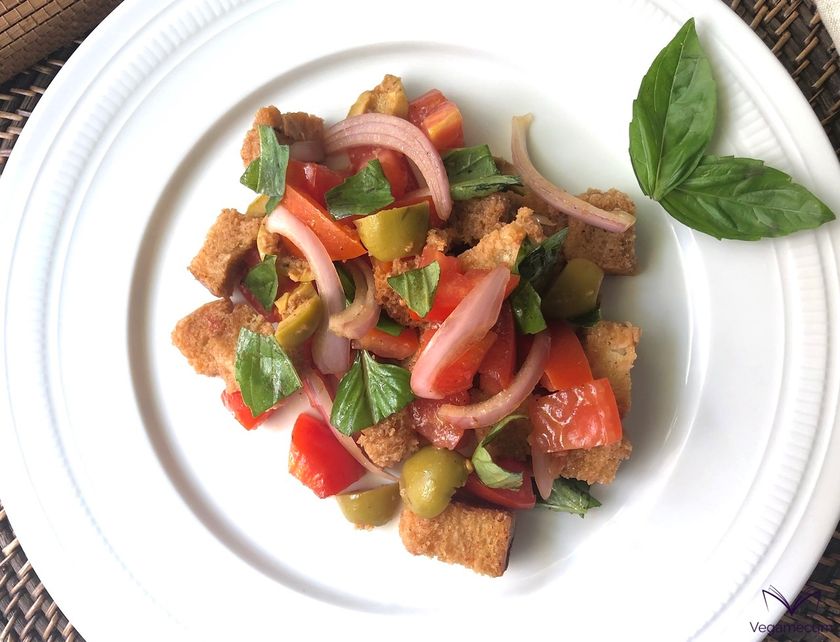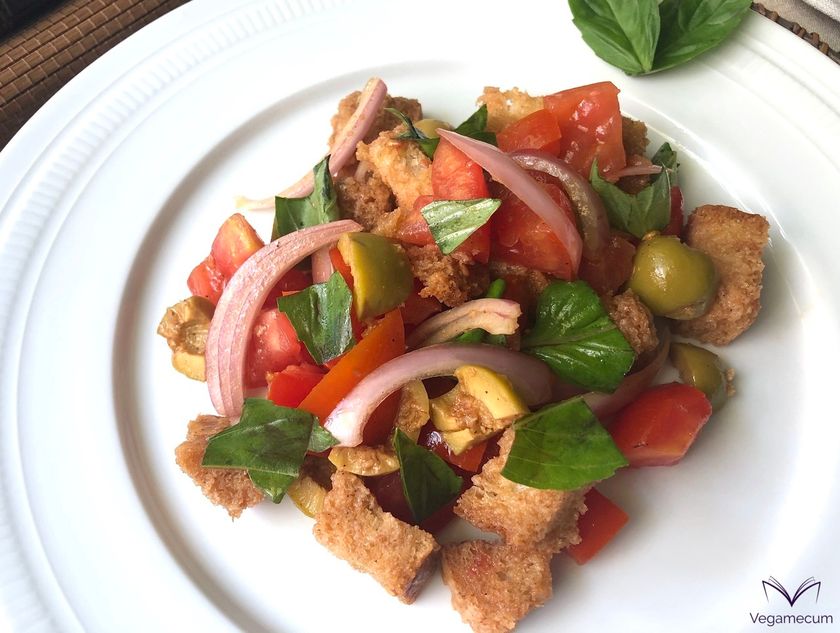 If you have any questions, you can leave it to us in the comments. And if you dare and want to show your creations to the world, do not hesitate to label us, we will love to see them through the networks!
Do you join us on social networks? You will find us on Facebook, Twitter, Instagram and Pinterest!