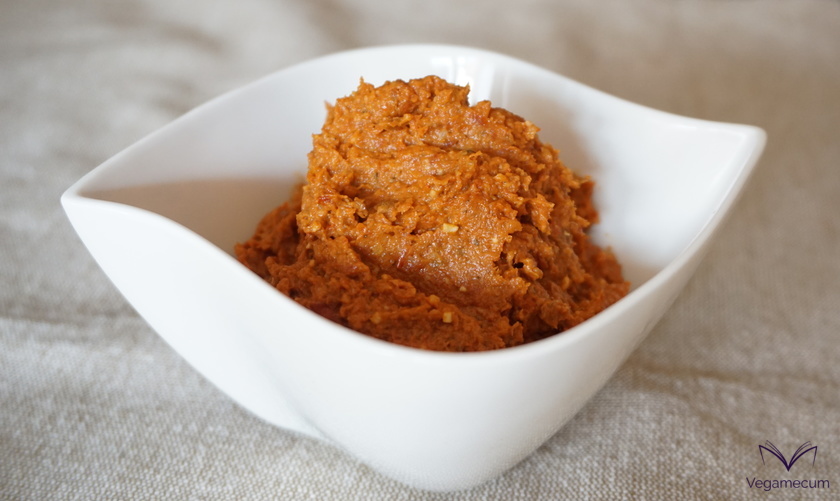 The vegan sobrasada is an adaptation that supposes an advantage in all the senses, since in the same way that we eliminate all the harmful of the conventional sobrasada (87% of which is fat) replacing it with new ingredients full of beneficial properties for our health, we also maintain the essence by keeping the main thing, which is the taste.
And it is the spices, and specifically the paprika, that give the sobrasada the flavor that characterizes it.
Thus, in addition to being free of cholesterol and other fats harmful to our body, this sobrasada provides us with nutrients such as proteins , essential fatty acids omega 3 and omega 6 , lycopene , fiber , vitamins A , C , K and group B ( B1 , B2 , B3 , B5 , B6 and B9 or folic acid ), iron , potassium , magnesium , sodium , phosphorus , copper and zinc .
Below you can see what ingredients you need and the steps to follow in order to make this fantastic vegan sobrasada.
| | | |
| --- | --- | --- |
| Difficulty level | Preparation time | Rations |
| Very easy | 20 m. | For 2 people |
Ingredients
100 gr. dry tomato
Water
2 cloves of garlic
30 gr. of pinion
1/2 teaspoon sweet paprika
1/3 teaspoon of spicy paprika
1 pinch of pepper
2 tablespoons of extra virgin olive oil
1/2 teaspoon of salt
Instructions
We put the dried tomatoes in hot water for 15 minutes to hydrate them. Meanwhile, we put garlic, sweet paprika, spicy paprika, pepper, salt and oil in the blender jar.
When the tomatoes are hydrated, we drain them, toss them together with the rest of the ingredients and beat them well until you get a smooth but lumpy texture.
Once we have the sobrasada ready, we can consume it as is or put it in the fridge for a few minutes to cool down a bit.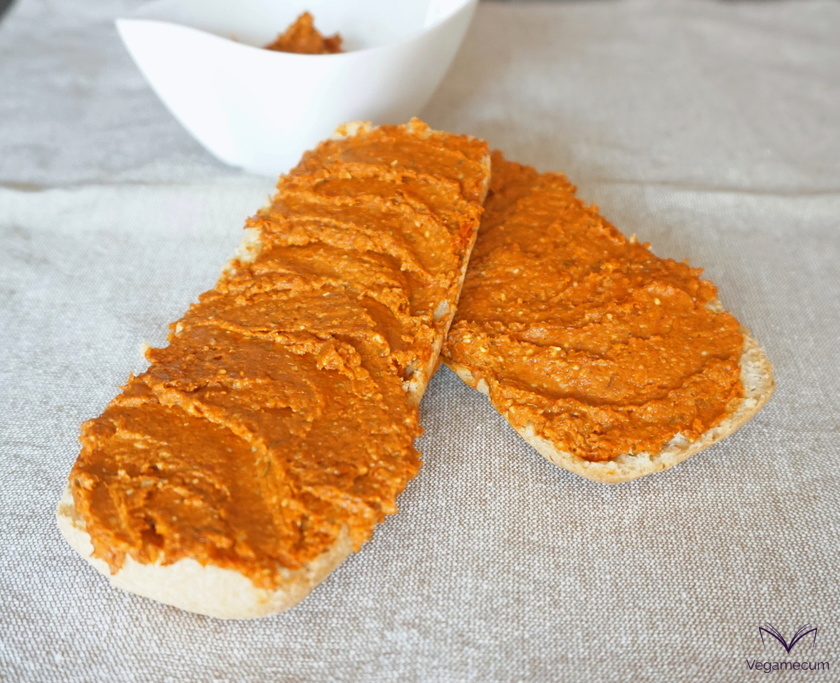 Notes
In case the dried tomatoes come in oil, it will not be necessary to hydrate them. Also, if they already have salt, keep in mind that the amount that will have to be added will be less.
If you notice that when it comes to mixing it costs you a little, you can add one more tablespoon of oil.
This sobrasada is perfect to take it spread on toast or crackers, to dip with sticks or even to add it to pizzas.
If you have any questions, you can leave it to us in the comments. And if you dare and want to show your creations to the world, do not hesitate to label us, we will love to see them through the networks!
Do you join us on social networks? You will find us on Facebook, Twitter, Instagram and Pinterest!