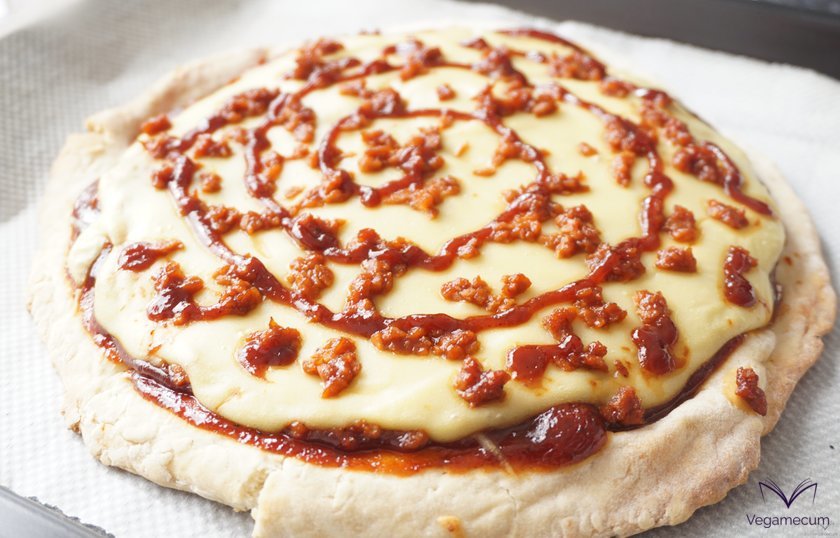 The barbecue pizza is one of the most desired and, as you will see, making it 100% vegetable is very easy.
Unlike the more conventional pizzas that have a first layer of tomato sauce, the barbecue pizza takes the delicious sauce that gives the name, which gives a touch something sweet in which little by little accents are appreciated more spicy
This makes the result a pizza with more body, more mellow and more vibrant flavor than the more traditional.
The best thing about this vegan pizza is, apart from its spectacular taste, that being made with natural ingredients and only of vegetable origin, it does not contain neither cholesterol nor fats harmful to our health, even when full of proteins.
This pizza, being "filled" with soy and covered with creamy potato cheese, allows us to obtain complete proteins , carbohydrates , fiber , vitamins C and group B ( B1 , B2 , B3 , B6 and B9 or folic acid ), calcium , copper , chromium , phosphorus , lithium , manganese , molybdenum , potassium , vanadium and zinc .
Below you can see what ingredients you need and the steps to follow to make this one of the most complete and popular pizzas.
| | | |
| --- | --- | --- |
| Difficulty level | Preparation time | Rations |
| Easy | 1 h. | For 4 servings |
Ingredients
1 pizza base
150 ml. of barbecue sauce
40 gr. of textured soy
300 gr. of creamy potato cheese
1 small onion
1 clove of garlic
2 tablespoons of extra virgin olive oil
1 pinch of salt
Instructions
Soak the textured soy for 15 minutes to hydrate. Meanwhile, we chop the onion and garlic.
We put the oil in a pan and, when hot, we toss the onion and garlic and sauté it over medium heat. When the onion is poached, drain the soy, add it to the sofrito with a pinch of salt, and let it cook all together for 10 minutes.
After this time, add a tablespoon of barbecue sauce, take a few turns to mix well with the rest of the ingredients, and put out the fire.
On the basis of the pizza, we toss some barbecue sauce and spread it well over the entire surface, leaving the edges free.
Then put a layer of soy (leaving a little to sprinkle on the last layer) and covered with potato cheese, ensuring that it is evenly distributed so that the texture is as creamy as possible.
Sprinkle over the soy we have reserved and add a little more barbecue sauce, giving it the aesthetic we prefer.
We put to preheat the oven to 175º and, when hot, we introduce the pizza and bake it for 15 minutes, checking that it does not burn.
After this time, we took the pizza out of the oven and served it freshly.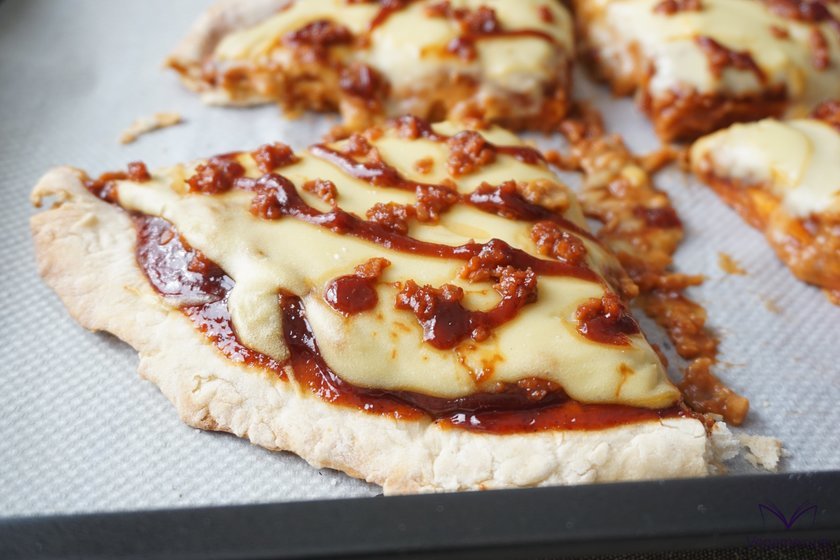 Notes
If when you want to give the pizza the finishing touch with the barbecue sauce, you want to add it in a spiral, you can easily do it using a kitchen bottle.
If you have any questions, you can leave it to us in the comments. And if you dare and want to show your creations to the world, do not hesitate to label us, we will love to see them through the networks!
Do you join us on social networks? You will find us on Facebook, Twitter, Instagram and Pinterest!