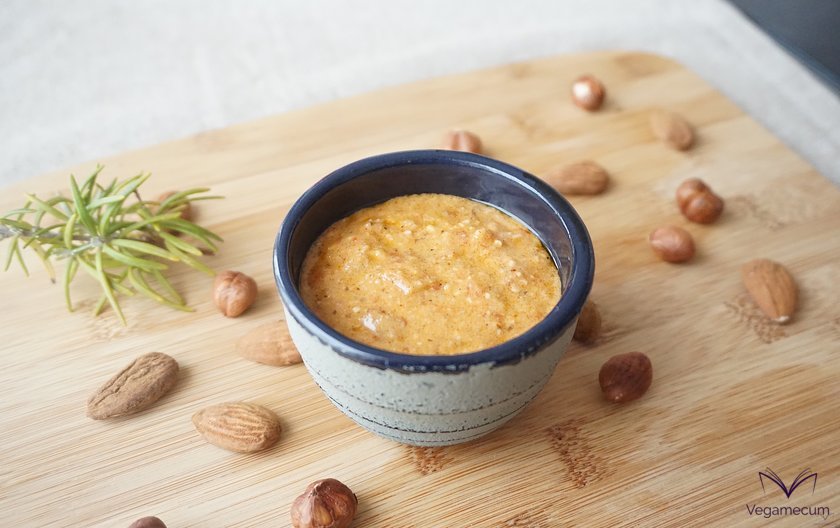 Romesco sauce is a very easy to prepare sauce, with a mild flavor and a spicy point that has its origin in the Catalan region of Camp de Tarragona, where it is a tradition to consume it since at least the end of the 19th century, as indicated by the Written references of the time.
It owes its name to the Mozarabic remescolar term, which would be translated as mixing or removing, and that is how this sauce is obtained, so consumed throughout the Catalan territory and that in the last century it has crossed borders, becoming known worldwide.
And it is a sauce that captivates anyone who tastes it, whether it is cold or hot, accompanying salads, potatoes, tortillas, or grilled or baked vegetables, especially calçots, a kind of elongated and tender onion that It is consumed from November to April, during the autumn and winter, mainly between January and March.
The key to its precious flavor lies in the rich combination of its ingredients, where the ñoras and spices provide vividness, the garlic and vinegar force, the tomatoes juiciness and palatability, and the almonds and hazelnuts softness and aroma.
This sauce is rich in carbohydrates , proteins , beta-carotene , lycopene , phytosterols , capsantin , glutathione , quercetin , allicin , alliin , inulin , omegas 3 , 6 and 9 ; fiber , vitamins C , A , E and group B ( B1 , B2 , B3 , B5 , B6 , B7 and B9 or folic acid ), calcium , phosphorus , iron , magnesium , manganese , potassium , selenium , sodium , iodine and zinc .
Below you can see what ingredients you need and the steps to follow in order to make one of the most irresistible sauces in Catalan cuisine.
| | | |
| --- | --- | --- |
| Difficulty level | Preparation time | Rations |
| Easy | 1 h. | For 450 milliliters |
* Plus 10 minutes of hydration
Ingredients
2 branch tomatoes (mature)
4 cloves of garlic
55 gr. of toasted almonds (peeled)
35 gr. of toasted hazelnuts (peeled)
1/2 teaspoon of salt
1/2 teaspoon pepper
3 ñoras
25 ml. of sherry vinegar
150 ml. of extra virgin olive oil
1/4 teaspoon sweet paprika (optional)
Instructions
In a bowl with boiling water, put the soaked soaps for 10 minutes to moisturize and soften your skin.
Preheat the oven to 175º for 10 minutes and set to roast the tomatoes and garlic for 30 minutes. We reserve
In a grinder or processor, put the almonds and hazelnuts and grind them until they are well ground. We reserve
With the hydrated ñoras, we take them out of the bowl, remove the peduncle (stem) and open them. We remove the seeds and, with the tip of a knife, we scratch the skin to separate the pulp and we are putting this in a mortar.
Add to the mortar the tomatoes without skin or pips and the peeled garlic, and begin to grind (crush) with the pestle. Add the almonds and the ground hazelnuts and continue to mix until everything is well mixed.
We pour the vinegar, pepper and salt and mash a little more so that all the ingredients are well linked.
We add the oil little by little and, while, we are stirring so that it is mixed with the rest of the ingredients and there is a uniform sauce. Add the paprika to give a more intense color, stirring again so that it is well linked. We pass it to a bowl or individual bowls and serve.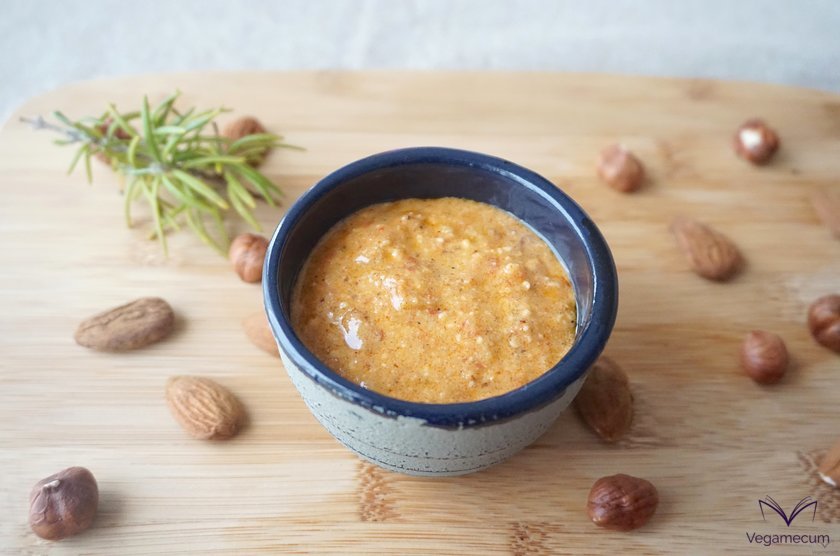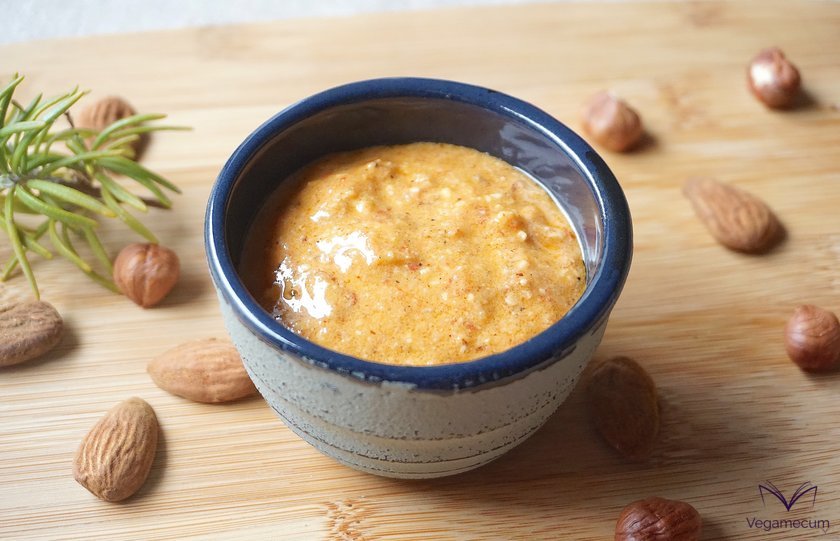 Notes
Although the traditional way to prepare romesco sauce is with mortar, you can also make it by whisking the ingredients with the mixer if it is easier for you, although the texture will be different.
If you prefer a slightly spicier sauce, you can add half of the sweet paprika and the other half of the spicy paprika.
If you have any questions, you can leave it to us in the comments. And if you dare and want to show your creations to the world, do not hesitate to label us, we will love to see them through the networks!
Do you join us on social networks? You will find us on Facebook, Twitter, Instagram and Pinterest!