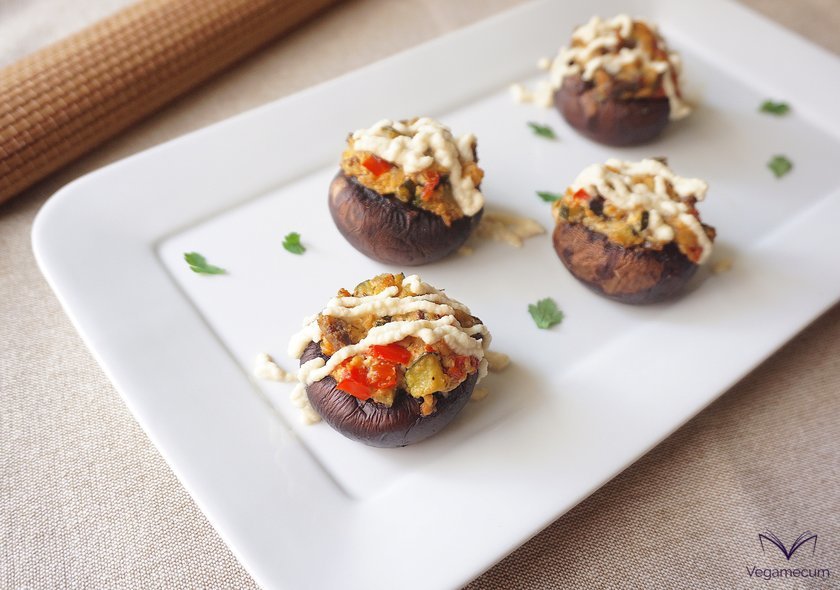 These stuffed mushrooms are a very tasty entree. The mixture of vegetables, together with the macerated tofu, creates an intense and full of nuances that, thanks to the creamy and acidic point of the sour cream of cashews, is highlighted in an exceptional way.
Another delicious feature of this dish is its texture, an irresistibly tender texture with a creamy 100% vegetable filling seasoned meticulously so that the ingredients, especially the tofu, absorb the taste and aromas completely.
In terms of nutrients, these stuffed mushrooms provide us with protein , fiber , allicin , alliin , flavonoids , carbohydrates , beta-carotene , lycopene , vitamins C , E and group B ( B1 , B2 , B3 , B6 and B9 or folic acid ); sulfur , calcium , phosphorus , iron , magnesium , manganese , potassium , selenium , sodium and iodine .
In addition, by dressing them with the sour cream of cashew nuts, we will be adding more proteins , phytosterols , tryptophan , essential fatty acids omega 6 , vitamin B5 , copper , chromium and zinc .
Below you can see what ingredients you need and the steps to follow to make some stuffed mushrooms loaded with flavor and seasoned with a delicate and exquisite cream.
| | | |
| --- | --- | --- |
| Difficulty level | Preparation time | Rations |
| Easy | 1 h. y 30 m. | For 3 people |
Ingredients
350 gr. portobello mushroom
1 onion (small)
1/2 red pepper
1/2 zucchini
100 gr. tofu
1 tablespoon tamari
1/2 teaspoon onion powder
1/2 teaspoon dried thyme
1/2 teaspoon oregano (dry)
1/4 teaspoon pepper (ground)
1/2 teaspoon garlic powder
1/2 teaspoon agave syrup
50 ml. white wine
3 tablespoons extra virgin olive oil
1/2 teaspoon salt
100 ml. cashew sour cream
Instructions
Put the soy sauce, onion powder, thyme, oregano, garlic powder and agave syrup in a bowl and mix well. Cut the tofu into small dices and add it to the bowl. Stir a little so that the tofu gets well impregnated and let marinate for 1 hour.
Meanwhile, prepare the vegetables. Chop the onion with a knife, wash the pepper and zucchini and cut them also very small. Set aside.
Wash the mushrooms carefully, remove the volva and separate the stem, leaving only the cap to fill it later. Chop the stem too with a knife and set aside.
In a large pan, put the oil to heat over medium heat and, when it is warm, cook the onion for 5 minutes.
Add the pepper and zucchini and stir to mix well all the ingredients. Let it cook for 10 minutes over low heat, stirring occasionally so that the vegetables to prevent scorching. After this time, remove from the heat and set aside.
When the tofu is marinated, crumble it as if it were ground or coarsely chopped.
Put to heat again over medium heat the pan where the vegetables have been cooked and cook the tofu, stirring a little to mix well all the ingredients. Add the salt, pepper and wine, stir again and remove from the heat.
Put the caps of the mushrooms upside down in a dish (washed and dried) and sprinkle a little oil, salt and pepper to make them more flavorful.
Preheat the oven to 150º and, meanwhile, put the mushrooms one at a time to a flat dish and fill them with the mixture of vegetables and tofu until completely covering the hollow of the mushroom cap. As the mushroom caps are getting filled, transfer them to a baking dish.
When all the mushroom caps are stuffed, put the baking dish in the oven and bake for 15 minutes.
After this time, cover the mushrooms with oven paper to prevent the filling from burning and bake it for 15 more minutes. Meanwhile, prepare the cashew sour cream.
When the stuffed mushrooms are baked, remove them from the over, pour some cashew sour cream on the top and serve.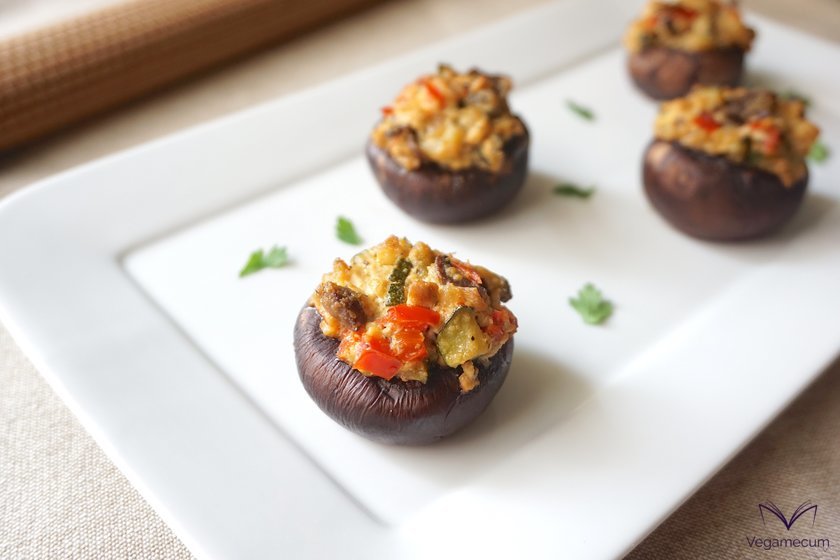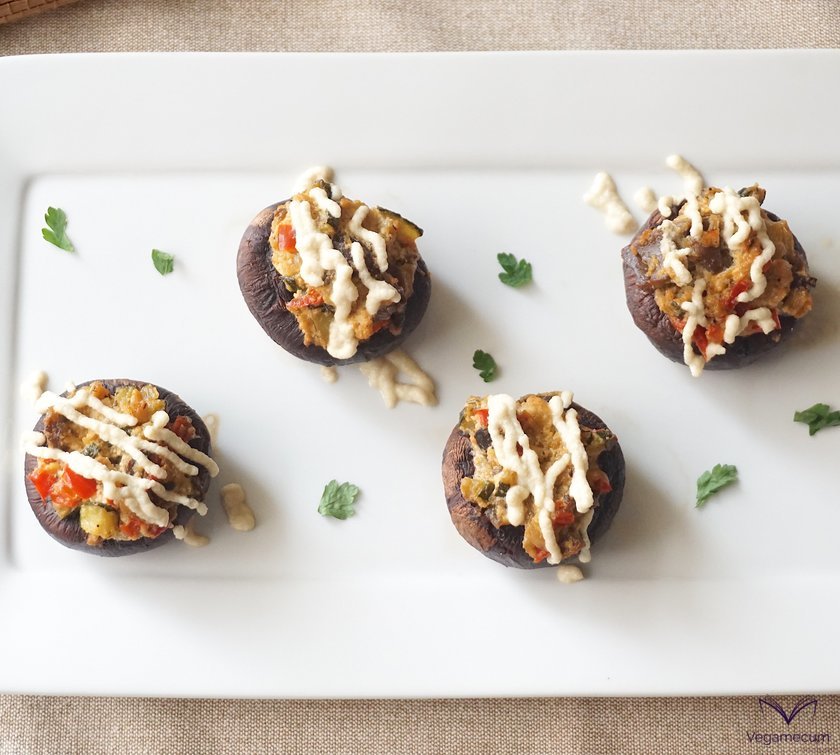 Notes
Make sure that the wine you use has not used any product of animal origin for its elaboration, since during the clarification process, elements such as animal albumin, milk proteins, gelatin or fishtail are usually used.
You can use both tamari soy sauce and shoyu soy sauce, the difference is that tamari does not contain gluten and its flavor is somewhat more intense.
These stuffed mushrooms can be consumed both hot and cold.
If you have any questions, you can leave it to us in the comments. And if you dare and want to show your creations to the world, do not hesitate to label us, we will love to see them through the networks!
Do you join us on social networks? You will find us on Facebook, Twitter, Instagram and Pinterest!