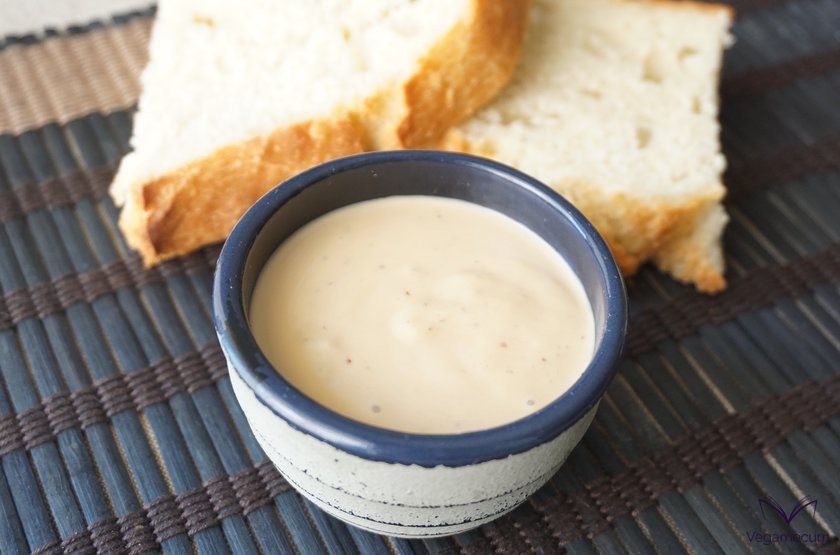 The vegetable Caesar sauce is an ideal dressing for salads, vegetable burgers, baked vegetables, grilled or grilled and for vegetable meats such as seitan or tempeh, either the latter of soybeans or chickpeas.
It has an intense taste where the acid and penetrating nuances of its ingredients stand out, generating a unique and very unique flavor composition.
On the other hand, its texture has the perfect balance between liquid and creamy, which together with its refreshing flavor, make this sauce one of the best options to give life to even the simplest dishes.
At the nutritional level, this sauce contains complete proteins , fiber , isoflavones , flavonoids , beta-carotene , carbohydrates , omega 3 and omega 9 fatty acids, lecithin , inulin , alliin , vitamins A , C , E , K and group B ( B3 , B4 , B6 and B9 or folic acid ), calcium , phosphorus , magnesium , manganese , potassium , selenium and sodium .
Below you can see what ingredients you need and the steps to follow in order to make a traditional sauce that is always surprising.
| | | |
| --- | --- | --- |
| Difficulty level | Preparation time | Rations |
| Very easy | 5 m. | For 160 milliliters |
Ingredients
2 tablespoons tamari
1/2 clove of garlic
1 teaspoon mustard (the grainy)
juice of 1/2 lemon
75 ml. soy milk
100 ml. extra virgin olive oil (Smooth flavor)
Instructions
Put the chopped garlic, tamari, mustard, lemon juice and milk in the blender jar.
We are slowly pouring the oil and begin to beat until we have put all the oil. When the sauce has a homogeneous and light texture, we serve it or introduce it in the fridge to keep it until the moment of using it.
Notes
You can use both tamari soy sauce and shoyu soy sauce, the difference is that tamari does not contain gluten and its taste is somewhat more intense.
If you have any questions, you can leave it to us in the comments. And if you dare and want to show your creations to the world, do not hesitate to label us, we will love to see them through the networks!
Do you join us on social networks? You will find us on Facebook, Twitter, Instagram and Pinterest!