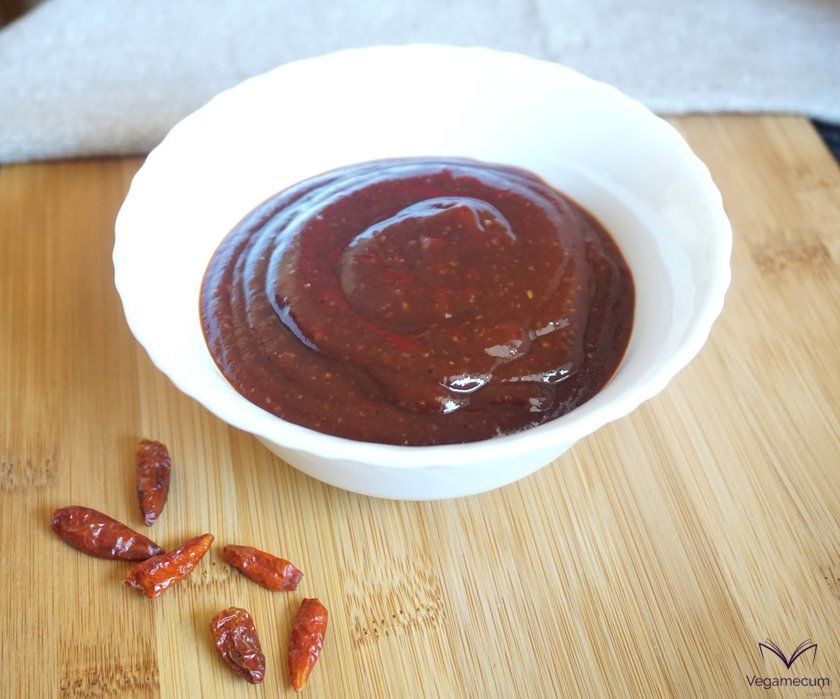 There is a wide variety of barbecue sauce recipes, but it costs a lot to find one that really meets the expectations in terms of taste and appearance.
This one that we propose, has the perfect balance between sweetness and acidity, a slightly spicy touch at the end, and that smoky point that we love in this sauce. In addition, its texture is super sweet.
The best thing is that it does not contain refined sugar because we have used panela, and it does not contain anything of animal origin because instead of honey, it carries molasses (cane honey).
It is ideal to accompany tofu, seitan or thin and thick soy dishes, and even for use on pizzas.
Below you can see what ingredients you need and the steps to follow to make this sauce so tasty and addictive.
| | | |
| --- | --- | --- |
| Difficulty level | Preparation time | Rations |
| Very easy | 45 m. | For 300 milliliters |
Ingredients
4 tablespoons apple cider vinegar
3 tablespoons sugar
1 teaspoon ñora pulp
1 tablespoon Dijon mustard
85 gr. molasses
1/2 teaspoon salt
1/2 teaspoon pepper
1 teaspoon garlic powder
1 cayenne chilli
400 gr. ketchup
1 teaspoon onion powder
Instructions
We put all the ingredients, except the ketchup, in a pot and stir well so that they are mixed homogeneously. We leave it on low heat for 5 minutes, until the sugar dissolves.
Add the ketchup, cover it with a lid, and let it boil over low heat for 40 minutes, stirring often so it does not stick and is done evenly.
After this time, extinguish the fire, let it cool, and put it in a container.
Notes
You can substitute ñora pulp for smoked paprika. Each teaspoon of ñora pulp would be equivalent to 1 tablespoon of smoked paprika.
When removing the sauce, be very careful because it jumps.
This sauce stays well in the fridge, if we keep it tightly closed.
If you have any questions, you can leave it to us in the comments. And if you dare and want to show your creations to the world, do not hesitate to label us, we will love to see them through the networks!
Do you join us on social networks? You will find us on Facebook, Twitter, Instagram and Pinterest!