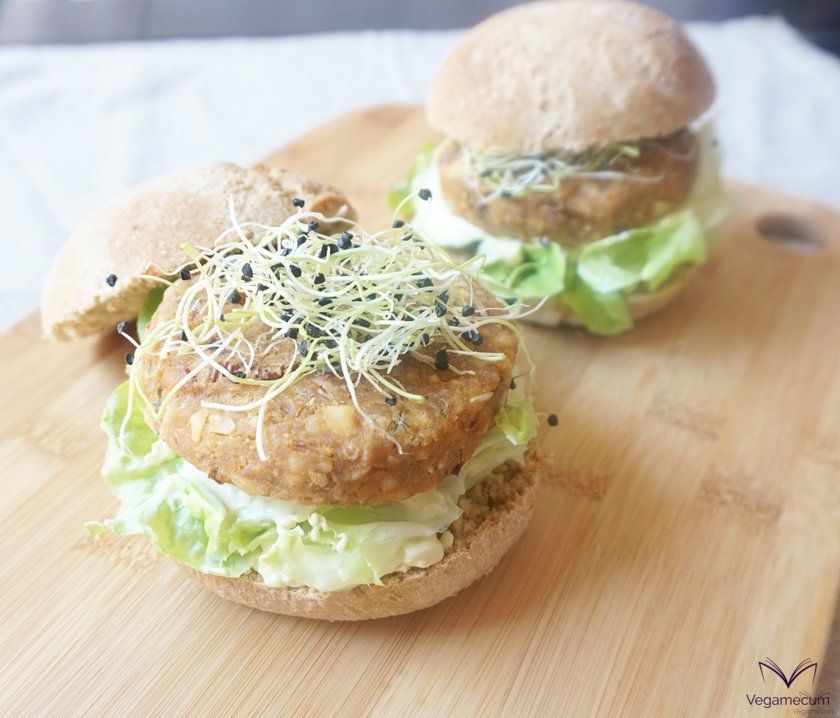 These burgers of chickpeas, dried tomato and basil have the perfect texture and a spectacular flavor. In addition, they are very easy to prepare.
The softness of the chickpeas is mixed with the acid intensity of the dry tomato and the sweet notes of the purple onion, which together with the aromatic flavor of the fresh basil, makes these burgers are delicious whether they are served between rolls or if they are not he wants to add nothing more.
As for the texture, it is very compact thanks to its legume base, so it is very easy to assemble them and they do not fall apart when cooked.
The latter also provides versatility when it comes to making them, since it allows you to choose between baking them or, if you prefer, passing them through the pan.
If we also accompany them with some sprouts or caramelized onions, and add a mild sauce like vegetable mayonnaise or guacamole , we will create the perfect combination to fully enjoy the incredible flavor of this burger, and without remorse, as we will have the certainty that its ingredients In addition to delicious, they are healthy and sustainable.
These burgers are rich in protein , complex carbohydrates (slow absorption and satiating power), soluble fiber , lecithin , flavonoids , alliin , lycopene , omega 6 fatty acids, vitamins A , C , E and group B ( B6 and B9 or folic acid ), sulfur , calcium , phosphorus , iron , magnesium , potassium , sodium and, to a lesser extent, copper , manganese , selenium and zinc .
Below you can see what ingredients you need and the steps to follow to make these hamburgers so simple and tasty.
| | | |
| --- | --- | --- |
| Difficulty level | Preparation time | Rations |
| Easy | 30 m. | For 4 units |
* Plus 45 minutes of hydration and rest
Ingredients
200 gr. cooked chickpeas
20 gr. dry tomato
1 purple onion
1 clove of garlic
10 leaves of fresh basil
50 gr. raw cashews
30 gr. potato starch
1 teaspoon salt
Instructions
We put the dried tomatoes to hydrate in hot water for 15 minutes.
Rinse and drain the chickpeas very well, put them together with the rest of the ingredients in the glass of the chopper and chop them until a homogeneous mass is obtained. We remove the mass from the glass of the chopper and form a ball.
We pass the dough to a bowl, cover it and put it in the fridge for 1 hour to rest.
We put to preheat the oven to 200º and, while, we remove the mass from the refrigerator and we are taking pieces and giving them a hamburger shape. As we are having them ready, we are placing them on a baking tray with vegetable paper. Hamburgers ready to go into the oven

Hamburguesas listas para entrar en el horno

When we have all the hamburgers ready, we introduce them in the oven and bake them for 20 minutes at 200º. After this time, we take them out of the oven, assemble them with the ingredients that we prefer and serve them.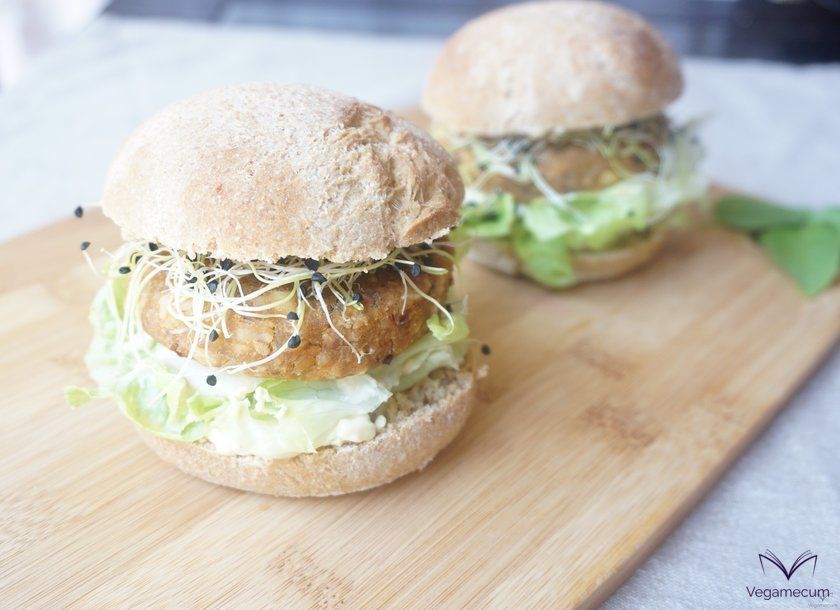 Notes
If the dried tomatoes are in oil, the first step will not be necessary.
These burgers, you can make them both in the oven, in a pan, or even in the oven with a touch of pan at the end. If you prefer to make them in a pan, we recommend adding a little more potato starch, until you notice that the texture is compact.
If you have any questions, you can leave it to us in the comments. And if you dare and want to show your creations to the world, do not hesitate to label us, we will love to see them through the networks!
Do you join us on social networks? You will find us on Facebook, Twitter, Instagram and Pinterest!