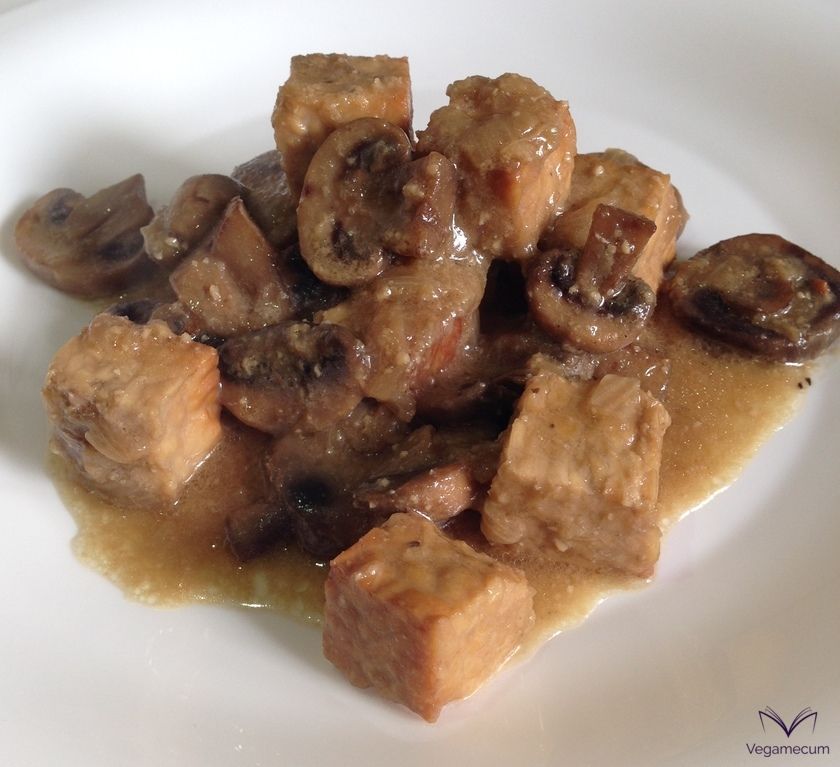 This recipe has as its main ingredient the tempeh , food originating in the island of Java (Indonesia) that is made with fermented soybeans, which makes it retain all its proteins (contributing 40% of the recommended daily amount per 100 gr .), that has more vitamins (among which those of group B, especially B2 , B3 , B6 and B9 or folic acid ), that contains more fiber and that helps reconstitute the intestinal flora.
As for minerals, tempeh is rich in potassium , manganese , magnesium , copper , phosphorus , iron and calcium .
On the other hand, when accompanying the mushrooms and the almond sauce, we add vitamins A , C , D , E , B1 , B5 and B7 , selenium , iodine , zinc , and omegas 6 and 9 .
Therefore, we have a dish very rich in proteins, isoflavones , vitamins and minerals, very low in fat and free of cholesterol .
Below you have the ingredients you need and the steps to follow in order to make this dish.
| | | |
| --- | --- | --- |
| Difficulty level | Preparation time | Rations |
| Easy | 45 m. | For 2 people |
Ingredients
250 gr. natural tempeh
1 large onion
1 cup rolled mushrooms
1 bay leaf
1 tablespoon ground almonds
2 tablespoons soy sauce
1 pinch of salt
3 tablespoons extra virgin olive oil
1 glass water
Instructions
Cut the tempeh into small cubes, put a tablespoon of oil in a pan and brown them. We separate, put on a plate with absorbent paper and reserve.
Cut the onion very small, we toss the rest of the oil in another pan and, when it is hot (but without smoking), we add it so that it goes pochando. Meanwhile, we wash and drain the mushrooms.
When the onion is transparent, we toss the mushrooms together with the bay leaf, stir and let them cook well.
Once the mushrooms are ready, add the soy sauce and the ground almonds, take a few turns and throw the tempeh.
We remove everything, add a pinch of salt and a glass of water and leave it on medium heat for 20 minutes. We put out the fire and serve.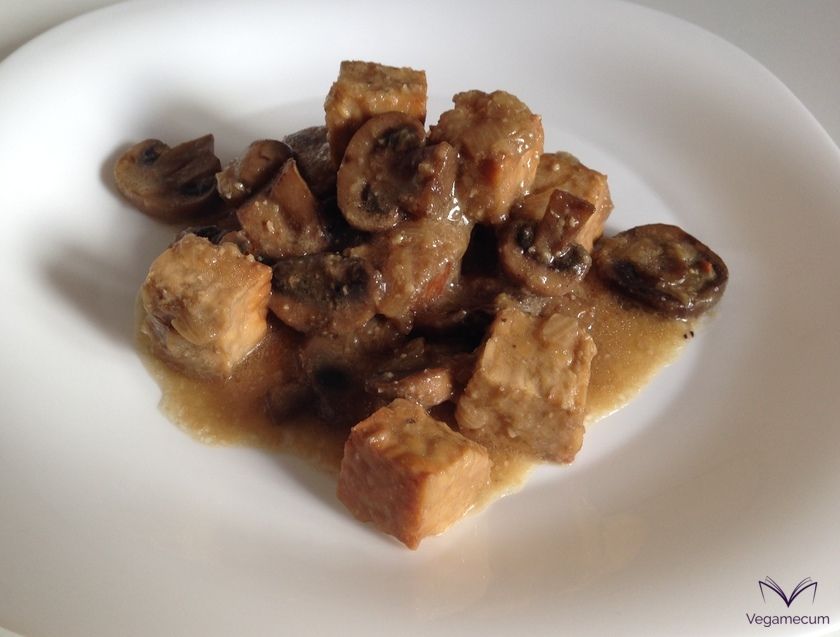 Notes
If you have any questions, you can leave it to us in the comments. And if you dare and want to show your creations to the world, do not hesitate to label us, we will love to see them through the networks!
Do you join us on social networks? You will find us on Facebook, Twitter, Instagram and Pinterest!