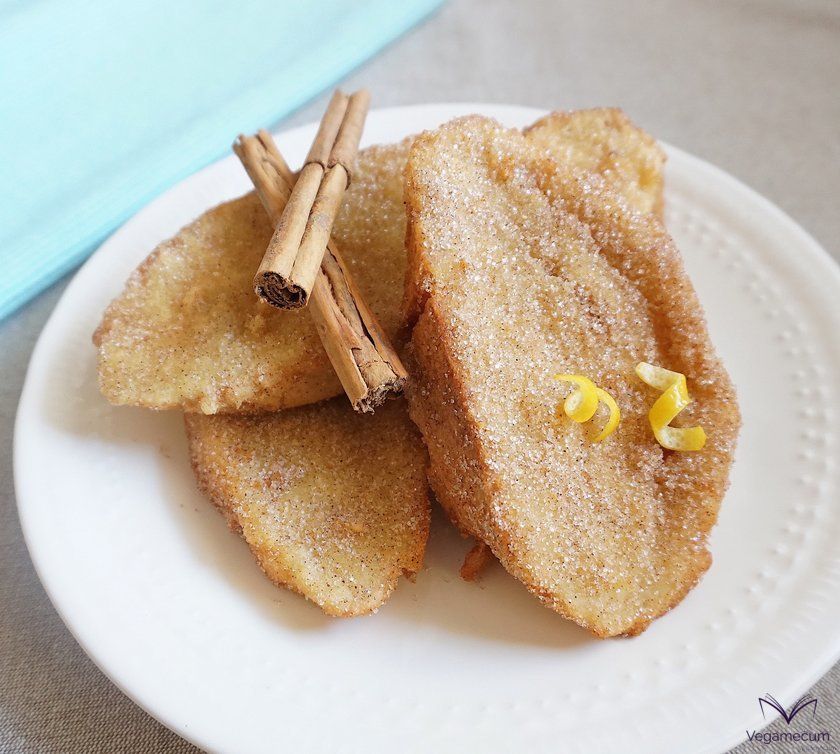 When the most important moment of Holy Week arrives, the recipe of the historical torrijas is indispensable, which are equally incredible in their vegan version.
Although torrijas are now a typical Easter sweet, 2,000 years ago they were already made by the Romans, as demonstrated by the recipe " pultes tractogalate" (porridge stewed with flour and milk), included in the book "De re coquinaria " by Marcus Gauius Apicius, famous Roman gourmet of the 1st century AD
But it is not until the fifteenth century when we can read the term torreja , in a text by the poet and musician Juan de la Encina, who mentions torrijas as food to help mothers recover after childbirth. And this is also the first time that this candy is associated with the Bible, by naming the ' Redemptor' .
On the other hand, the first recipe of torrijas as we know them today, appears in the book by Domingo Hernández de Maceras entitled "Libro de Cozina" (s.XVII), followed by the one that Francisco Martínez Matiño collects in his book " Art of cozina, pastry, biscuit and canning " (s.XIX).
As for the relationship between the torrijas and Holy Week, it must be said that in postwar Spain, Holy Week was one of the few celebrations that were held, and this was imposed by the regime, so as the population had few resources but I was obliged to commemorate this religious celebration that, moreover, does not allow to eat certain foods, the torrijas, which for centuries had been food for the poor, were the perfect sweet to satiate and get energy in those days of abstinence without having to spend a lot of money , since they were made from staple foods.
The torrijas have many versions, and there is even one of them that consists of elaborating them with wine, where it is said that the bread represents the body of Christ and the blood came; but we propose a free version of animal products of the most widespread recipe.
Below you can see what ingredients you need and what steps you have to follow to make this recipe so sweet and simple.
| | | |
| --- | --- | --- |
| Difficulty level | Preparation time | Rations |
| Easy | 30 m. | For 6 units |
Ingredients
1 bread stick (thick crumb)
1 l. soy milk
the skin of 1 lemon
1 cinnamon stick
150 gr. whole cane sugar
5 tablespoons flour Yolanda
Water
extra virgin olive oil (Arbequina or royal variety)
3 tablespoons whole cane sugar (to coat)
1/2 teaspoon ground cinnamon (to coat)
Instructions
In a saucepan, heat the soy milk, the lemon peel, the cinnamon stick and the 150 gr. of sugar. When it breaks to boil, extinguish the fire, remove the peel and cinnamon stick, and let it rest until it is tempered.
Cut the bread into slices about 2 cm. wide and, in a plate, we prepare the mixture of 3 tablespoons of sugar and 1/2 teaspoon of cinnamon, which we then use to batter the torrijas.
In a bowl, we toss the flour Yolanda and we are adding water and stirring until getting a consistent texture, neither too thick nor too clear, and without lumps.
We put to heat oil in a pan (enough to fry the bread) and, while, we take slices of bread and soaking about 10 seconds on each side in the pot where we have the soy milk, without getting to drain and Be careful that they do not fall apart.
We pass the slices through the mixture of flour and water that we have prepared and, when the oil is hot, fry them until they are golden brown on both sides. Next we remove them and we put them to drain in a plate with absorbent paper so that they release the excess of oil.
When the slices are warm, we pass them through the mixture of sugar and cinnamon that we have prepared so that they are well battered, and we serve them.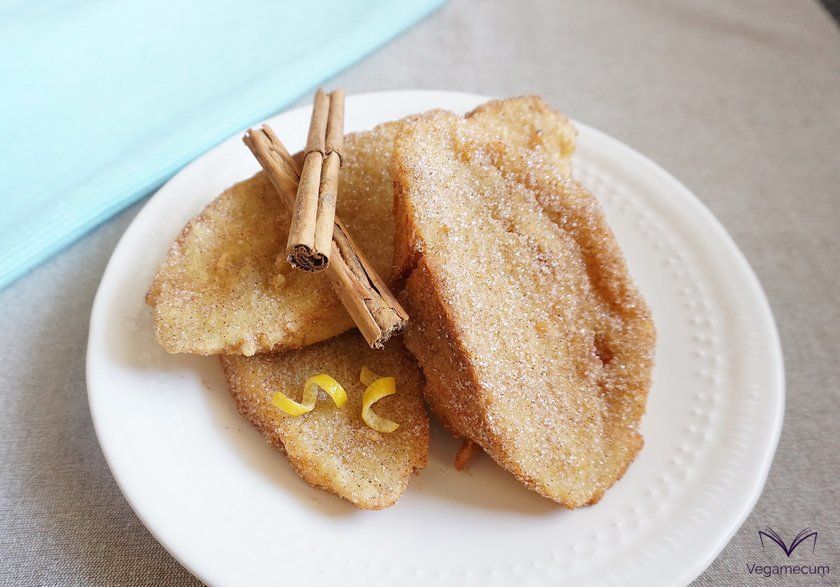 Notes
To achieve a better consistency, we recommend that the bread be 'machine bread' style and the day before.
You can use any type of vegetable drink.
If you have any questions, you can leave it to us in the comments. And if you dare and want to show your creations to the world, do not hesitate to label us, we will love to see them through the networks!
Do you join us on social networks? You will find us on Facebook, Twitter, Instagram and Pinterest!