The mozzarella has its origin in the Italian region of Campania of the sixteenth century, and its name comes from the verb ' mozzare' , which in Italian means 'cut'. And this is precisely the last step when making this type of cheese, when after cooking it to take thickness and elasticity, we cut it and give it a ball shape.
This is an easy and quick version to make fresh semi-solid mozzarella, with products easy to find and without chemicals. And, once hydrated the main ingredient, we do not need more than 30 minutes to prepare it.
Another advantage of this mozzarella-style cheese is that it is not made from soybeans but from nuts, which allows us to introduce these rich foods into our diet and benefit from all the nutrients they provide, as in this specific case. macadamia nuts.
Unlike cashew, which is the ingredient that we usually use to make vegetable cheeses (like this spreadable cheese ), macadamia nuts have a milder flavor, which makes them perfect to make the vegetable version of the most neutral cheese of all; and on the other hand, they allow us to obtain cholesterol free mozzarella, as opposed to the one of animal origin that contains 79 mg. of cholesterol per 100 gr.
In addition, this nut is a source of energy rich in proteins , fiber and omega 9 essential fatty acids, with a high level of vitamins C , E and group B ( B1 , B2 , B3 and B9 or folic acid ), phosphorus , magnesium , potassium , calcium , iron and zinc .
Below you can see what ingredients you need and the steps to follow to make this perfect vegetable mozzarella to use in salads, toasts and cold canapés.
| | | |
| --- | --- | --- |
| Difficulty level | Preparation time | Rations |
| Easy | 30 m. | For 4 units |
* Plus 12 hours of hydration
Ingredients
100 gr. macadamia nut
100 ml. water
2 spoons of nutritional yeast
1/2 teaspoon apple cider vinegar
3/4 teaspoon salt
1/4 teaspoon garlic powder
3 tablespoons arrowroot flour (arrowroot)
Water (very cold)
Instructions
First of all we put the macadamia nuts in a container with water and let them hydrate for 12 hours. After this time, we put them in the glass of the blender together with the 100 ml. of hot water and beat until you get a smooth texture.
Add nutritional yeast, apple cider vinegar, salt, garlic and flour, and beat until well blended and creamy texture.
We pass the mixture to a non-stick pan and heat over low heat for 10 - 15 minutes, stirring constantly until we see that it begins to thicken. When the dough becomes compact, remove it from the heat and let it rest for 5 minutes.
After 5 minutes, and with wet hands, we take portions of dough and give them a rounded shape, forming small balls of mozzarella. When we have them all, we put them in a bowl with very cold water.
After a few minutes, we take them out of the water and we can consume them.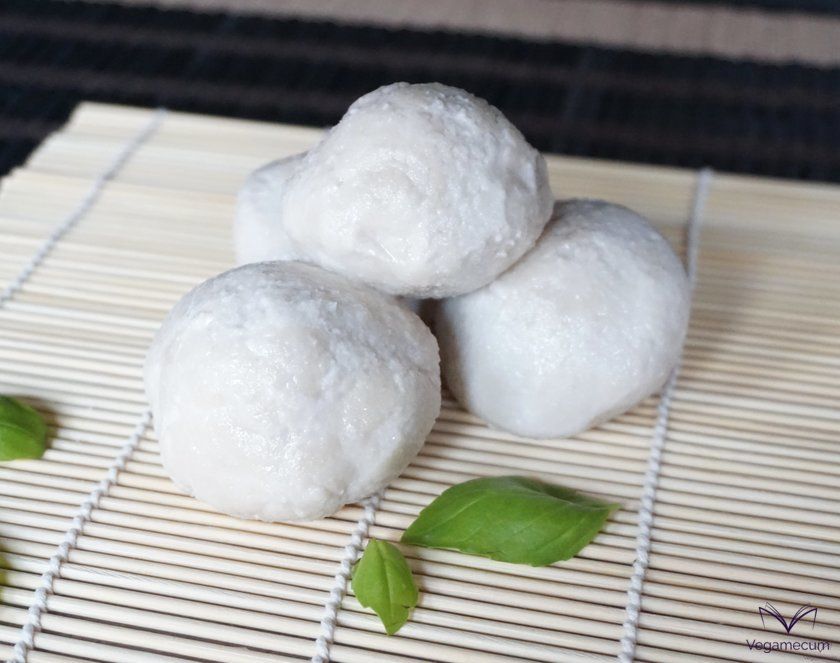 Notes
This mozzarella is also delicious using cashew nuts instead of macadamia nuts, but the taste is a little more intense.
The arrowroot flour can be substituted for tapioca flour.
If you are not going to use the mozzarella at the moment, you can put the mozzarella balls in a pot with brine well closed. So you can keep them for 24 hours more.
The most delicious way to consume this mozzarella is with slices of tomato, some basil leaves and a little oil.
If you have any questions, you can leave it to us in the comments. And if you dare and want to show your creations to the world, do not hesitate to label us, we will love to see them through the networks!
Do you join us on social networks? You will find us on Facebook, Twitter, Instagram and Pinterest!