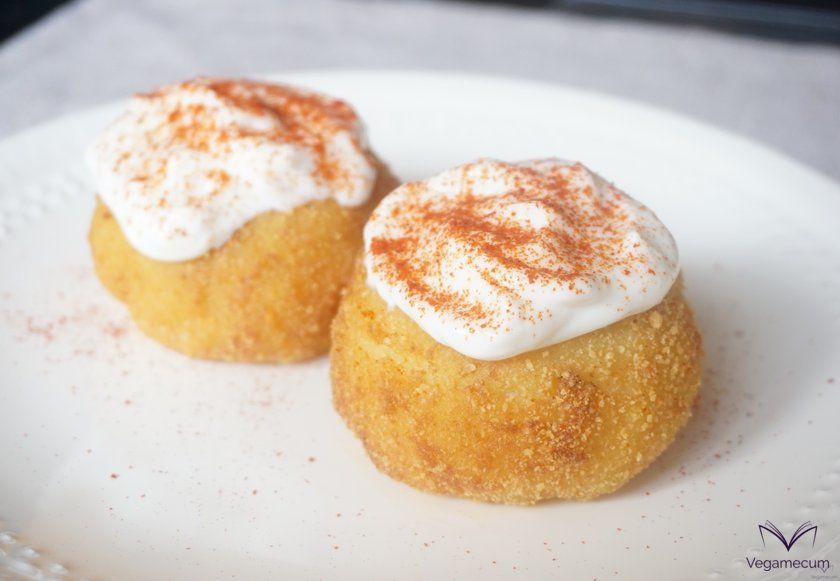 These potato bombs filled with spicy soy with aioli cover are a tastier and healthier version of the popular bombs, as they do not contain any animal-derived ingredients and, therefore, do not contain any cholesterol either.
This is a tapa that is formed by battered potato balls that at first sight may look like round croquettes, but which are larger and, when biting them, leave their delicious and spicy filling uncovered.
If until now they are tempting, when adding the alioli we just round it, since it brings softness and a point of flavor that makes this a really spectacular combination.
The filling of these pumps is rich in complete proteins , complex carbohydrates , fiber , beta carotene , alliin , flavonoids , vitamins C , E and group B ( B6 and B9 or folic acid ), sulfur , calcium , phosphorus , magnesium , manganese , potassium , selenium , sodium and, in smaller amounts, copper , iron and zinc .
Below you can see what ingredients you need and the steps to follow in order to make these bites with an intense and delicious flavor.
| | | |
| --- | --- | --- |
| Difficulty level | Preparation time | Rations |
| Medium | 1 h. y 30 m. | For 4 units |
Ingredients
3 potatoes
50 gr. textured soy
1 onion
1 garlic
1 cayenne chilli
25 ml. red wine
2 tablespoons fried tomato
3/4 teaspoon pepper
1 teaspoon salt
4 tablespoons extra virgin olive oil
3 tablespoons flour Yolanda (to coat)
70 ml. water
bread crumbs
spicy paprika
Instructions
Soak the textured soy in a saucepan with hot water for 15 minutes to hydrate it. After this time, drain it well and set aside.
Wash and peel the potatoes, and cut them into thick pieces. Put them in a saucepan with enough water and a little salt, and put them to cook for about 20 minutes. Check with a fork if they are soft and, if they are, turn off the heat and put them to drain to eliminate the cooking water.
Cut the onion into tiny pieces, chop the garlic and, in a pan, put the oil to heat. When it is hot, we toss the onion and garlic and let them be done. Meanwhile, we prick the cayenne pepper and remove the pips and, when the onion is transparent, we add it together with the soy, the wine, 1/2 teaspoon pepper and 1/2 teaspoon salt. We remove everything so that it mixes well and let it be done for 10 minutes. After this time, we turn off and reserve.
Smash the potatoes with a fork until forming a kind of puree, we toss the rest of black pepper and the rest of salt, and we go forming balls with the moistened hands. We make a hole in them and place inside a spoonful of filling that we have prepared, then forming a ball again, taking care that the filling stays inside. We repeat until we have all the balls ready and we put them for 15 minutes in the fridge so that they gain consistency and do not fall apart when manipulating and frying them.
In a bowl, we toss the flour Yolanda and we are adding water until obtaining a mass that is neither too thick nor too liquid, stirring with a fork to mix well.
In a dish, we toss the bread crumbs and we go over the bombs one by one, passing them first by the mixture of flour and water, and then by the bread crumbs, making sure they are well impregnated with the latter so that, when fried, they remain crispy outside.
In a deep pan, put plenty of oil to heat and, when it is hot (but not steaming), fry them, turning over when we see that they are golden, so that they turn brown on the other side. When they are made on all sides, we are placing them on absorbent paper to eliminate excess oil. Meanwhile, we prepare the aioli.
Once the pumps have expelled the excess oil, serve them with the aioli and a little spicy paprika sprinkled on top.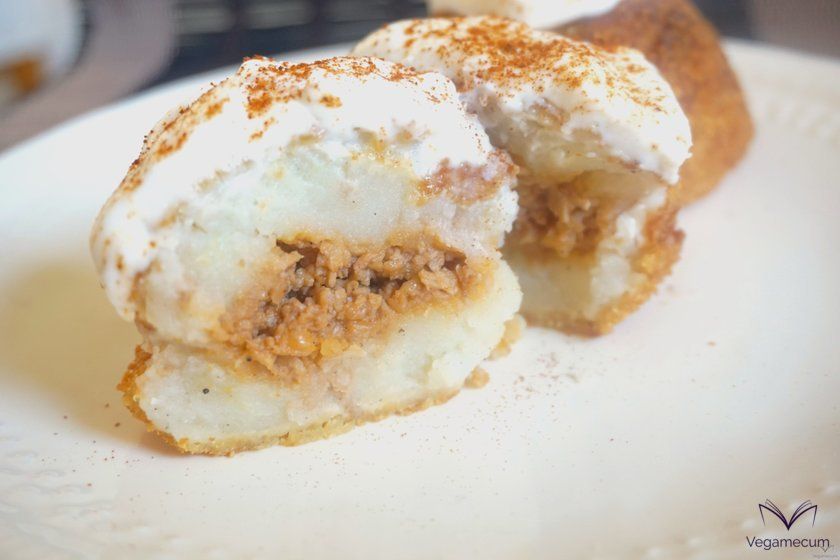 Notes
To make these gluten-free pumps, you only have to use gluten-free bread crumbs, like corn bread.
If you have any questions, you can leave it to us in the comments. And if you dare and want to show your creations to the world, do not hesitate to label us, we will love to see them through the networks!
Do you join us on social networks? You will find us on Facebook, Twitter, Instagram and Pinterest!