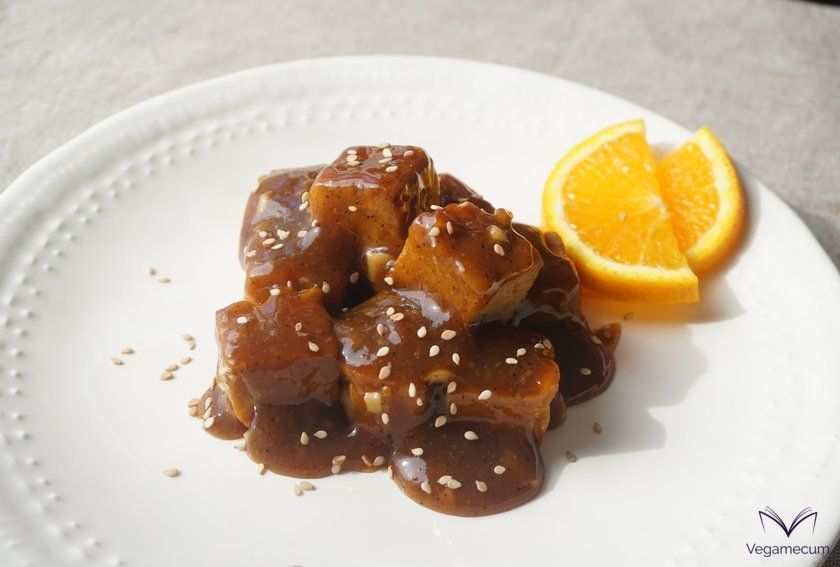 This recipe is very easy to make and, thanks to the variety of its ingredients, results in an extremely rich dish full of flavor.
Orange tempeh is a dish with a slightly sweet flavor, something citric and somewhat spicy, this last due to the spices that are added in its preparation. Thus, the final result is a stew that gives off an intense and exotic aroma, with a thick texture sauce and a delicious and sparkling flavor.
In addition, this sauce is ideal to accompany tofu and seitan dishes, and can replace the tempeh in case of not having it at any given time.
In terms of its nutritional properties, this is a dish rich in proteins , fiber , beta-carotene , flavonoids , oxalic acid , vitamins of group B ( B2 , B3 and B9 or folic acid ), aluminum , sulfur , boron , calcium , cobalt , copper , chromium , curcumin , phosphorus , iron , magnesium , manganese , potassium , silicon and zinc .
Below you can see what ingredients you need and the steps to follow to make this second so tasty and addictive.
| | | |
| --- | --- | --- |
| Difficulty level | Preparation time | Rations |
| Very easy | 15 m. | For 2 people |
* Plus 1 hour of maceration
Ingredients
250 gr. natural tempeh
2 tablespoons soy sauce
3 spoons of agave syrup
2 tablespoons rice vinegar
1/2 teaspoon pepper
1/2 teaspoon ginger powder
1/2 teaspoon salt
2 cloves of garlic
orange 1 juice
skin zest of 1 orange
1 tablespoon arrowroot flour
1 tablespoon water
Instructions
In a bowl, mix the soy sauce, the orange juice, the grated rind, the vinegar, the salt, the syrup, the chopped garlic and the spices. Once mixed, we put it in a bowl and add the tempeh cut into cubes. Let marinate for 1 hour.
Separate the tempeh from the sauce and cook it without oil in a pan for 5 minutes, adding a little sauce, just enough so that it does not stick.
On a plate, we remove the arrowroot flour and add the water, stirring it to dissolve. Once the flour is dissolved, mix it with the rest of the sauce and heat it in a pan, stirring for a couple of minutes, until you get a semi-thick texture.
We pass the tempeh to a plate, add the sauce on top, and serve with sprinkled sesame seeds, if desired.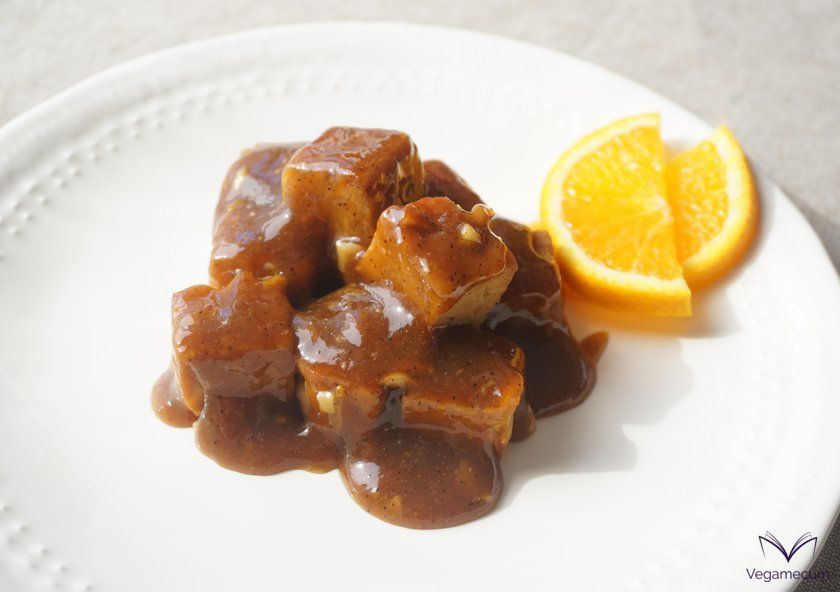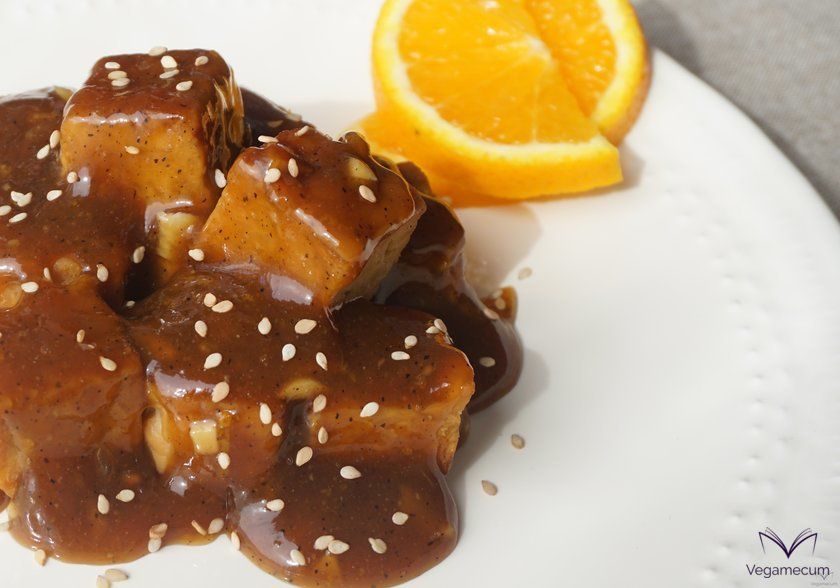 Notes
You can use both chickpea tempeh and soybean tempeh, and even substitute it with tofu or seitan with a mild flavor .
If you prefer, you can substitute the soy sauce for tamari, which is gluten free.
To get the thick texture of the sauce, you can use both arrowroot flour and tapioca flour.
If you have any questions, you can leave it to us in the comments. And if you dare and want to show your creations to the world, do not hesitate to label us, we will love to see them through the networks!
Do you join us on social networks? You will find us on Facebook, Twitter, Instagram and Pinterest!