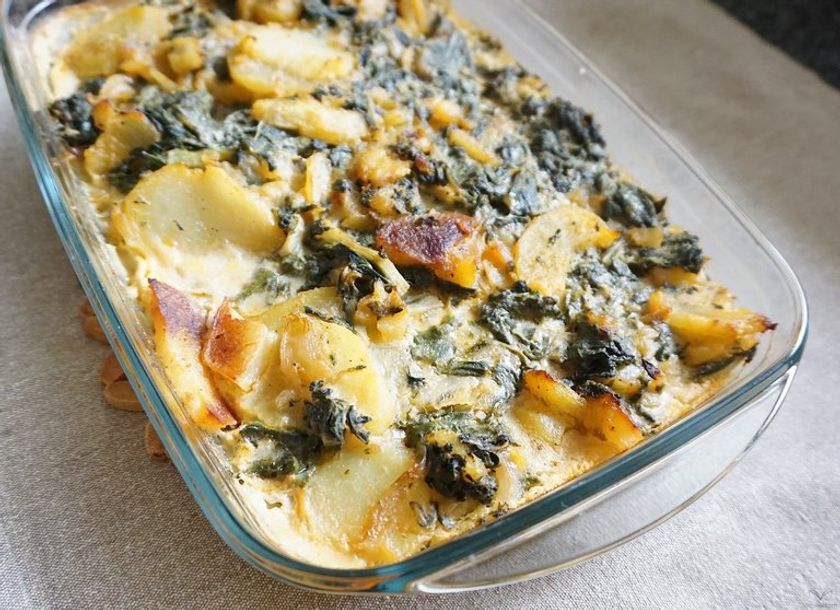 This is a traditional dish from the region of Extremadura, where chard, potatoes and onions are exquisitely integrated to give way to a tasty taste and conveniently seasoned thanks to the touch of garlic, wine and paprika.
In this gratinated and cholesterol free version, we find a more delicate and light flavor and a firm and tender texture that deliciously holds all the ingredients.
For all its qualities, this popular recipe is ideal to incorporate chard into our diet in a striking and simple format and, above all, in a very, very tasty way.
Chard was introduced by the Arabs, and today they are highly valued for their great nutritional wealth, as they provide proteins, antioxidants such as beta-carotene, fiber, vitamins A, C, E and group B, and minerals such as calcium, iron, potassium and magnesium.
Thus, chard, along with the other components that make up this dish, make it rich in flavonoids , beta carotene , fiber , protein , allicin , alliin , terpenoids , lecithin , carbohydrates , omega 6 and omega 9 , vitamins A , C , E , K and group B ( B1 , B2 , B3 , B5 , B6 and B9 or folic acid ); sulfur , calcium , copper , phosphorus , iron , magnesium , manganese , potassium , selenium , sodium and zinc .
Below you can see what ingredients you need and the steps to follow in order to make this traditional dish in its healthiest and most sustainable version.
| | | |
| --- | --- | --- |
| Difficulty level | Preparation time | Rations |
| Easy | 1 h. | For 6 servings |
Ingredients
1 kg. chard
1 kg potato
4 garlic cloves
1 red onion
1 teaspoon sweet paprika
1 teaspoon salt
3 tablespoons chickpea flour
250 ml. water
1 tablespoon vinegar
A pinch of pepper
extra virgin olive oil
Instructions
Wash the chard well so it releases all the earth, remove the white part, cut the green into pieces and put them to cook in a pot with water and salt. Let them cook for 15 minutes so that they soften, put them to drain and reserve.
Peel the potatoes, wash them and cut them into 0.5 cm slices. of thickness, approximately. Season and set aside.
Cut the onion into fine slices and set it aside with the potatoes.
In a large pan, medium-high heat, toss the potatoes and onion together carefully so that they cook evenly but do not fall apart, aprox. 15 minutes. When the potatoes and onions are fried, turn off the heat, put them in a drainer to remove excess oil.
In a glass, we toss 50 ml. water and the paprika and stir well. We reserve
In the same pan, we drain the chard well drained, leave them a couple of minutes sautéing in the oil and then add 1/4 tablespoon vinegar and the paprika.
We add the potatoes and continue sautéing all together for 5 minutes, stirring carefully so that the potatoes do not break.
In a bowl, we toss the chickpea flour, a pinch of salt, the remaining 3/4 tablespoon vinegar and the teaspoon of vinegar, beat it all until obtaining a homogeneous mixture and reserve.
In a bowl, we toss the chickpea flour, a pinch of salt, the remaining 200 ml. water and the teaspoon of vinegar, beat it all until obtaining a homogenous mixture and reserve.
We introduce the source in the oven and bake for 20 minutes. After this time, we take the source of the oven and serve.
Place in middle of oven and bake for 20 minutes, until golden brown on top.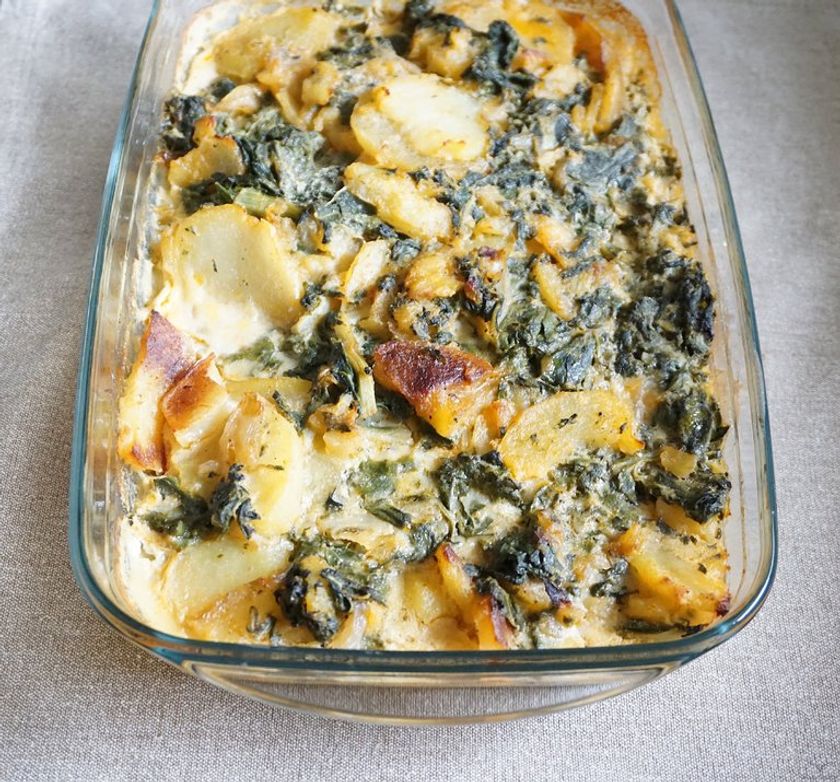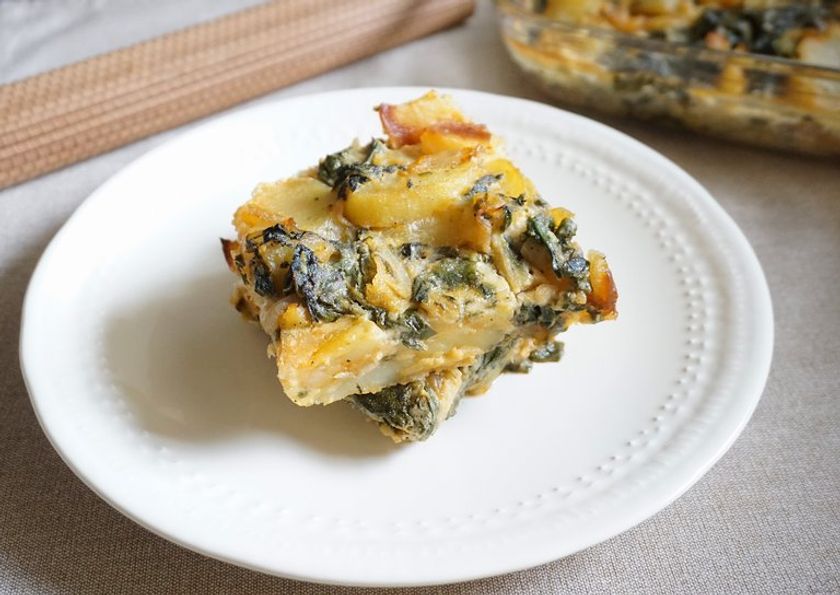 If you have any questions, you can leave it to us in the comments. And if you dare and want to show your creations to the world, do not hesitate to label us, we will love to see them through the networks!
Do you join us on social networks? You will find us on Facebook, Twitter, Instagram and Pinterest!