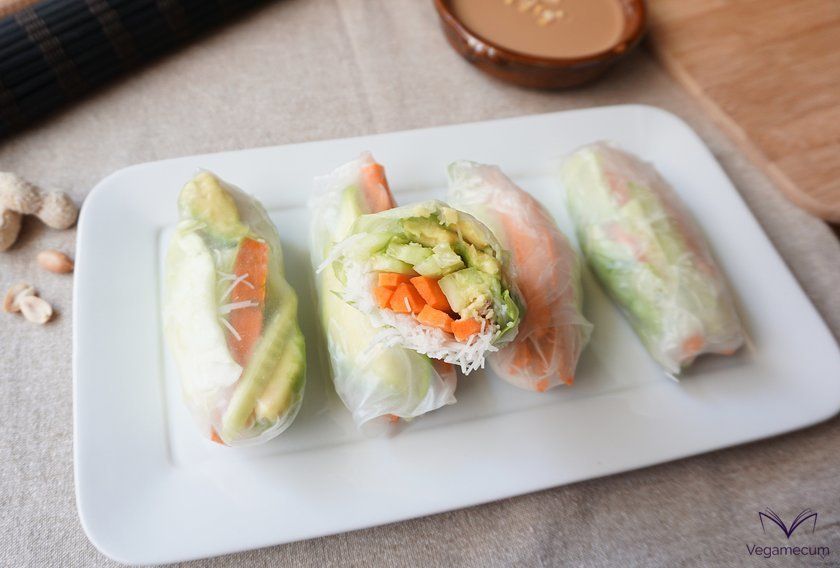 These summer rolls are the Vietnamese variant of Chinese spring rolls, and in fact, this is how they are called many times. And it is that in Vietnamese, its name is gỏi cuốn , which would literally be translated as "rolled salad", but it also usually appears translated as "spring roll".
Although reminiscent of spring rolls, these Vietnamese summer rolls, instead of being made with dough made from wheat flour and being fried, are rolled with dough made with rice flour and served cold.
Regarding their qualities, in addition to their freshness and bright color, these rolls stand out for being very nutritious and full of antioxidants, as well as for the delicious contrast that is created with the sweet peanut sauce, which makes it a Great option to include raw and varied vegetables to our diet in an easy and very, very rich way.
On a nutritional level, they are a starter rich in beta-carotene , lecithin , glutathione (antioxidant), carbohydrates , essential oils , omega 9 fatty acids, fiber , amino acids , vitamins A , C , E and group B ( B1 , B2 , B3 , B6 and B9 or folic acid ); calcium , copper , phosphorus , iron , magnesium , manganese , nickel (aids in the absorption of iron), potassium , selenium , sodium , iodine and zinc .
The sauce, meanwhile, provides protein , fiber , tryptophan , flavonoids , beta-carotene , isoflavones , omega 3 fatty acids, vitamins C , E and group B ( B3 and B9 or folic acid ); calcium , phosphorus , iron , magnesium , nickel , potassium and zinc .
Below you can see what ingredients you need and the steps to follow to be able to make some Vietnamese vegan rolls full of color and rich flavor.
| | | |
| --- | --- | --- |
| Difficulty level | Preparation time | Rations |
| Easy | 45 m. | For 6 units |
For spring rolls
6 rice paper wafers
60 gr. rice noodles
1 carrot
1 cucumber
4 romaine lettuce leaves
1 avocado
lemon juice (to avoid oxidation of avocado)
For peanut sauce
8 tablespoons peanut butter
1 lemon juice
4 tablespoons agave syrup
2 teaspoons tamari
4 tablespoons water
Instructions
Heat the water in a saucepan with a pinch of salt, bring to a boil and remove from the heat. Put the rice noodles, stir and let them to hydrate for 5 minutes. After this time, drain well in a colander or strainer and rinse with cold water. Set aside.
Wash the lettuce leaves, dry them and set aside.
Wash and peel the carrot and cucumber and cut them into thin sticks.Set aside.
Cut the avocado in half, remove the pit and remove the skin, making sure the flesh does not peel off. Sprinkle with a little lemon juice to prevent the avocado from browning and cut into thin slices. Set aside.
Start to assemble the rolls. Soak the wafer with hot water for 3 seconds on each side. Place it on a clean cotton cloth and, near one of the extremes of the wafer, put come lettuce leaves, some rice noodles, some cucumber, some carrot and some avocado. Cover the filling with the nearest extreme, turning the wafer a little on itself; pull the sides inward and continue rolling until forming the roll. When it is ready, put it on a plate and repeat this step until all the rolls will be formed and placed in the plate.
Prepare the sauce by pouring peanut butter in a bowl, together with the lemon juice, agave syrup, soy sauce and water. Stir well with a whisk or a fork until it emulsifies and, when it's ready, serve it with the vietnamese summer rolls.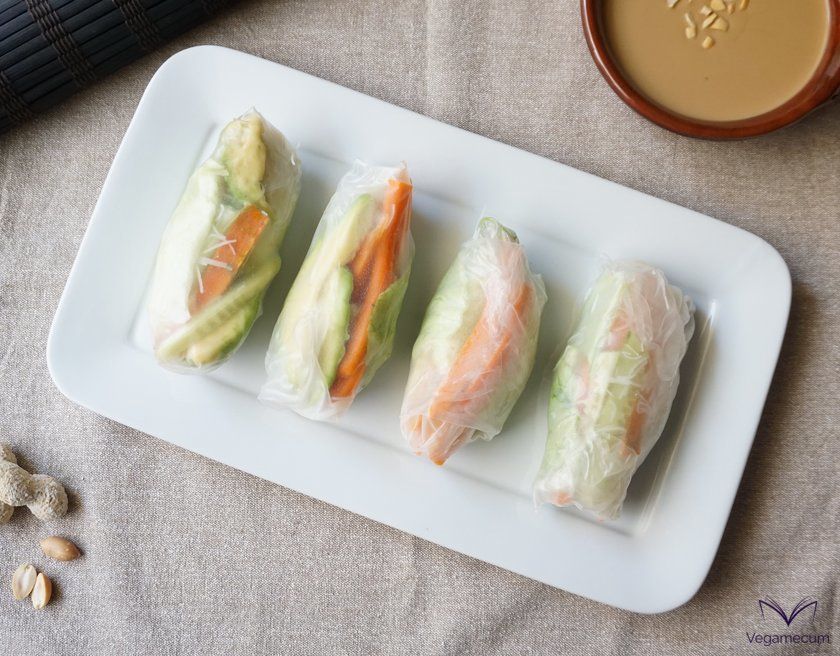 Notes
If peanut butter is very dense, you can heat it in a cup in the microwave at a gentle temperature for 30 seconds.
You can use both tamari soy sauce and shoyu soy sauce, the only difference is that tamari does not contain gluten and its flavor is somewhat more intense.
You can fill the Vietnamese rolls with the seasonal vegetables you prefer. For example, in the season of red cabbage, this brings a touch of very striking color.
If you have any questions, you can leave it to us in the comments. And if you dare and want to show your creations to the world, do not hesitate to label us, we will love to see them through the networks!
Do you join us on social networks? You will find us on Facebook, Twitter, Instagram and Pinterest!