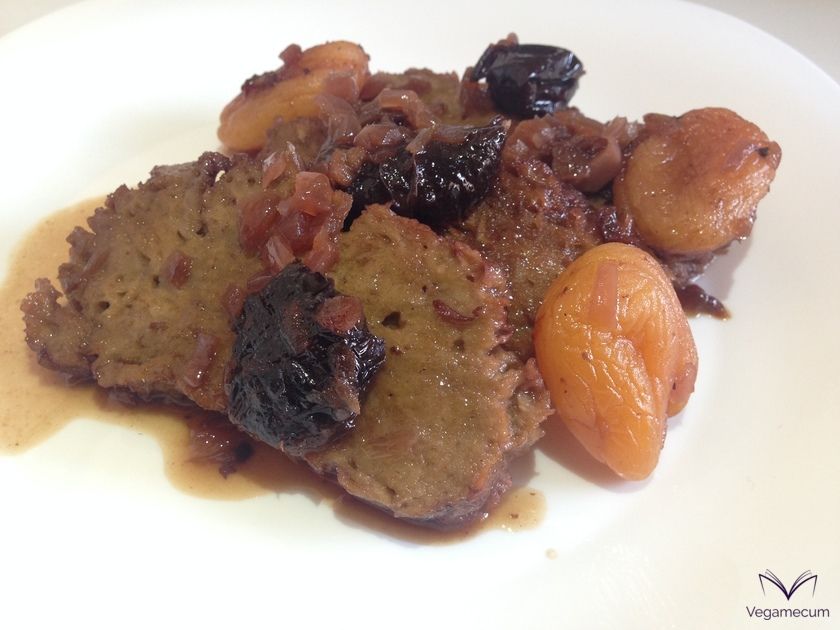 This seitan with dried apricots and prunes in red wine sauce is one of the dishes with the best time-result ratio, since once the seitan is available, it does not take an hour to have the dish ready and the taste The result is the most delicious thanks to the harmonious combination of its ingredients.
And is that the union of salty accents with sweet accents makes the aftertaste is the most pleasant, since it contains the right amount of the two worlds.
This is why the ideal occasion to enjoy this dish are dinners or special events such as parties or special dates, moments in which you look to surprise the guests with new flavors and enjoy of different foods.
This dish, in addition to being very tasty, has no cholesterol and provides a large amount of proteins , as well as vitamin A , > calcium , potassium , magnesium , iron , lecithin and fiber .
For this recipe, yes, we recommend using a very smooth seitan, as you can make yourself following the recipe that we give you here . In this way, you will achieve that the delicate flavor of the sauce is not altered by the intense flavor that other types of seitan usually have.
Below you can see what ingredients you need and the steps to follow to make this seitan in sauce with dried fruit.
| | | |
| --- | --- | --- |
| Difficulty level | Preparation time | Rations |
| Medium | 50 m. | For 3 people |
Ingredients
9 dehydrated apricots (dried apricots)
9 prunes
1 onion
1 clove of garlic
1 glass red wine
1 glass water
extra virgin olive oil
Salt
peppers potpourri
1 cinnamon stick
2 tablespoons brown sugar
Instructions
In a pot, add a little oil (just enough to cover the bottom) and make the seitan until golden. We remove it from the fire and reserve it.
Next, we laminate the clove of garlic and cut the onion into small cubes, sauté them in a casserole and add a little salt and potpourri of peppers.
Once the onion begins to brown, add the dried apricots and prunes and sauté over high heat for a couple of minutes while stirring.
We remove the sugar, mix it well and add the red wine, water and cinnamon stick. Let it reduce for about 10 minutes.
Introduce the seitan, cover it with a lid and let it simmer for about 15 or 20 minutes, turning it over from time to time. After this time, remove the cinnamon stick, remove the seitan and, once cooled, cut it into slices.
Finally, introduce the slices of seitan in the pan again and heat for 7 minutes over low heat.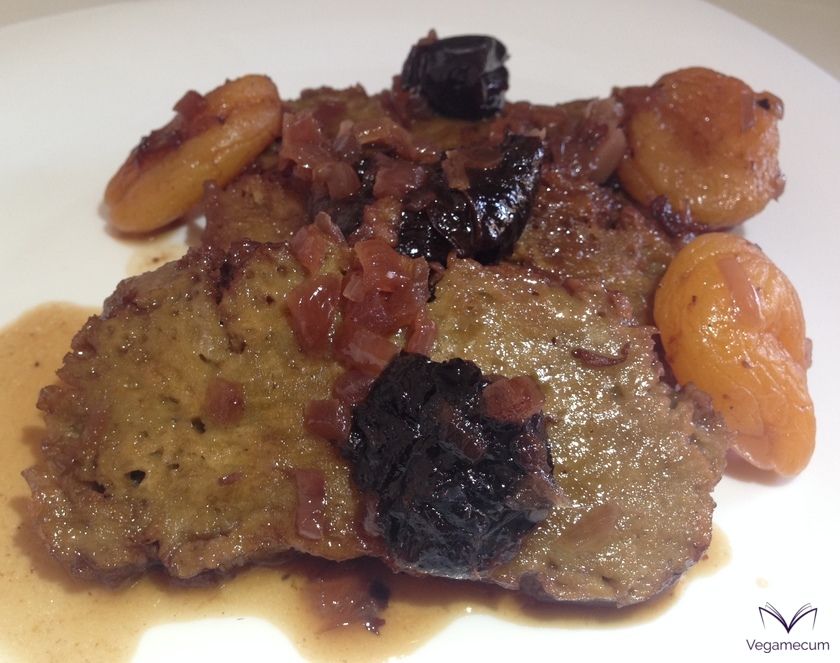 Notes
If you have any questions, you can leave it to us in the comments. And if you dare and want to show your creations to the world, do not hesitate to label us, we will love to see them through the networks!
Do you join us on social networks? You will find us on Facebook, Twitter, Instagram and Pinterest!