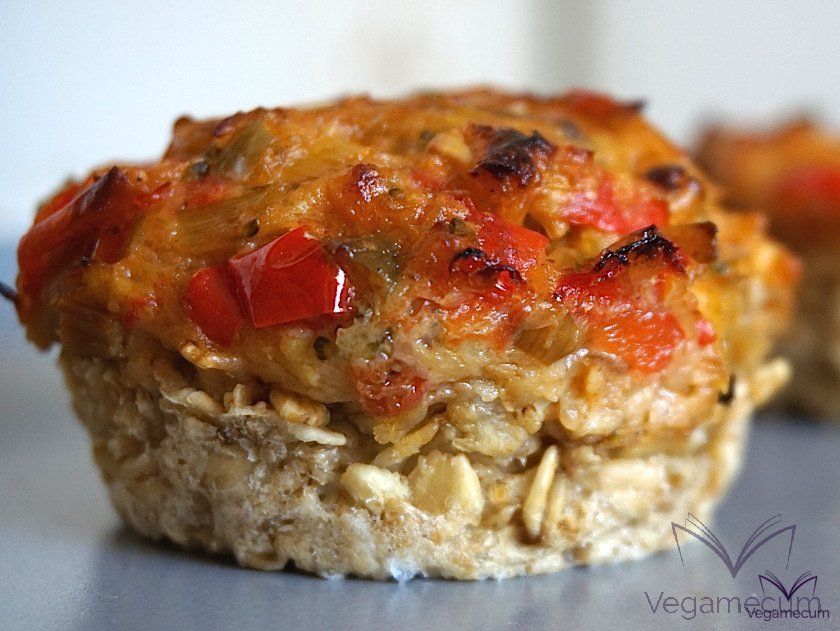 This is a perfect proposal for meetings with friends and other informal dinners, as it is just as delicious hot, as cold.
In these baskets we find the valuable nutrients provided by oats , such as vitamin E , vitamins of group B ( B1 , B2 , B6 and B9 or folic acid), phosphorus , calcium , magnesium , potassium , iron and zinc , as well as proteins and soluble and insoluble fiber , and the great dose of energy that makes it so popular among athletes.
In addition to being a great source of energy, oats have other great powers: the satiating, the facilitating intestinal transit, the helping to lower levels of bad cholesterol, the favor of the production of new tissues in our body, the to prevent cardiovascular diseases and, according to certain studies, to help prevent different types of cancer due to their phytochemical content.
Its interior, filled with peppers , onions , broccoli and cherry tomatoes , complete the nutritional contribution with vitamins A and C , lycopene , beta carotene , tryptophan , flavonoids , sodium and sulfur .
Then you will see how you can make these delicious baskets to surprise each and every one of the guests.
| | | |
| --- | --- | --- |
| Difficulty level | Preparation time | Rations |
| Medium | 1 h. | For 6 units |
Ingredients
10 spoons of oat flakes
1 teaspoon salt
175 ml. water
3 tablespoons extra virgin olive oil
1 small onion
1/2 small red pepper
1/2 green pepper
1 small leek
1 clove of garlic
2 broccoli florets
8 tomatoes
1 and 1/2 tablespoons wholemeal flour
200 ml. soy milk
1 pinch of pepper
1 pinch of nutmeg
Instructions
In a bowl, we put the oatmeal with 1/2 teaspoon of salt and cover it with just water so it does not spill. We introduce it 1 minute in the microwave at maximum power, remove it and stir well to undo the resulting paste.
In a mold of muffins, we put a little dough in each of the holes, making sure it covers the bottom and sides well. We introduce it in the preheated oven and bake it for 20 minutes at 150º. After this time, we take it out of the oven and let it cool.
Put 3 tablespoons of oil in a large pan and, when hot, we toss the chopped garlic together with the leek washed and cut into thin slices and take a few turns. When golden, add the onion and pepper cut into small pieces, stir and cover, letting it go over medium heat.
When the pepper and onion are half done, we toss the corsages of broccoli and the water so that the latter is cooked and we cover again 10 minutes more.
After this time, add the tomatoes cut into small pieces, mix everything well and cover again until it is done.
Then, we toss the flour, we give a few laps so that it is refried a little and, next, we toss the soya milk, a pinch of pepper, a pinch of nutmeg and 1/2 teaspoon of salt. Let it cook until the mixture thickens, remove it from the heat and let cool.
Once it has cooled, fill the oat baskets we have in the molds and grill a few minutes until they are golden brown, watching that they do not burn.
Notes
You can also use any flour that you have available, but we recommend that it be integral so that it contains all the nutrients of the whole grain.
You can substitute soy milk for any other vegetable milk, except coconut and quinoa, which would alter the flavor.
In the case that when unmolding the baskets, these are soft, you can put them on kitchen paper and put them in the oven a little more until they dry.
If you have any questions, you can leave it to us in the comments. And if you dare and want to show your creations to the world, do not hesitate to label us, we will love to see them through the networks!
Do you join us on social networks? You will find us on Facebook, Twitter, Instagram and Pinterest!