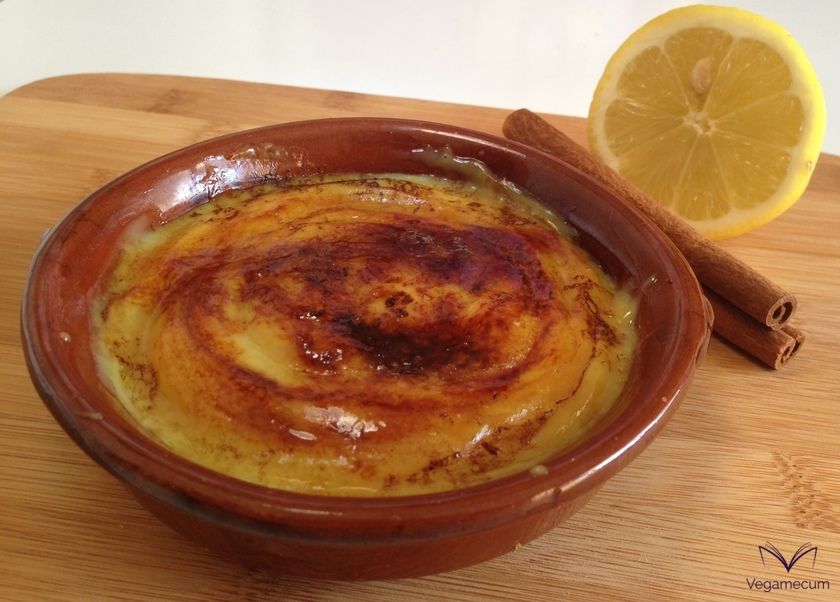 The Catalan cream is a typical dessert of Catalonia (as you may have guessed by its name) and, although it is eaten all year round, it is a tradition to eat it on March 19, which is the day of San José, for which reason it is also called cream of Sant Josep .
After the custard, which already existed in ancient Rome several centuries before Christ and which is believed to be an evolution, the Catalan cream is considered one of the oldest desserts in Europe and, in fact, already appears in Catalan recipes of the Middle Ages such as the Book of Sent Soví (s.XIV) or the Llibre del Coch ( s.XVI).
But, luckily, we no longer live in medieval times and we know we can get a delicious Catalan cream without using any ingredient of animal origin, which, in addition, will allow us to enjoy a healthier version of this historic dessert.
With this version we are going to save both carbohydrates, fat and cholesterol in the egg, as well as cholesterol and excess sodium and fat in cow's milk, since the latter will be substituted by soy milk, which provides us with proteins , vitamins of group B , especially B6 and B9 ( folic acid ), calcium (since nowadays they are all enriched with this mineral), phosphorus , potassium , magnesium , omega-3 fatty acids , abundant fiber and isoflavones that prevent decalcification bone, improve blood circulation and fight bad cholesterol and triglycerides.
Below you can see what ingredients you need and the steps to follow to make this dessert so easy.
| | | |
| --- | --- | --- |
| Difficulty level | Preparation time | Rations |
| Easy | 15 m. | For 6 servings |
* The number of servings will vary depending on which container you use to serve the Catalan cream. we have got 6 portions using clay pots.
Ingredients
1 l. soy milk
70 gr. corn starch
200 gr. brown sugar
1 cinnamon stick
the skin of 1 lemon
1 pinch of turmeric (optional)
6 teaspoons brown sugar (to burn)
Instructions
In a saucepan, put to heat the soy milk (reserving a glass of this for later), with the cinnamon stick, lemon peel and sugar. When it breaks to boil, we put out the fire and reserve.
In the soy milk glass that we have separated, we toss the corn starch and we spin it until it dissolves without lumps. Next, if we want to give it a more vivid color, add the turmeric and turn it until it dissolves too.
Remove the cinnamon and lemon peel from the pot where we have the boiled soya milk and put it back to heat until it breaks to boil again. We pour the mixture of soy milk with starch, stir vigorously so that it thickens and remove from heat (you will see that it thickens very quickly).
Pour the contents of the saucepan where we are going to serve the cream (preferably in clay pots) and introduce it in the fridge until it is completely cool (2 hours approx.).
Finally, sprinkle a heaping teaspoon of sugar over each of the containers and burn it with a kitchen torch or a special plate for Catalan cream. In this way we will remain toasted and crispy.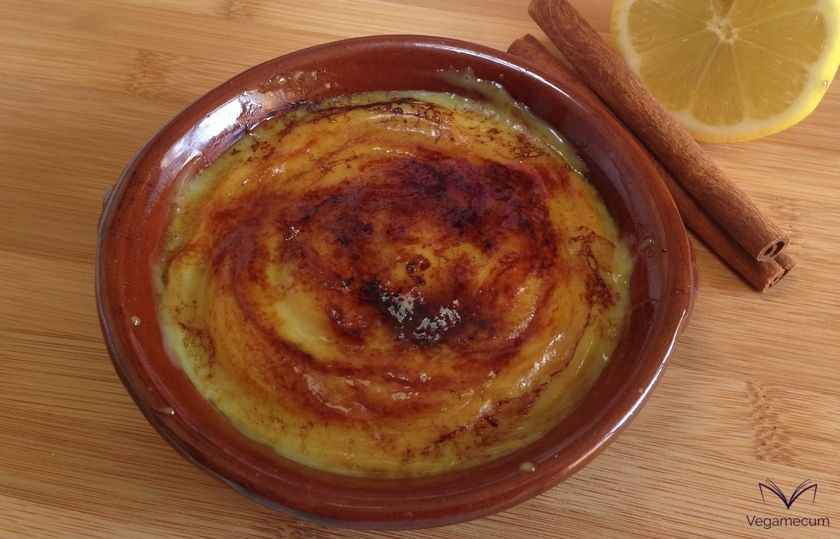 Notes
Although here we have used soy milk, you can use the vegetable milk that you like the most, except the coconut milk, which alters the flavor.
Corn starch is not the same as corn flour, the first thicker. If you choose to use corn flour, remember to avoid the Maizena brand, as it belongs to Unilever, a company that tests on animals.
We have added turmeric, rather than the touch of color it gives, for its properties, since it is digestive, antioxidant, antidepressant, anti-inflammatory and hepatoprotective.
If you do not have a kitchen torch or special plate for Catalan cream, you have two other options: use a normal metal spatula, heating it and pressing it on the sugar; or introducing the cream in the oven, as close as possible to the grill and at full power (taking care that it does not burn), sprinkled with a little water and sprinkled sugar.
If you have any questions, you can leave it to us in the comments. And if you dare and want to show your creations to the world, do not hesitate to label us, we will love to see them through the networks!
Do you join us on social networks? You will find us on Facebook, Twitter, Instagram and Pinterest!