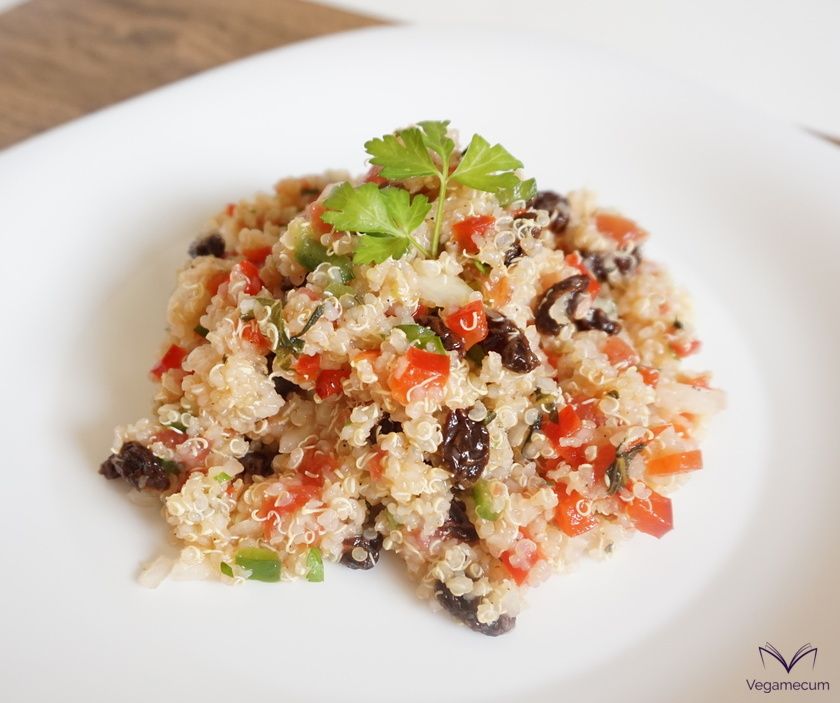 With these summer temperatures that we already have, nothing fancies more than fresh dishes and flavors. For that reason, and because we love the explosion of summer flavor that it provides, we propose this oriental taboulé of quinoa with raisins .
To make it, besides not having to spend a lot of time in the kitchen, we do not need to cook anything more than quinoa, since the rest of the ingredients are added raw. In this way, not only will we avoid passing heat in the kitchen, but the nutritional properties of the ingredients will also remain intact, thus taking advantage of their nutrients to the maximum.
With the composition of this taboulé, we will obtain nutrients such as complete proteins (quinoa contains all the essential amino acids), complex carbohydrates (low glycemic index, which provide long-lasting satiety), omega 3 , vitamin A , vitamins group B ( B1 , B2 , B3 and B9 or folic acid), vitamin C , vitamin E , calcium , iron , magnesium , potassium , zinc , manganese , copper , boron , lycopene (detoxifying), beta carotene (with great antioxidant power), Tryptophan (combats the symptoms of depression), fiber and apiol (stimulates diuresis).
Here we leave you all the information you need to enjoy this complete dish!
| | | |
| --- | --- | --- |
| Difficulty level | Preparation time | Rations |
| Easy | 45 m. | For 2 people |
Ingredients
160 gr. quinoa
80 gr. sultanas raisins
1 tomato
1 onion
1/2 red pepper
1/2 green pepper
juice of 1 lemon
4 gr. parsley
4 gr. fresh mint
400 ml. water
1 teaspoon salt
1/2 teaspoon pepper
50 ml. extra virgin olive oil
Instructions
We put the quinoa in a colander and wash it under the tap until the water comes out clean. Once we have it thoroughly washed, we put it in a saucepan with the amount of water specified and a little salt and let it cook for 12 or 14 minutes. Remove from heat, we go through cold water in a colander, drain and reserve.
Cut the peppers, the onion and the tomato into small pieces (eliminating the pips of this one) and also reserve.
Chop the parsley and mint and make a sauce with these, oil, lemon juice, salt and pepper, mixing everything well with a fork.
Put the quinoa in a bowl, add the pepper, onion and tomato, raisins and, finally, toss the sauce stirring well to mix everything.
Finally, we introduce it in the fridge so that when serving it it has the settled flavor and the fresh touch that characterizes it.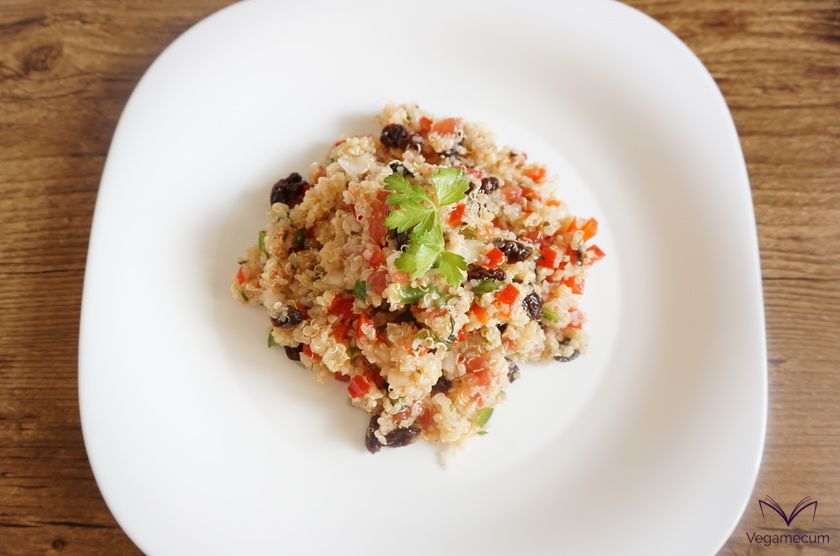 If you have any questions, you can leave it to us in the comments. And if you dare and want to show your creations to the world, do not hesitate to label us, we will love to see them through the networks!
Do you join us on social networks? You will find us on Facebook, Twitter, Instagram and Pinterest!