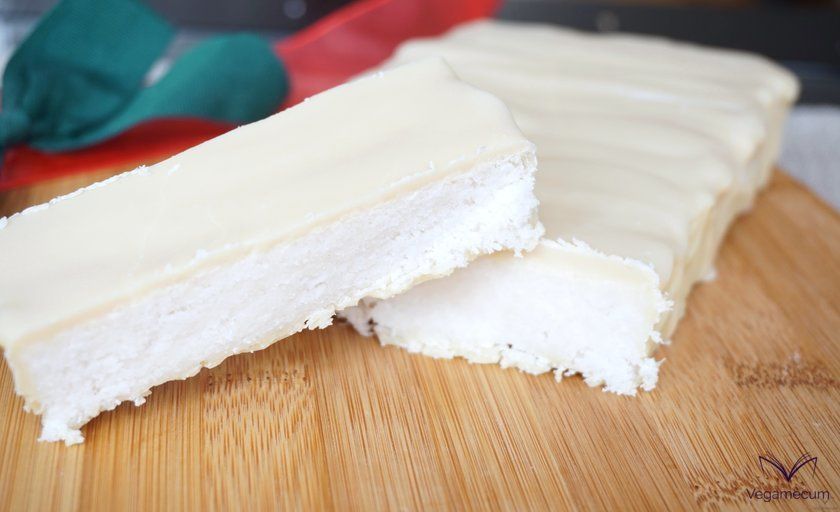 As we discussed in the recipe of Cream and Nuts Vegan Nougat when we talk about the history of nougat, it comes from the Arabian Peninsula, but since its arrival in the Mediterranean have appeared many versions and varieties, among which we find this delight of coconut, to which we have added a sweet cover of white chocolate totally vegetable.
In this way, we obtain as a result a kind of white chocolate with an interior of sweet coconut that, even breaking with the traditional concept of nougat, delights the most sweet.
This nougat is, thanks to coconut , rich in carbohydrates that provide us with energy , fiber , vitamins of group B ( B1 , B2 , B3 , B5 and B6 ), potassium , phosphorus , selenium and chromium , as well as a small amount of proteins .
Below you can see what ingredients you need and what steps you have to follow in order to enjoy a super simple and sweetest nougat free of ingredients of animal origin and without additives.
| | | |
| --- | --- | --- |
| Difficulty level | Preparation time | Rations |
| Easy | 30 m. | For 575 grams |
* Plus 9 hours of rest and refrigeration
Ingredients
175 gr. grated coconut
125 gr. sugar
75 ml. water
200 gr. white chocolate
4 tablespoons extra virgin olive oil (optional)
Instructions
First of all we prepare a dense syrup. For this, we will heat the sugar and water in a saucepan for 15 minutes, stirring occasionally to avoid sticking. After this time, we remove it from the fire and let it cool.
Put the grated coconut in a bowl, add the syrup and mix well to obtain a moist dough. We pass it to a mold and let it rest for 5 hours in the fridge. After this time, we take it out of the fridge and unmold it very carefully.
Chop one of the white chocolate tablets, put it in a cup and put it in the microwave at full power for 1 minute (a little more if you see that it is not enough to melt it).
Place the nougat on a grid, mix the chocolate with the oil if we want it more unctuous, and cover the nougat with the melted chocolate, making sure it is well covered, including the edges. We let it cool in the fridge for 2 hours so that it solidifies well.
Chop the other chocolate tablet, melt it in the same way as the other and, placing the nougat on the grid again, pour the chocolate on the other side so that there is a consistent and uniform coverage. We let it sit in the fridge for another 2 hours.
After this time, the nougat will be ready to take it out of the fridge and serve it.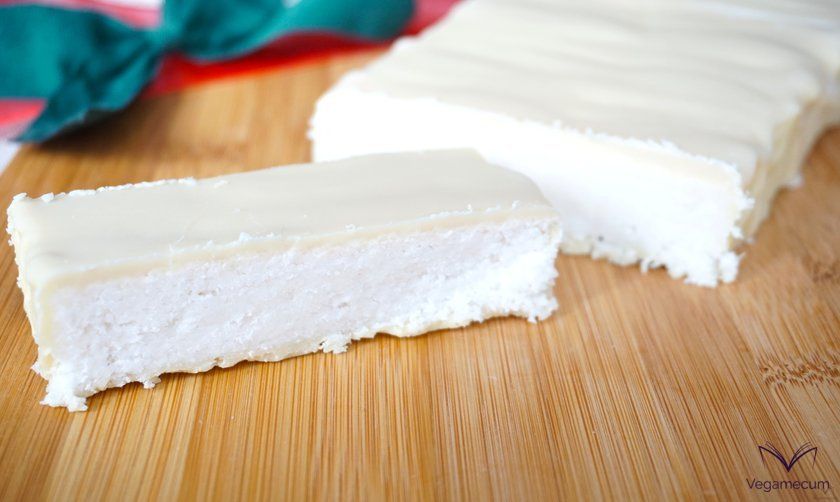 Notes
If you prefer, you can replace the white chocolate cover with a black chocolate cover.
If you want the chocolate to be more unctuous, you can add 1 or 2 tablespoons of oil per tablet.
If you have any questions, you can leave it to us in the comments. And if you dare and want to show your creations to the world, do not hesitate to label us, we will love to see them through the networks!
Do you join us on social networks? You will find us on Facebook, Twitter, Instagram and Pinterest!