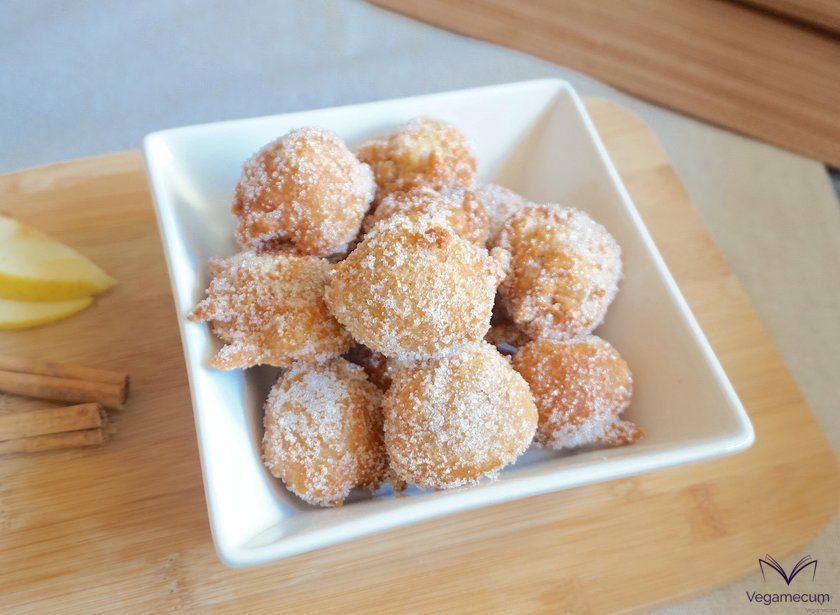 These fritters are crunchy on the outside and tender on the inside, and inside we find pieces of natural apple that give a texture contrast and an irresistible fruity touch. But what gives them the touch of distinction is, without a doubt, the delicious aromatic point that cinnamon and vanilla give them.
Like the torrijas , the fritters are very satiating, which is why their consumption is so typical during Holy Week, since in the past Christians used to eat simple sweets but they would have enough energy to be able to face the fasting days that the religion forced to comply during Lent and Easter, where they could only make a single main meal a day.
Although in Spain we can find recipes for donuts since the 16th century, the term 'donut' comes from the Roman word 'puñuelo', the name given to the balls of dough that the Romans prepared by kneading them with their fists. However, the sweet donuts that have arrived until our days are part of the great Andalusian gastronomic legacy, since they have their origin in al-Andalus.
The fritters are prepared very easily and with very common and simple ingredients, the only thing that we have to take into account for their preparation is that when frying they double their size (so we will take small portions of dough at the time of submerge them in the oil so that we can get fritters about 3 cm in diameter), and that the oil must be very hot so that the dough floats, but not in excess because this would cause a hard layer to form that would prevent the donut grow.
In the specific case of these donuts, we have added sweet and sweet apple pieces (Golden variety), which allows us to use less sugar and the texture of the pieces to be more creamy and juicy.
In addition to getting some more delicious fritters, adding apple to this dessert, we will also obtain nutrients such as fiber , flavonoids , vitamins A , C , E and group B (especially B3 and B6 ), calcium , phosphorus , magnesium and potassium .
Below you can see what ingredients you need and the steps to follow to make a juicy and fruity version of this dessert so typical of Mediterranean cuisine.
| | | |
| --- | --- | --- |
| Difficulty level | Preparation time | Rations |
| Easy | 1 h. | For 34 units |
Ingredients
200 gr. wheat flour
50 gr. whole cane sugar
2 teaspoons chemical yeast
1/2 teaspoon ground cinnamon
175 ml. soy milk (sugarfree)
1 pinch of salt
1 tablespoon flax seeds
3 tablespoons water
1 apple (small)
40 gr. non-hydrogenated margarine (melted)
1 teaspoon vanilla essence
sunflower oil (to fry)
whole cane sugar (to coat)
Instructions
We grind the flax seeds and mix them with the water, stir and let them hydrate for 15 minutes. We reserve
In a bowl, we put the flour, the yeast, the salt, the sugar and the cinnamon. We mix everything with a spoon and reserve.
In a cup, melt the margarine and put it in a saucepan with the soy milk and the vanilla extract. We add the mixture of linen and water that we had reserved, we remove everything well and we throw it in the bowl where we have the dry ingredients.
Peel, wash and discourage the apple, cut it into small pieces, put it in the bowl and mix everything well, making sure there are no lumps. Cover the bowl with a clean cloth and let the dough rest for 15 minutes.
We put to heat enough oil in a deep pan so that the buñuelos float in the oil. We are taking small portions of dough with a spoon and, with another spoon, take the dough to throw it into the oil and it is rounded. We fry in small batches over medium heat so that they cool well both inside and outside and, when we see that the fritters are golden, we take them out and put them on absorbent paper or on a colander to remove the excess oil.
When we have fried and drained all the fritters, we pass them by the sugar that we will have ready in a plate and we go them rebozando so that they are well sweetened by all the sides. When we have them all ready, we serve them freshly made.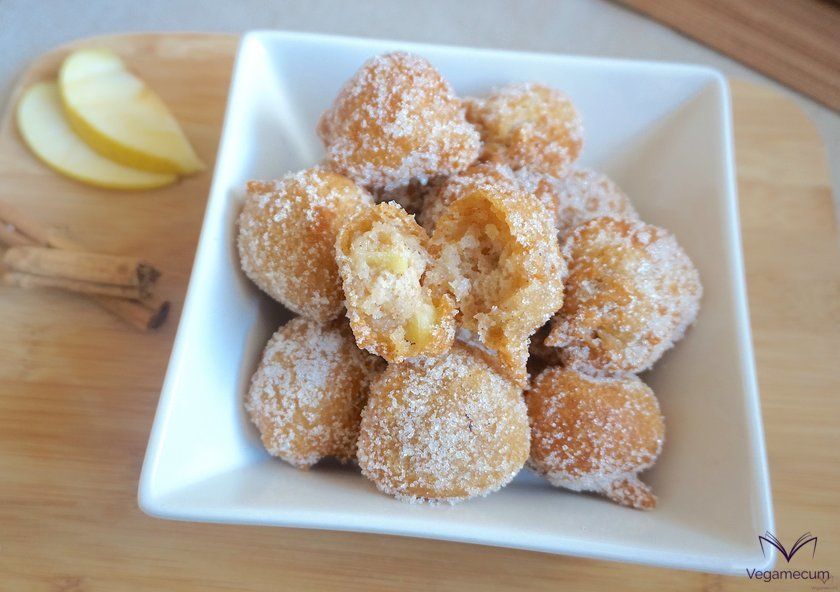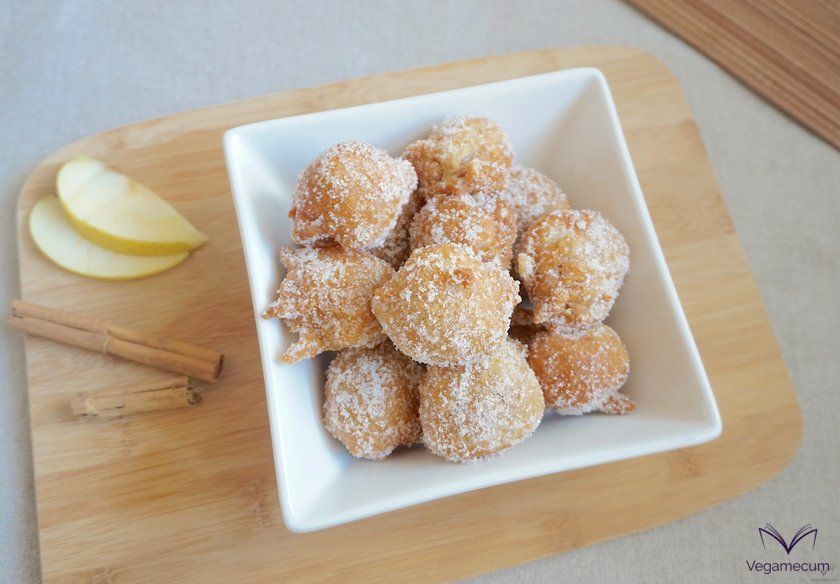 Notes
We have used Golden apple, but if you prefer, you can use any other variety of apples, although the texture and taste will vary a bit depending on the class you use (this can be more acidic, more floury ...).
When selecting the vegetable margarine, look that it is not hydrogenated and that it does not contain palm oil or any ingredient of animal origin (eg: some margarines contain gelatin and vitamin D of animal origin among its ingredients).
It is very important that the oil is neither too cold nor too hot, because otherwise, the donuts will be discarded or will be hard on the outside too soon, preventing them from growing. Ideally, it should be at approximately 170º, which you can check if, by adding a little dough to the pan, it rises quickly to the surface.
If you have any questions, you can leave it to us in the comments. And if you dare and want to show your creations to the world, do not hesitate to label us, we will love to see them through the networks!
Do you join us on social networks? You will find us on Facebook, Twitter, Instagram and Pinterest!