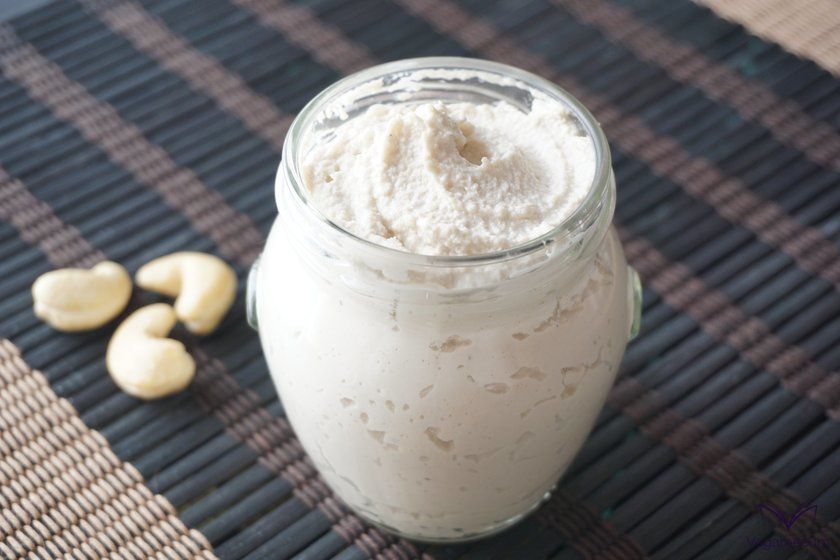 This cream cheese is ideal for making sweets such as tiramisu, cheesecakes and toppings, among others, without having to resort to cheeses of animal origin or industrial vegetable cheeses.
In addition to making any sweet that needs cream cheese, it is also perfect to use as a base when making other vegetable cheeses with more intense flavor or that we want to season with other ingredients.
This cream cheese is rich in proteins , omega 3 and omega 6 fatty acids, isoflavones , lecithin , fiber , tryptophan , phytosterols , vitamins A , E , K , and group B ( B3 , B5 , and B9 or folic acid ), calcium , copper , phosphorus , magnesium , manganese and selenium .
Below you can see what ingredients you need and the steps to follow to make this cheese so light and creamy.
| | | |
| --- | --- | --- |
| Difficulty level | Preparation time | Rations |
| Very easy | 5 m. | For 400 grams |
* Plus 32 hours of hydration and rest
Ingredients
200 gr. raw cashews
75 ml. water
2 tablespoons unsweetened natural soya yogurt
1 pinch of salt
Instructions
We put to soak the cashews for 8 hours.
After this time, we drain them and toss them together with the rest of the ingredients in the glass of the blender and beat them until they get a creamy texture.
We pass it to a glass jar, cover it well, and let it sit at room temperature for 24 hours.
After this time, we can either use it or keep it in the fridge, where it will get more consistency.
Notes
The warmer the environment, the earlier this cream cheese will ferment, so it will acquire intensity before.
If you want to get a more intense flavor, we recommend leaving it to rest for 48 hours. In this way, in sweet recipes the contrast will be greater.
Well covered, this cream cheese lasts 2 weeks if we keep it in the fridge, and up to 4 months if we keep it in the freezer.
If you have any questions, you can leave it to us in the comments. And if you dare and want to show your creations to the world, do not hesitate to label us, we will love to see them through the networks!
Do you join us on social networks? You will find us on Facebook, Twitter, Instagram and Pinterest!