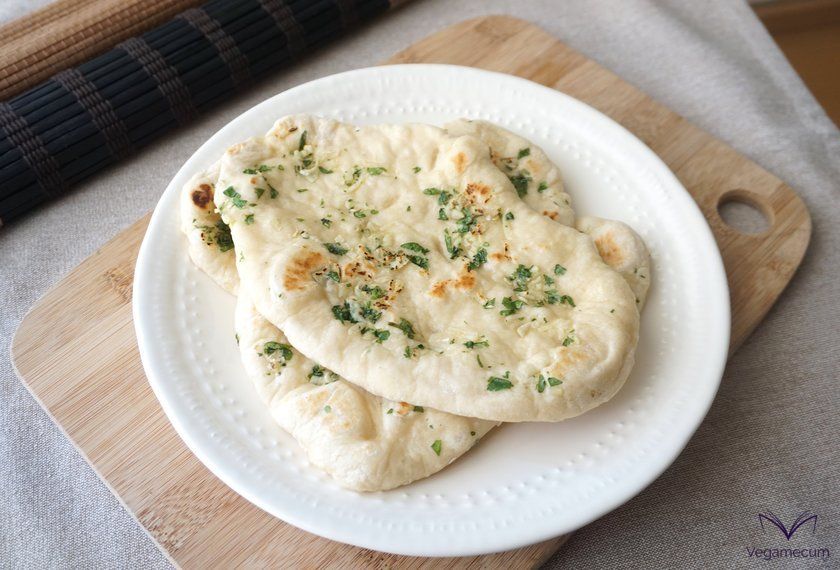 The naan, whose name literally means 'bread' in Persian, is a very tender and elastic flat bread that, according to the texts written in the year 1300 by the Indo-Persian poet Amir Kushrau, has its origin in the Imperial Court of Delhi .
However, it was during the Mughal Empire that between the 16th and 19th centuries it occupied what is now India, Pakistan and Bangladesh, and some areas of Afghanistan, Nepal, Bhutan and eastern Iran; that their consumption became popular.
The naan was traditionally prepared in a tandoor, which is a kind of vertical cylindrical oven made of clay. The uncooked dough adhered to the walls of the tandoor and, once cooked, was removed with a spatula.
As for this garlic naan, it is even more delicious thanks to the touch of garlic and cilantro, and it is very easy to make, since it requires few and simple ingredients and does not need an oven. In addition, it is a naan free of dairy and egg, since it is made exclusively with ingredients of vegetable origin, so it is free of cholesterol and the resulting taste is softer and lighter.
This type of bread is usually used as an accompaniment or directly as a spoon, and is perfect to serve with classic dishes of Indian cuisine, such as Palak Paneer , Tikka Masala , Onion Bahaji or Lentils curry with coconut milk .
Below you can see what ingredients you need and the steps to follow in order to make a fluffy naan with an intense and irresistible touch.
| | | |
| --- | --- | --- |
| Difficulty level | Preparation time | Rations |
| Easy | 1 h. y 30 m. | For 6 units |
* Plus 1 hour of rest
Ingredients
250 gr. wheat flour
115 ml. water (warm)
10 gr. dry yeast
1 tablespoon whole sugar cane
1 teaspoon salt
1 tablespoon extra virgin olive oil (Smooth flavor)
1 y 1/2 tablespoons coriander (chopped)
5 garlic cloves
1 tablespoon non-hydrogenated margarine
Instructions
Put the warm water, sugar and yeast in a bowl. Mix everything and let it rest for 10 minutes.
Put the flour with the salt in a large bowl. Mix and add the mixture of water, sugar and yeast of the othe bowl. Mix well until obtaining a dough, add the oil and knead for 5 minutes.
Form a ball with the dough, grease the bowl with a little oil and let the dough to rest in it for 1 hour, covered with a clean cloth.
After this time, put a little flour on a flat surface and place the dough on it. Gently squeeze the dough with the knuckles to remove the air and knead for 1 minute.
After that time, take dough portions of about 70 gr. each one and form small balls.
Grate the garlic and place it in a small bowl or in a dish. Add the finely chopped coriander and stir to mix well both ingredients.
Flour a little the work surface and spread each dough ball with a rolling pin or a clean glass bottle, giving them an oval shape. Take a teaspoon of garlic and coriander mixture and spread it on each one of the loaves with the rolling pin so that the mixture adhere well to the bread.
Turn over the loaves and moisten the back side with a little water, in such a way they don't be excessively wet.
Heat a non-stick pan over high heat and, when it is hot, place the loaves in batches and cook for 2 minutes.
After this time, reduce heat to low, turn over the loaves and let cook for 1 minute.
When all the loaves are cooked, place them in a dish. Put the margarine in a small bowl and lightly brush the surface of the loaves (the side where the garlic and coriander are). When all naans are lightly brushed, serve them still hot.
Notes
When choosing margarine, see that it is not hydrogenated and does not contain palm oil among its ingredients or any component of animal origin (eg: gelatin or buttermilk).
If you have any questions, you can leave it to us in the comments. And if you dare and want to show your creations to the world, do not hesitate to label us, we will love to see them through the networks!
Do you join us on social networks? You will find us on Facebook, Twitter, Instagram and Pinterest!