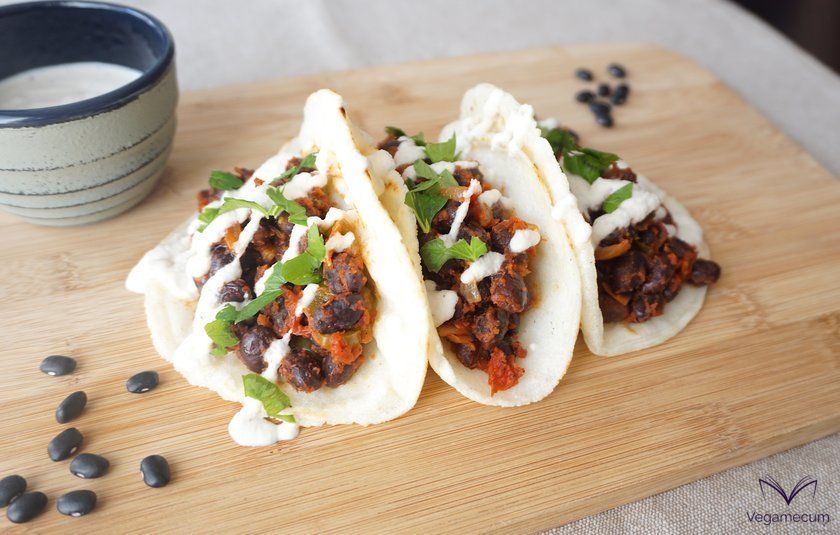 These tacos are a tasty dish, rich in quality proteins and with an irresistible spicy touch.
Being the black beans the main ingredient, we benefit from all the nutrients that the pulses give us in a delicious way and, also, being wrapped in tortillas made from corn, a perfect combination of amino acids is created that gives rise to a complete and quality protein free of cholesterol and harmful fats.
And if we still want to give an even more exquisite point to this dish, we can give it a soft and slightly acid point by adding a little sour vegetable cream over it , and accompany it with a delicate guacamole .
These are tacos rich in proteins , carbohydrates , fiber , flavonoids and antioxidants such as lycopene , beta carotene , glutathione and terpenoids , inulin , allicin , alliin , gamma-amino butyric acid (GABA) , vitamins A , C , E , K and the group B ( B1 , B2 , B3 , B6 and B9 or folic acid ), sulfur , calcium , phosphorus , iron , magnesium , manganese , potassium , selenium , sodium and, in smaller amounts, copper and zinc .
Below you can see what ingredients you need and the steps to follow in order to make some super tasty and vibrant tacos.
| | | |
| --- | --- | --- |
| Difficulty level | Preparation time | Rations |
| Easy | 1 h. | For 2 people |
Ingredients
200 gr. black beans (cooked)
5 cherry tomatoes (mature)
175 ml. crushed tomato
2 cloves of garlic
1/2 green pepper
1/2 onion
1/2 teaspoon salt
1 cayenne chilli
1/4 teaspoon cumin
1/4 teaspoon pepper
1/4 teaspoon whole cane sugar (optional)
2 tablespoons extra virgin olive oil
Instructions
We put the beans in a drainer, wash them under the tap water, drain them and reserve.
In a frying pan, drain the oil and put it to heat over medium heat. When the oil is tempered, add the small onion cut and the garlic cut in half and let it poach for 5 minutes.
Add the pepper cut into small pieces and the tomatoes cut along, stir and let it all be done for 5 more minutes.
We toss the crushed tomato, the salt, the spices, the cayena pepper without seeds and the sugar (optional), we stir well everything and we let it cook covered with soft fire during 10 minutes.
Add the drained beans, mix them with the sauce and let it be done for 5 more minutes so that the beans take the flavor well, stirring from time to time. After this time, we put out the fire.
When we have the filling ready, we take a couple of tablespoons, we toss them in the hot corn tortillas, and we fold the latter to mount the tacos. Repeat this last step until we have all the tacos mounted and, if we want, we throw a little vegetable sour cream on top to highlight the flavor.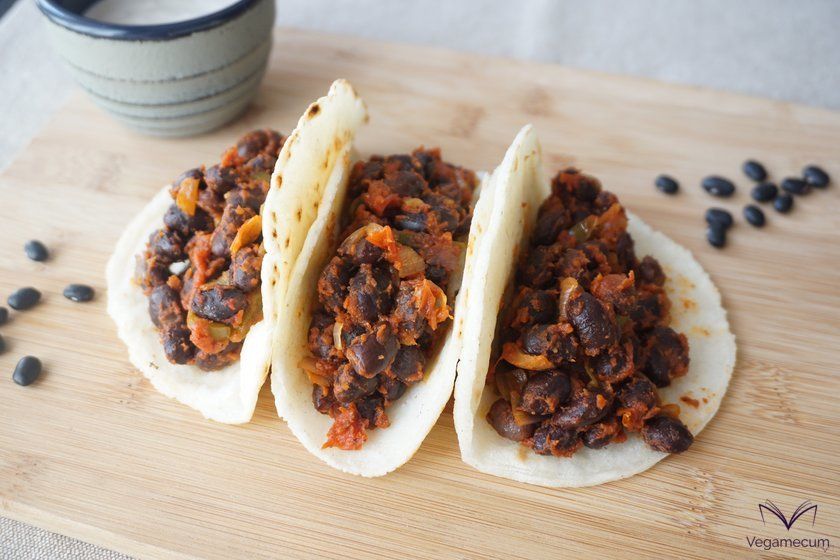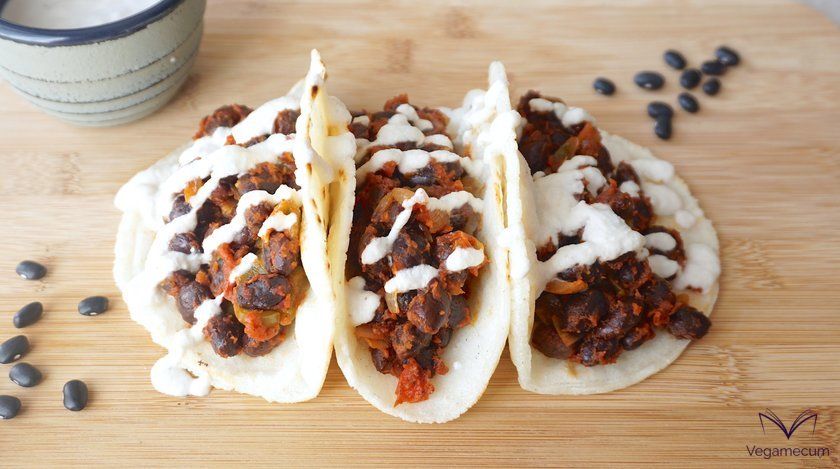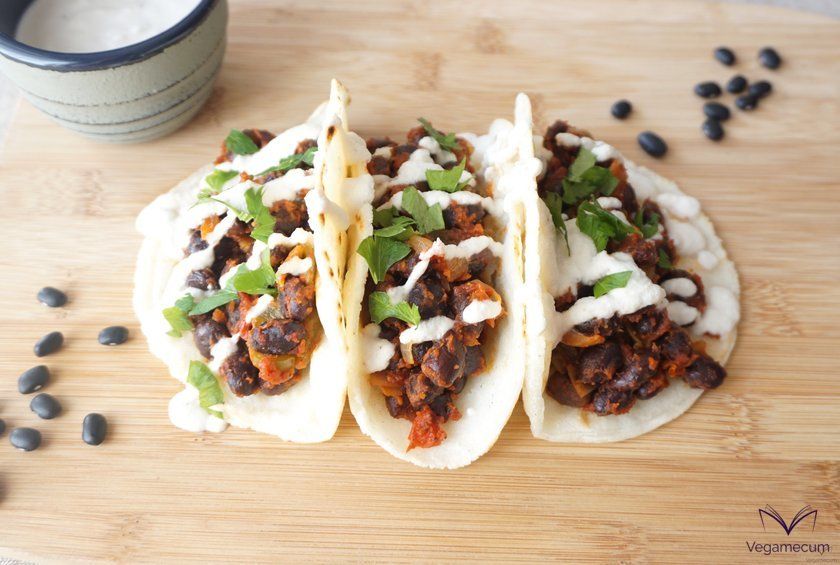 Notes
If you have any questions, you can leave it to us in the comments. And if you dare and want to show your creations to the world, do not hesitate to label us, we will love to see them through the networks!
Do you join us on social networks? You will find us on Facebook, Twitter, Instagram and Pinterest!