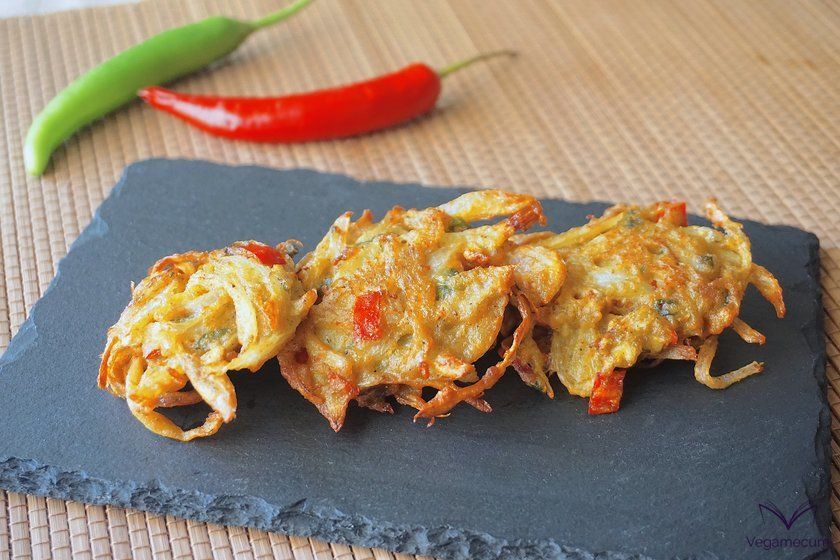 The bhaji are a kind of donut very consumed in India, also known as 'pakoras' in the north of the country.
Thus, the onion bhaji or bhajis of onion are something similar to some fritters made with onion cut into thin strips, seasoned with condiments and spices typical of Indian cuisine and mixed with chickpea flour, also called Gram.
After frying, the bhajis are crispy on the outside and slightly tender on the inside, with a mild and exotic flavor that is simply captivating, with thousands of accents and delicious notes resulting from the various spices used.
This dish is rich in flavonoids , carbohydrates , amino acids , allicin , alliin , vitamins A , C , E and group B (especially B6 and B9 or folic acid ), sulfur , calcium , phosphorus , iron , magnesium , manganese , potassium , selenium , sodium and, to a lesser extent, copper and zinc .
Below you can see what ingredients you need and the steps to follow in order to make one of the most exquisite starters in Indian cuisine.
| | | |
| --- | --- | --- |
| Difficulty level | Preparation time | Rations |
| Easy | 1 h. | For 15 units |
Ingredients
1 yellow onion
1 purple onion
1/2 clove of garlic
2 red chilies
2 tablespoons coriander (chopped)
1/2 teaspoon salt
100 gr. chickpea flour
3/4 teaspoon turmeric (ground)
1 teaspoon cumin (ground)
20 gr. garam masala
125 ml. water
500 ml. extra virgin olive oil (to fry)
Instructions
Chop the garlic cloves, chop the cilantro and chop the chiles, previously removing the seeds.
Cut the julienne onions, place them on kitchen paper, cover them with another piece of kitchen paper and press gently to remove excess moisture.
We put the onion in a bowl, add the salt and stir well. Then add the garlic, chili and cilantro and stir well again.
Add the chickpea flour, the turmeric, the cumin and the garam masala and stir again, carefully so that all the ingredients are mixed well and making sure the onion is well impregnated.
Gradually add the water to tablespoons and we are stirring carefully to avoid lumps. We repeat this process until we have poured all the water and obtained a mixture of consistent texture.
In a deep frying pan, heat the oil over high heat, without getting to smoke, and while, we take spoonfuls of the mixture and, with hands smeared in oil, we give them rounded and slightly flattened, carefully.
When we have the bhajis formed and the oil is very hot (without getting to smoke), we toss them in the pan in batches and fry them for 3 minutes, turning them over half the time to make sure they brown evenly.
When we have all the golden bhajis uniformly, we take them out of the pan and put them to drain in a colander or kitchen paper to remove the excess oil. When they are well drained, we serve them.
Notes
It is important that the dough has a dense texture, so if at the time of adding water little by little, you can see that the dough has a consistent texture before it has been poured, it will not be necessary to add more water.
If you have any questions, you can leave it to us in the comments. And if you dare and want to show your creations to the world, do not hesitate to label us, we will love to see them through the networks!
Do you join us on social networks? You will find us on Facebook, Twitter, Instagram and Pinterest!