This cold cream of pumpkin and mango is a light dish with a delicious flavor fruit of the exquisite combination of its ingredients, which create a parade of delicate notes that permeate the palate with its irresistible and evocative fragrance.
The mango, in addition to being the star of this recipe, is a very antioxidant fruit with great satiating power, whose name comes from the Tamil word 'mangay', which is as it is known in the region of Malaysia, Sri Lanka and the South of India, a country where it has been cultivated for more than 4,000 years.
Its flavor is sweet, of great softness and with a point of freshness ideal to cool off in the warmer days of the year. But the best thing is that it is equally exquisite if instead of cold it is taken warm or hot, because according to the temperature at which it is consumed, aromas will stand out more intensely than others.
Thanks to its composition, this dish is rich in antioxidants , flavonoids , fiber , carotene , lycopene , carbohydrates , omega 9 fatty acids, allicin , alliin , vitamins A , C , E , K and group B ( B1 , B2 , B3 , B5 , B6 and B9 or folic acid ), sulfur , calcium , copper , phosphorus , iron , magnesium , potassium , sodium and, in smaller amounts, manganese , selenium and zinc .
Below you can see what ingredients you need and the steps to follow in order to make this original summer cream.
| | | |
| --- | --- | --- |
| Difficulty level | Preparation time | Rations |
| Easy | 1 h. | For 3 people |
Ingredients
500 gr. pumpkin (pulp)
2 mangoes
1 onion
3 tablespoons extra virgin olive oil
750 ml. water
1 teaspoon salt
1 pinch of pepper
Instructions
Peel the onion, cut it finely and set aside.
Cut, peel and wash the pumpkin, remove the seeds, chop and set aside too.
Wash and peel the mangoes, chop and set aside.
In a pan, put to heat the oil and, when it is warm, we toss the onion and let it be done over medium heat for 5 or 7 minutes, until poached, stirring occasionally so that it does not burn.
When the onion is transparent, we toss the pumpkin and stir for 5 minutes to mix with the onion.
Add the water and salt and let it cook for 15 minutes.
After this time, add the mango and let cook 5 more minutes. Then we put out the fire and let it warm up.
Once it is warm, grind well until you get a light cream without lumps and, if we wish, we have a Chinese to ensure that the cream is smooth and completely free of lumps.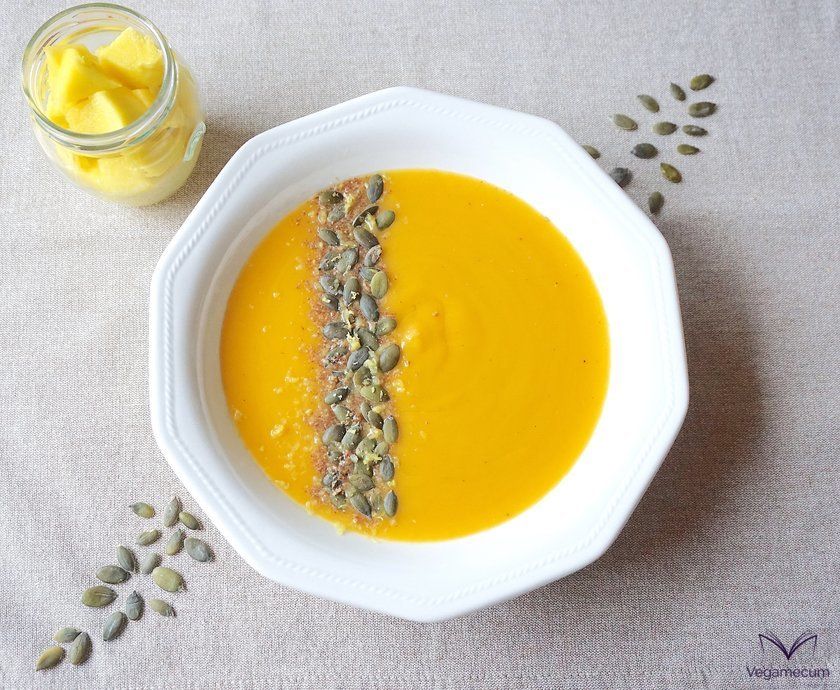 If you have any questions, you can leave it to us in the comments. And if you dare and want to show your creations to the world, do not hesitate to label us, we will love to see them through the networks!
Do you join us on social networks? You will find us on Facebook, Twitter, Instagram and Pinterest!