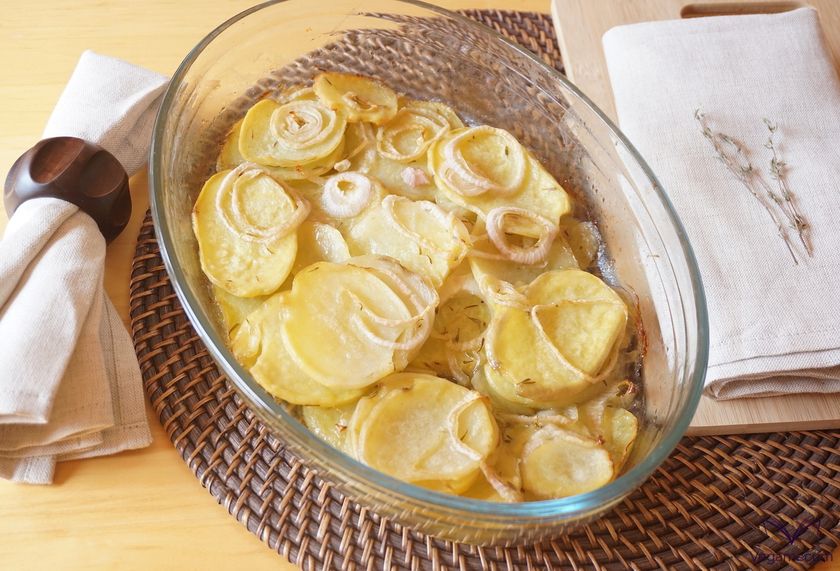 The original name of this recipe is ' Pommes de Terre à La Boulangère ', since initially, this dish of French descent was made in bakery ovens, as houses did not have their own oven. Thus, to prepare these potatoes, they were taken to the boulangerie , where the baker would bake them, taking advantage of the remaining heat from having baked the bread.
This way of preparing potatoes became popular in France in the 19th century, after the agronomist, nutritionist, hygienist and one of the creators of the French School of Bakery, Antoine-Augustine Parmentier, promoted the consumption of potatoes in the country after See how in Prussia, where he was held captive during the Seven Years' War, the local population consumed this tuber and valued it for the benefits it brought.
In this way, despite the fact that in France, as in the rest of Europe, the potato was not consumed because it was considered harmful to health, Parmentier managed to allow its cultivation and promoted its consumption in French households.
Baking potatoes are a real delight and, in addition, they are very simple to prepare, since with very few ingredients you get a great flavor. The fact is that, during baking, the different ingredients hydrate the potatoes and impregnate them with a rich and juicy flavor, where the aromas of wine and aromatic herbs stand out in a special way.
This is why this is a simple, easy and delicious dish, especially ideal to accompany seitan, mushroom, tofu and tempeh stews, as well as to serve as a garnish with vegetable burgers. and even to enjoy them without further companionship.
Nutritionally, this recipe is rich in carbohydrates , flavonoids , allicin , alliin , amino acids , beta-carotene , essential oils (especially thymol ), terpenoids ( antioxidants ), omega-9 fatty acids , fiber , vitamins C , E and group B ( B1 , B3 , B6 and B9 or folic acid ), sulfur , calcium , phosphorus , iron , magnesium , manganese , potassium , sodium and, in smaller quantities, copper , selenium and zinc .
Below you can see what ingredients you need and the steps to follow to prepare this simple and tasty recipe for baked potatoes.
| | | |
| --- | --- | --- |
| Difficulty level | Preparation time | Rations |
| Easy | 1 h. y 30 m. | For 4 people |
Ingredients
500 gr. potato
1 small onion
1/2 teaspoon dried thyme
1/4 teaspoon pepper (ground)
1/2 teaspoon salt
30 ml. white wine
50 ml. extra virgin olive oil
Instructions
Preheat the oven to 160º and, meanwhile, peel the potatoes, wash and cut them into thin slices, about 0.5 cm. thick. When the potatoes are sliced, put them in an baking dish.
Peel the onion, julienne it and put it over the potatoes.
Add the salt, pepper, thyme and oil and mix with your hands so that all the ingredients get well mixed. Next, cover the dish with baking paper, put it in the oven and bake for 30 minutes.
After this time, open the oven door, uncover the dish carefully and add the wine. Cover again and bake for 30 more minutes so that the potatoes finish cooking.
After this time, open the oven again, remove the paper, raise the oven temperature to 175º and bake for 10 more minutes so that the potatoes brown a little. When the potatoes are golden brown, remove them from the oven and serve.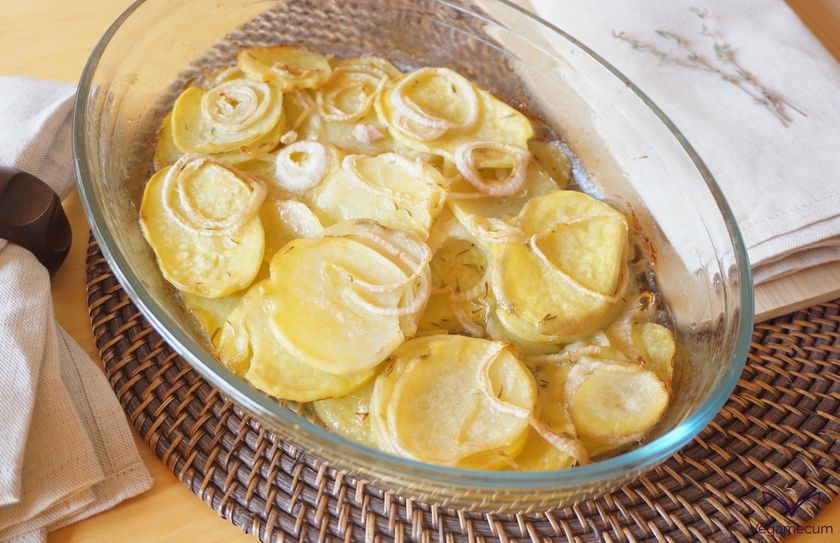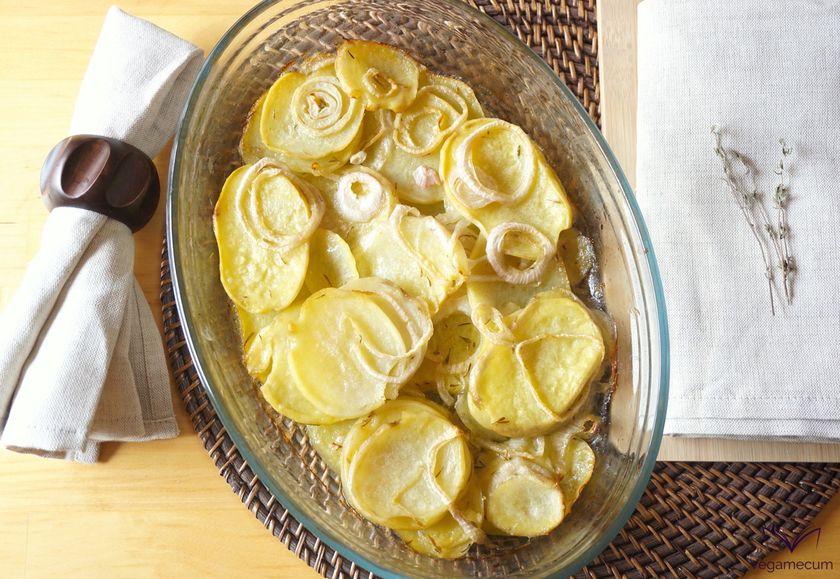 Notes
Make sure that the wine you use has not used any product of animal origin for its preparation, since during the clarification process elements such as animal albumin, milk proteins, gelatin or fish glue are usually used.
If you have any questions, you can leave it to us in the comments. And if you dare and want to show your creations to the world, do not hesitate to label us, we will love to see them through the networks!
Do you join us on social networks? You will find us on Facebook, Twitter, Instagram and Pinterest!