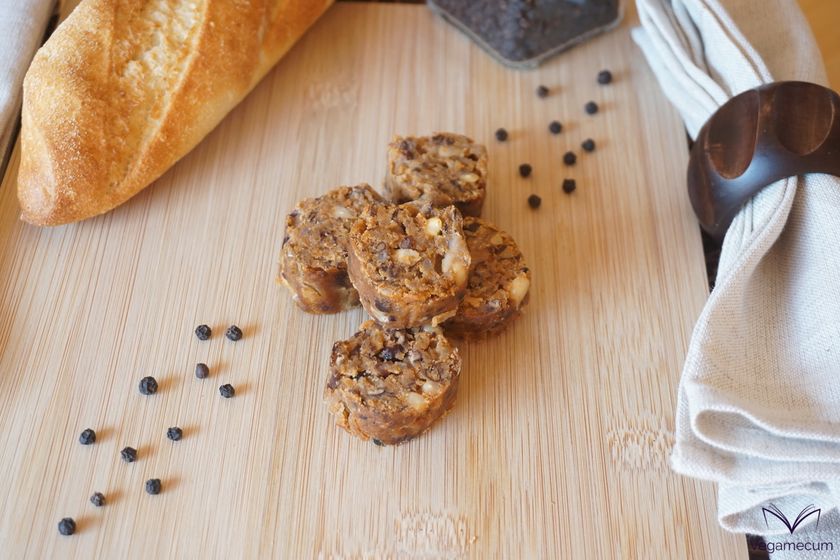 If we are looking for a blood sausage that protects animals, the planet and our health, this vegan blood sausage is the ideal alternative, since in addition to being original and delicious, it is sustainable and healthy.
It is a blood sausage made exclusively with ingredients of plant origin, which does not contain gluten (and therefore is suitable for people with celiac disease and with sensitivity to gluten) and which is free of cholesterol and trans fat.
Thus, we are facing a more digestive version than the conventional one, made with nutritious ingredients that are respectful with animals and the environment, which are also very simple and easy to find.
Another advantage of this blood sausage is that to make it we do not need to use transparent film, so there will be no danger of consuming plastic waste and its consumption will be safer for our health and that of the planet.
Regarding its nutritional properties, this vegetable blood sausage is rich in proteins, fiber, flavonoids, allicin, alliin, carbohydrates, omega 3 and omega 6 fatty acids, vitamins C, E, K and group B (B1, B2, B3 , B5, B6 and B9 or folic acid); sulfur, calcium, copper, phosphorus, iron, magnesium, manganese, potassium, selenium, sodium, and zinc.
In short, this vegetable version of blood sausage allows us, in addition to enjoying its delicious flavor, taking care of our health, acquiring essential nutrients to protect our immune system and dispensing with harmful and inflammatory foods.

Below you can see what ingredients you need and the steps to follow to make an irresistible vegan and healthy homemade black pudding.
| | | |
| --- | --- | --- |
| Difficulty level | Preparation time | Rations |
| Medium | 1 h. y 15 m. | For 3 units |
plus 15 minutes rest
Ingredients:
230 gr. black bean
25 ml. black bean cooking water
60 gr. rice
1 onion
30 gr. pine nut
1 teaspoon minced garlic
1 teaspoon salt
1 pinch pepper (ground)
1 teaspoon sweet paprika
1/4 teaspoon hot paprika
1 pinch cayenne pepper (powdered)
75 gr. rice flour
1 tablespoon tapioca starch
3 tablespoons extra virgin olive oil
Instructions
Save a little of the cooking water from the beans and put the beans in a colander. Rinse them under the tap and set aside while they drain.
Peel the onion and cut it very small.
Put to heat the oil in a frying pan and, when it is warm, add the onion and let it cook for 6 minutes over low heat so that it does not burn. When it is tender and transparent, remove from the heat.
Put the beans in a bowl and mash them with the help of a fork or a pestle until a thick dough is obtained. Next, add all the ingredients except the tapioca starch. Mix well all the ingredients and let the dough settle for 15 minutes.
After this time, add the tapioca starch and stir again until you get a uniform dough.
Cut 4 pieces of baking paper of about 15 cm. wide each one. Take one of the pieces of paper and place 165 gr. of dough on the left edge, so that it occupies about 10 cm. long, at most. Next, roll it carefully, squeezing the dough a little to form a cylinder of about 3 cm. thick. Tie the ends with a piece of cord or thread, making 2 or 3 knots on each side.
When the ends are tied, take more cord or thread and roll it along the blood sausage without tightening it excessively so that it does not deform them. Then make a couple of knots to prevent them from unrolling during cooking. When the first blood sausage is formed, repeat the same process with the others.
When all the vegan blood sausages are formed, steam them for 40 minutes, turning them over after 20 minutes to get them done evenly. After this time, let them cool and serve them or store them in the refrigerator.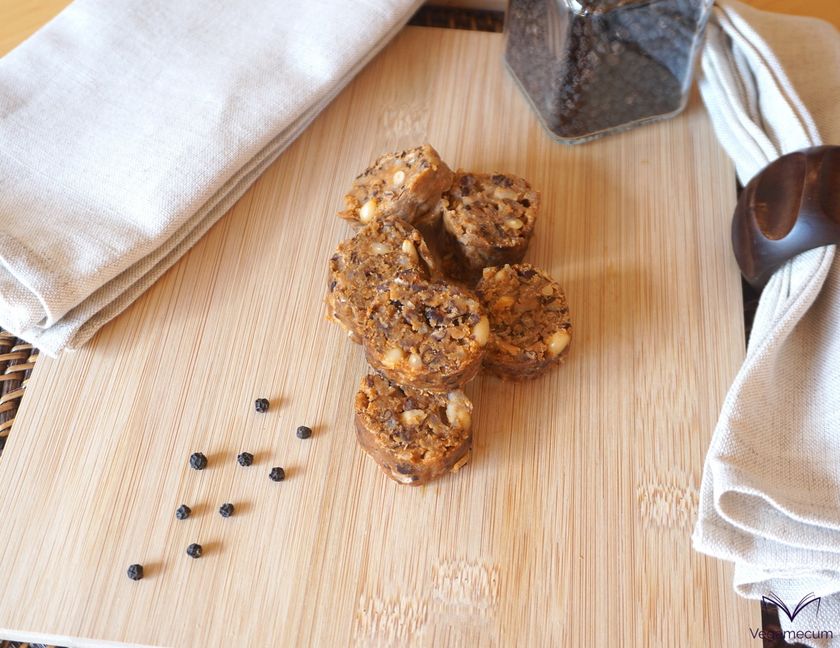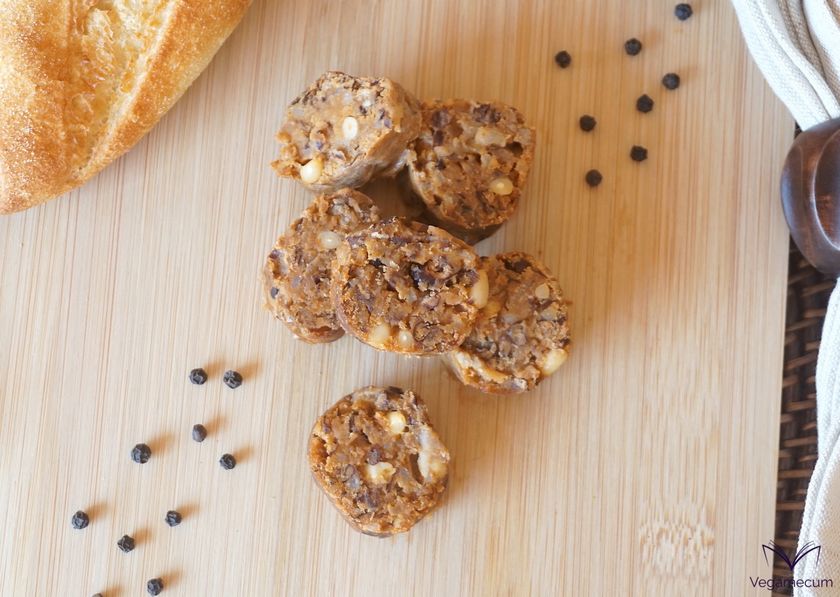 Notes
If you have trouble finding tapioca starch, you can buy tapioca flour (which is granulated) and grind it yourself. You can also substitute it for cornstarch.
If you do not have a steamer, you can steam the vegan blood sausages by putting them in a colander and placing it over a pot with boiling water (the water mustn't touch the colander). The cooking time will be the same. This vegan blood sausage lasts up to 7 days in the refrigerator.
If you have any questions, you can leave it to us in the comments. And if you dare and want to show your creations to the world, do not hesitate to label us, we will love to see them through the networks!
Do you join us on social networks? You will find us on Facebook, Twitter, Instagram and Pinterest!