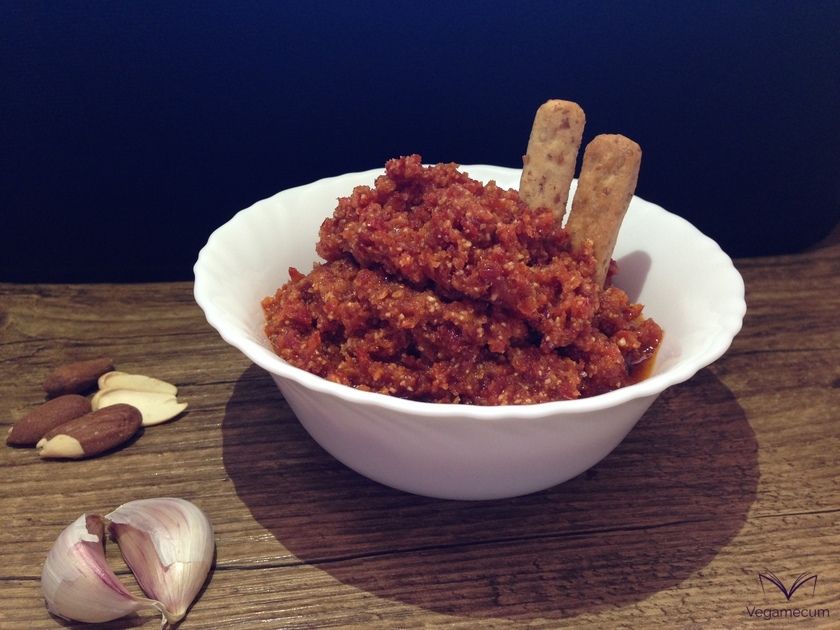 The pate of dried tomatoes and almonds is a simple and quick recipe that, in addition, is always a guarantee of success. Another point in favor of this pate is that it is made from very few ingredients, although the intense flavor of these makes it very difficult to stop once you start eating. And it's really delicious!
The protagonists of this pate are the dry tomato and the almond. Dry tomato , like fresh tomato, contains vitamin C , iron and lycopene (carotene that gives it a reddish color and helps prevent some types of cancer, such as prostate cancer), but also, dried, although it contains more calories, provides a greater amount of vitamin A , potassium and magnesium , making it an antioxidant and anticancer product, which reduces the risk of developing heart and cholesterol problems and prevents urinary tract infections. On the other hand, we must bear in mind that it is not recommended for people with hypertension problems, since it contains a very high sodium level (266mg per 100g).
As for the almond , it contains amino acids and essential fatty acids , (specifically Omega-6 and Omega-9 ), iron , selenium , complete vegetable proteins , vitamins A and E , vitamins of group B ( B1, B2, B5, B6 , B7 and B9 ), zinc and phosphorus . All these nutrients make the almond the perfect food to delay aging and protect the nervous system, cardiovascular, muscle and immune.
Then you can see what ingredients you need and the steps to follow to make this pate of dried tomatoes and almonds.
| | | |
| --- | --- | --- |
| Difficulty level | Preparation time | Rations |
| Very easy | 20 m. | For 4 people |
Ingredients
150 gr. dry tomato (without salt)
80 gr. toasted almonds
2 garlic
200 ml. extra virgin olive oil
1 pinch of salt
1 pinch of pepper
Instructions
First of all we put the dried tomatoes soaking for about 15 minutes to hydrate.
Drain the dried tomatoes well and put them in the blender. Peel the almonds and add them also, along with the garlic cut into pieces.
Finally, add the oil, add a little salt and a little pepper and beat until you get the desired texture.
Notes
In case the dried tomatoes come in oil, the first step (hydration) will not be necessary.
In addition to pâté, it can also be used as a pesto rosso to season pasta.
Once done, it holds perfectly in the fridge for a week.
If you have any questions, you can leave it to us in the comments. And if you dare and want to show your creations to the world, do not hesitate to label us, we will love to see them through the networks!
Do you join us on social networks? You will find us on Facebook, Twitter, Instagram and Pinterest!