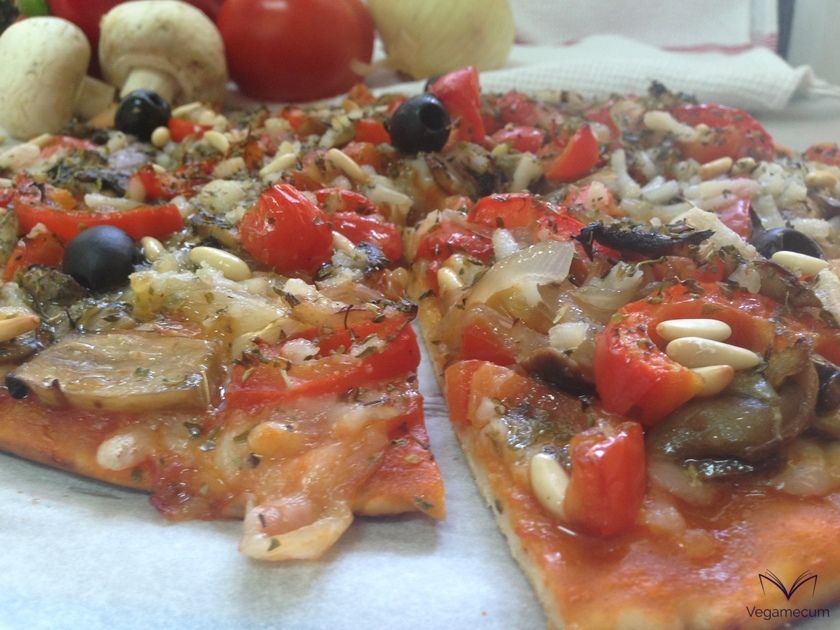 Pizza is one of the highlights of Italian cuisine and has the advantage of allowing us to add the ingredients that we like the most, achieving really delicious combinations.
The pizza that we propose is one of the simplest and most complete that we can make, since it is made with onion, red pepper, mushrooms, black olives and, as it could not be otherwise, with vegetable cheese; all this with the extra protein provided by the pine nuts.
These ingredients give us energy , are rich in vitamins A , C , E and group B ( B1 , B2 , B3 and B9 , also known as folic acid), and have good doses of potassium , calcium , phosphorus , magnesium , iron , copper , selenium , sodium , sulfur and even some grams of protein (thanks to the pine nuts). And all this in a delicious way!
Below you can see what ingredients you need and what steps you have to follow in order to enjoy a very simple and nutritious treat.
| | | |
| --- | --- | --- |
| Difficulty level | Preparation time | Rations |
| Easy | 45 m. | For 2 people |
Ingredients
200 ml. fried tomato
grated vegetable cheese (mozzarella style)
1 large onion
1 red pepper
150 gr. mushroom
6 black olive
25 gr. pinion
oregano
Salt
extra virgin olive oil
Instructions
Wash and drain well the pepper and mushrooms, cut into slices these and julienne pepper and onion.
In a large pan, we add a little oil. When it starts to take temperature, we toss the vegetables, we add a pinch of salt and sauté them until they are al dente and we reserve them.
We put to preheat the oven to 175º and, while, on a baking tray, we extend the base of pizza on paper suitable for oven.
Cover the base uniformly with the tomato, making sure it is well covered and sprinkle the cheese (to taste).
Place the vegetables on top, add a little more cheese and add the olives and pine nuts.
Sprinkle some oregano and put it in the oven for 15 minutes.
After this time, we took it out of the oven and served it.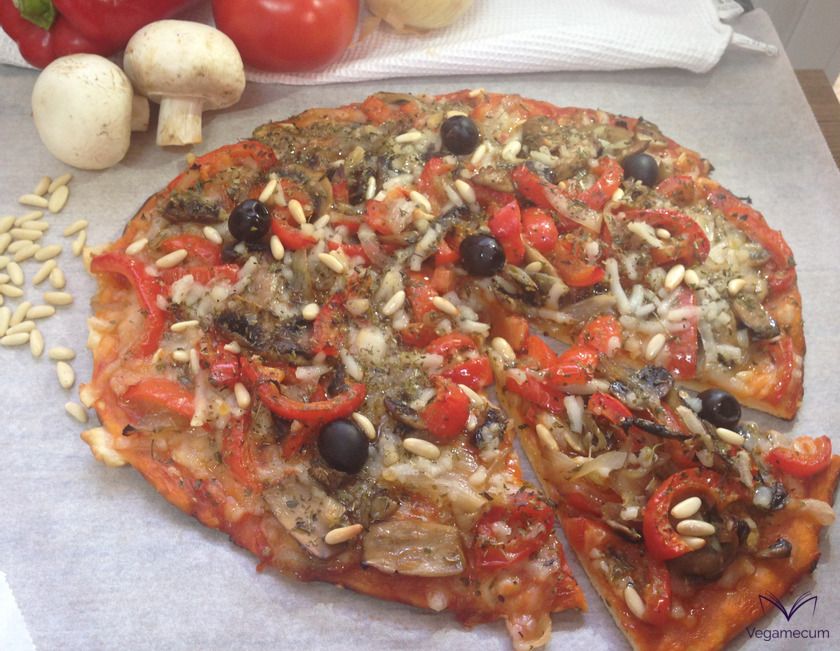 Notes
If you prefer to make the tomato yourself, we recommend using pear-type tomatoes, which have a lower degree of acidity.
The tastiest mushrooms are the whole natural ones, but you can also use the packaged ones.
If you like it more cooked, you can leave it in the oven a couple of minutes more, controlling that it does not burn.
If you have any questions, you can leave it to us in the comments. And if you dare and want to show your creations to the world, do not hesitate to label us, we will love to see them through the networks!
Do you join us on social networks? You will find us on Facebook, Twitter, Instagram and Pinterest!