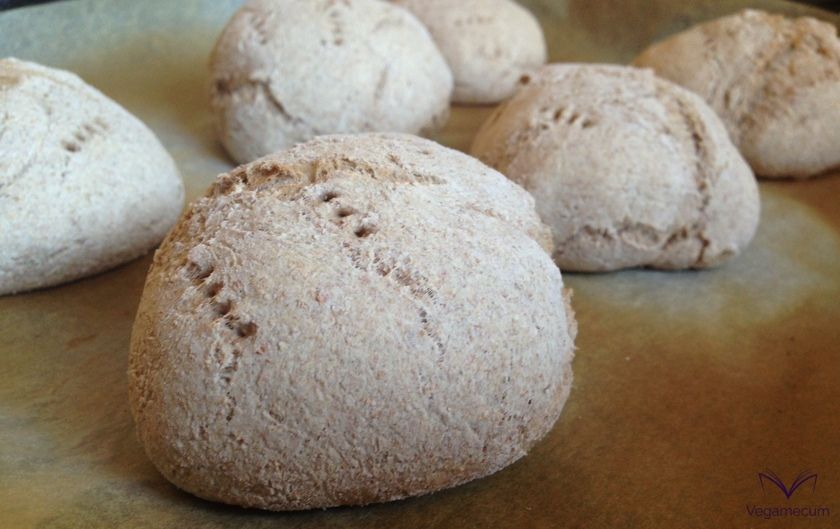 There are times when it is not easy to find a bread without refined flours and free of ingredients of animal origin (such as eggs, milk, butter, or certain food additives such as e-471, which can be of origin vegetable or animal fat), so it is always good to have a simple recipe at hand that allows us to make our own bread quickly and without the need to use a bread maker.
Unlike white bread, these Wholemeal rolls are rich in complex carbohydrates , which make the body get energy gradually and, therefore, for hours. They also have a greater nutritional contribution when used to make flour resulting from grinding whole grain (wholemeal).
Thus, wholemeal bread, in addition to being richer in vitamin B1 , in vitamin B3 and, of course, in fiber , it also provides a greater amount of vitamin B2 , of vitamin B6 strong> and zinc .
Because of all this, this type of bread helps maintain blood sugar levels, makes it easier to assimilate both the carbohydrates and the amino acids of the cereal and Protects the intestinal mucosa.
Below you can see what ingredients you need and what steps you have to follow in order to enjoy a last minute craving for bread in a healthy and economical way.
| | | |
| --- | --- | --- |
| Difficulty level | Preparation time | Rations |
| Medium | 2 h. | For 9 units |
Ingredients
500 gr. integral flour
20 gr. fresh yeast
1 tablespoon salt
2 cups water
Instructions
We put in a large bowl all the ingredients except water. The yeast is crushed with your fingers so that it melts well when you pour water. We mix all these ingredients with our hands.
We add the water little by little and stir continuously with a spoon until a dough forms.
When we have achieved a uniform mixture, knead in the bowl with your hands and leave covered with a clean cloth for an hour to rest.
After this time, remove the dough from the bowl, put it on a flat surface with a little flour and knead it a little more (for 10 minutes approximately). While we will have to preheat the oven to 175º.
Once kneaded, we give it an elongated shape and we take pieces and give them a rounded shape to make the rolls. We will prick them with a fork so that they cook well inside.
We take a baking tray, put vegetable paper on it and place the rolls. We introduce the tray in the oven at half height and heat for 15 minutes above and below controlling that they do not burn.
After this time, we take them out of the oven and let them cool.

Notes
Whole wheat flour can be wheat, rice or corn.
When it comes to shaping the rolls, if you see that the dough sticks in your hands, you can take a little flour to work with them.
If you prefer more golden rolls, you can leave them a little longer in the oven (being careful not to burn them).
If you have any questions, you can leave it to us in the comments. And if you dare and want to show your creations to the world, do not hesitate to label us, we will love to see them through the networks!
Do you join us on social networks? You will find us on Facebook, Twitter, Instagram and Pinterest!