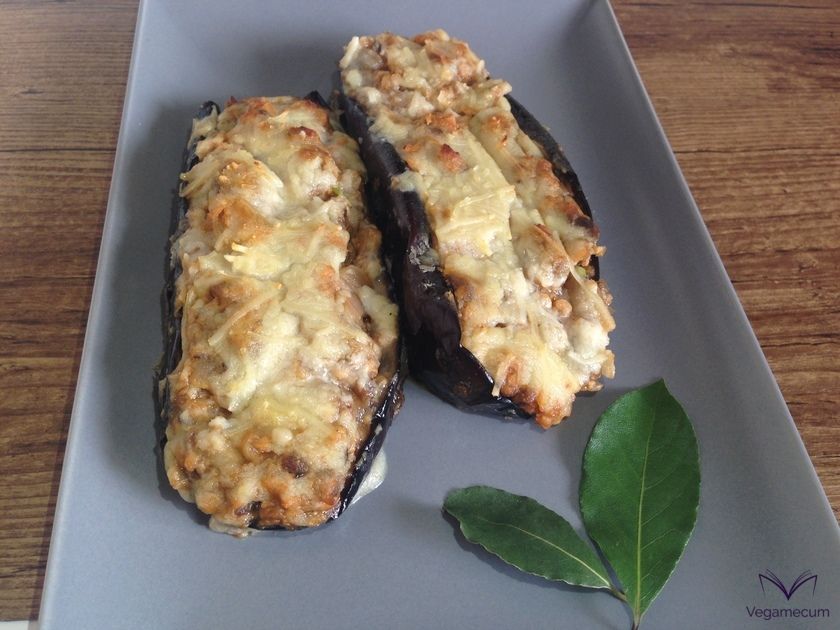 Have you tried stuffed aubergines? Well, these are aubergines stuffed with textured soy covered with "vegchamel" au gratin.
It is one of the dishes that most often surprise both view and taste, since there are still many people who do not know the great variety of 100% vegetarian dishes that can be made and it is very striking that something they think they can not Eating without having to include products of animal origin among its ingredients, it can be done without problems and with such an impeccable result.
Aubergines are vegetables rich in antioxidants , with a lot of potassium and phosphorus, which also provide calcium , iron and magnesium , as well as good doses of vitamins C , A , B1 and B2 .
Textured soy , meanwhile, is a very versatile meat substitute with high protein content and very low in fat .
Below you can see what ingredients you need and the steps to follow to make this dish so delicious and rich in protein.
| | | |
| --- | --- | --- |
| Difficulty level | Preparation time | Rations |
| Medium | 1 h. y 15 m. | For 2 people |
Ingredients
2 eggplants
80 gr. textured soy
1 onion
2 cloves of garlic
1/2 glass white wine
3 tablespoons fried tomato
1/2 teaspoon nutmeg
1/2 teaspoon pepper (ground)
3 tablespoons extra virgin olive oil
1 bay leaf
Salt
grated vegetable cheese
non-hydrogenated margarine
Instructions
Preheat the oven to 175º and put the textured soy in a saucepan with warm water for 15 minutes to hydrate.
We wash the aubergines, cut them in half lengthwise and, in each half, make some shallow cuts so they can be done before. We put a little salt and a splash of oil on each piece and put them in the oven for half an hour.
After this time, we remove the aubergines from the oven, wait for them to cool and empty them, cutting the pulp into small pieces, which we will reserve.
Put 3 tablespoons of oil in a large pan and, when it is somewhat hot, toss the finely chopped onion and garlic and sauté until we see that the onion is transparent, spinning so it does not burn.
Drain the textured soy as much as we can and add it to the frying pan. We sauté some 5 or 6 minutes and, immediately, we take the pulp of the aubergines that we had reserved.
We add the wine, the nutmeg, the bay leaf and the black pepper. When the wine evaporates, we toss the fried tomato and stir to mix all the ingredients well.
We toss 3 tablespoons of béchamel to the sofrito to make it softer and stir again.
Fill the aubergines that we had emptied, put a little béchamel on top, add a little grated vegetable cheese and a few pieces of margarine.
Finally, we introduce them again in the oven and gratin for about 15 minutes at 200º (making sure they do not burn).
Notes
When selecting the vegetable margarine, look that it is not hydrogenated and that it does not contain palm oil or any ingredient of animal origin (eg, the olive margarine of the Flora brand has gelatin among its ingredients).
If you have any questions, you can leave it to us in the comments. And if you dare and want to show your creations to the world, do not hesitate to label us, we will love to see them through the networks!
Do you join us on social networks? You will find us on Facebook, Twitter, Instagram and Pinterest!