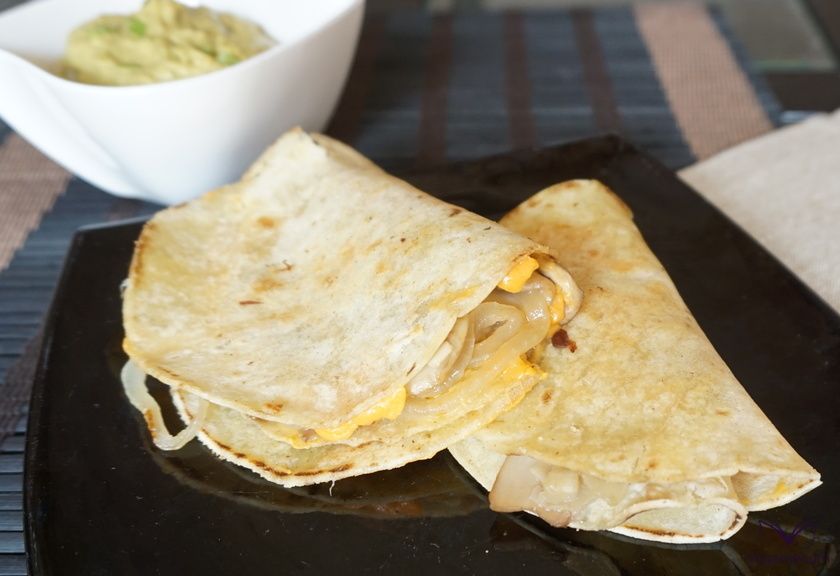 Etymologically, the word quesadilla refers to dishes that are based on cheese, but today it is not necessary that it is of animal origin, since there are a thousand vegetable alternatives that are not so harmful to health and that allow us to enjoy delicious dishes such as mushrooms and onion quesadillas in a version that adapts to new needs, both our and the planet, in addition to being respectful with animals.
This simple modification translates into an improvement by giving rise to some mild-tasting cholesterol-free quesadillas where the delicious mushroom-cheese combination gains intensity with the sweet notes of the onion.
In addition, these quesadillas are filled with potassium , phosphorus , selenium , calcium , magnesium , sodium , sulfur , allicin , alliin , flavonoids , amino acids , carbohydrates and vitamins A , C , E and group B ( B2 , B3 , B6 and B9 or folic acid).
Below you have the ingredients you need and the steps to follow in order to make this dish.
| | | |
| --- | --- | --- |
| Difficulty level | Preparation time | Rations |
| Easy | 20 m. | For 2 people |
Ingredients
4 mushrooms
1/2 onion
2 cloves of garlic
2 tablespoons extra virgin olive oil
1 pinch of salt
30 gr. vegetable cheese
Instructions
We wash and cut the mushrooms into thin slices. Cut the onion in the same way and chop the garlic.
Heat the oil in a pan over medium heat and add the onion, garlic and salt and sauté for 7 minutes.
We add the mushrooms and continue sautéing for 9 more minutes. When the onion and mushrooms are soft, we remove them from the pan and reserve.
In the same pan, we put a little oil (very little) and put an omelette, we throw a little vegetable cheese, the mixture of onions and mushrooms, put on another tortilla and heat about 2 minutes on each side. We repeat until we have assembled all the quesadillas.
We cut each of the quesadillas in half and serve hot.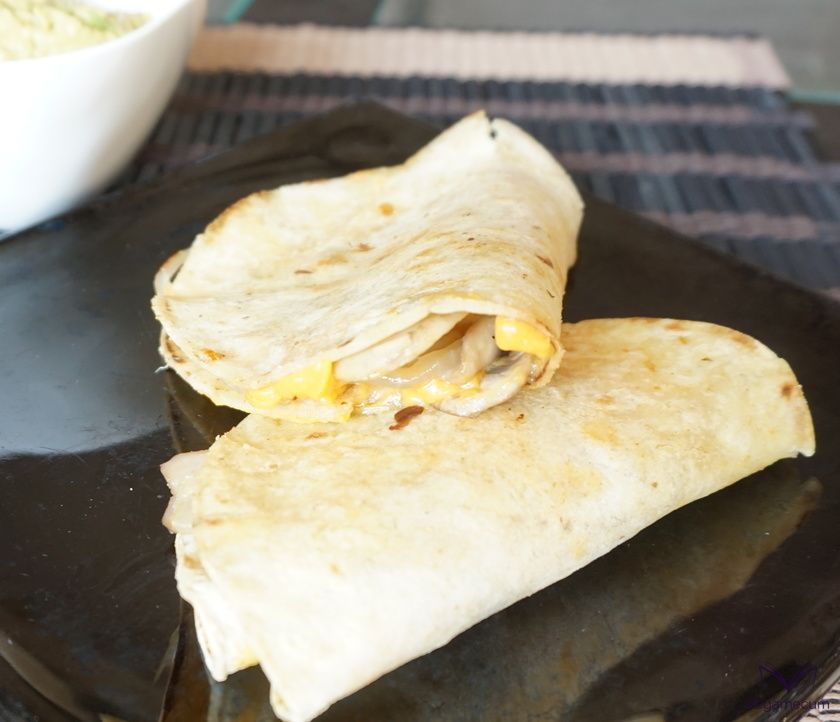 Notes
Make sure that the vegetable cheese is one of those that melt well.
You can accompany the quesadillas with Mexican sauce or guacamole.
If you have any questions, you can leave it to us in the comments. And if you dare and want to show your creations to the world, do not hesitate to label us, we will love to see them through the networks!
Do you join us on social networks? You will find us on Facebook, Twitter, Instagram and Pinterest!