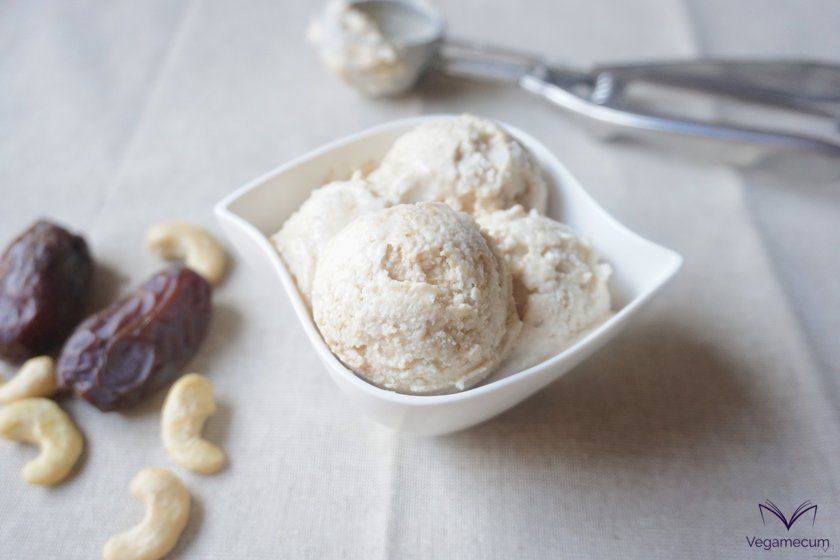 This is an ice cream very easy to prepare, for which you do not need ice cream and of which they emphasize its incredible creaminess and its irresistible flavor, which is sweet and full-bodied.
For its preparation we have used ingredients free of lactose and cholesterol, so instead of being made with dairy and egg, the base of this ice cream is formed by light ingredients of fine flavor and great nutritional value such as cashews, coconut milk and dates , which gives it such a creamy texture and a subtle aroma of nuts where the main protagonist is caramel.
And it is that the caramel is what gives it the most special touch, because with the dates we create a caramel of unparalleled flavor and texture that, together with the rest of the ingredients, produces a delicious and sweet contrast enhanced by soft salty sparkles.
The base of this ice cream is a very rich base in protein , carbohydrates , omega 6 fatty acids , tryptophan , phytosterols , vitamins E and B group ( B1 , B2 , B3 , B5 , B6 and B9 or folic acid ), copper , chrome , phosphorus , magnesium , manganese , potassium and selenium .
The caramel, being made of dates, also provides calcium , fiber , and extra doses of tryptophan , vitamins B3 and B5 , copper , phosphorus , magnesium and potassium .
Below you can see what ingredients you need and the steps to follow to make this spectacular ice cream so easy to prepare.
| | | |
| --- | --- | --- |
| Difficulty level | Preparation time | Rations |
| Easy | 45 m. | For 1 liter |
* Plus 12 hours of hydration and refrigeration
For coconut ice cream
200 gr. raw cashews
1 can coconut milk
3 tablespoons coconut oil (melted)
100 ml. agave syrup
1 teaspoon vanilla essence
1 pinch of salt
For the candy
120 gr. dates medjoul (boneless)
1/2 teaspoon salt
2 tablespoons water (hot)
Instructions
We put the cashews in soaking for a minimum of 6 hours to soften.
Drain the cashew nuts and put them in the blender glass next to the coconut milk, coconut oil, syrup, vanilla extract and salt, and beat until well blended and the texture is creamy and smooth .
We pass the mixture to a container that closes hermetically and we put it in the freezer for 30 minutes.
We take it out of the freezer, beat it with rods and put it back in the freezer for another 30 minutes. Repeat this step 3 more times to prevent ice from forming.
We hydrated the dates in hot water for 10 minutes and, after this time, we drained them.
Prepare the caramel by mixing dates, salt and hot water in the blender jar. Beat well until you get the creamy texture characteristic of caramel. We reserve
When we have the base of the ice cream list, we take it out of the freezer and we pass it to a big bowl. We add the caramel with a spoon and, with this or with a knife, stir with enveloping movements so that the caramel forms veins.
We passed the ice cream back to the container where we had refrigerated it, smoothed the surface adding a little more caramel if we wanted, we covered it tightly and we put it in the freezer for a minimum of 4 hours, until we see that it is firm.
When serving, remove it from the freezer about 10 or 15 minutes before so that the texture is not too hard, but creamy.
Notes
It is very important that coconut milk has at least 50% coconut.
If you want, you can add some whiskey liqueur to the caramel.
This ice cream holds in the freezer for up to 1 week, although the sooner it is consumed, the better texture it will have.
If you have any questions, you can leave it to us in the comments. And if you dare and want to show your creations to the world, do not hesitate to label us, we will love to see them through the networks!
Do you join us on social networks? You will find us on Facebook, Twitter, Instagram and Pinterest!