This frozen soup of watermelon, orange and coconut is ideal for summer, time of year when you want fresh and easy to prepare things that are also perfect to take to the beach or the pool.
The flavor of this colorful cold soup is sweet and with soft citrus notes that make it even more refreshing, while its texture is light and with the characteristic creaminess and softness that coconut brings.
But its ingredients not only endow this delicious dessert with an incredible flavor, but they also make it hydrating and rich in antioxidants.
So this sweet frozen soup is rich in lycopene , fiber , bioflavonoids , beta-carotene , vitamins A , C , and group B ( B1 , B2 , B3 , B5 , B6 and B9 or folic acid ), sulfur , calcium , chromium , phosphorus , magnesium , manganese , potassium and selenium .
In addition, when carrying vegetable yogurt, this soup also contains protein , isoflavones , lecithin , omega 3 fatty acids, vitamins E , K , B7 , iron , iodine and zinc , plus extra doses of vitamins A , B1 , B2 , B3 , B5 , B6 and folic acid , calcium , phosphorus , magnesium and potassium .
Below you can see what ingredients you need and the steps to follow in order to make one of the most irresistible desserts of the summer.
| | | |
| --- | --- | --- |
| Difficulty level | Preparation time | Rations |
| Very easy | 15 m. | For 1 liter |
* Plus 8 hours of refrigeration
Ingredients
500 gr. watermelon
200 gr. natural soy yogurt without sweetening
120 ml. orange juice
1 teaspoon lemon juice
4 tablespoons whole cane sugar
1 can coconut milk (the solid part)
2 teaspoons vanilla essence
1 teaspoon ground cinnamon
Instructions
We put coconut milk in the fridge for a minimum of 4 hours.
Cut the watermelon, remove the seeds and the peel, and cut it into cubes.
We take the coconut milk out of the fridge and pour the solid part of the coconut milk into the blender glass, add the watermelon, the orange juice and the rest of the ingredients, and beat until you get a smooth puree.
We let it cool in the fridge for 2 hours, we take it out, and we serve it immediately in bowls or cups.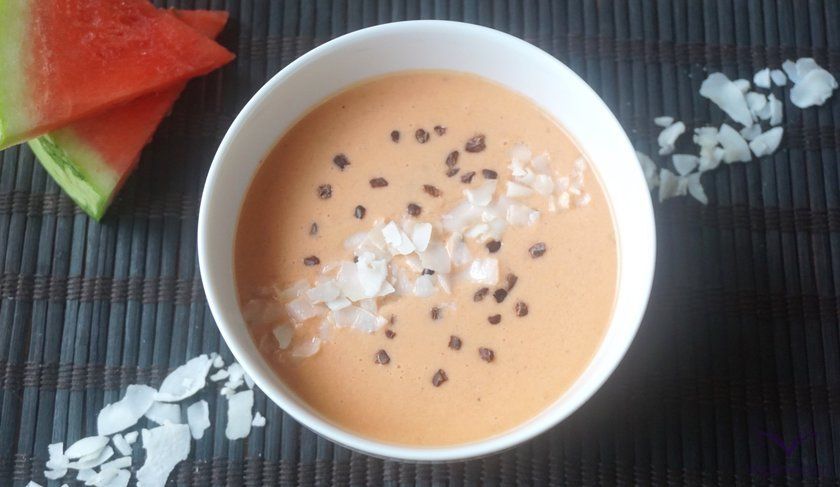 Notes
To obtain a good consistency, it is important that the coconut milk contains a percentage of coconut of at least 50%.
The amount of coconut cream will depend on the percentage of coconut contained in the can, the higher the percentage, the greater the amount of coconut.
If you prefer a thicker soup, you can add a little more vegetable yogurt and correct the sugar.
If you want, you can add some nibs of cocoa and some chips of coconut to decorate the dish.
If you have any questions, you can leave it to us in the comments. And if you dare and want to show your creations to the world, do not hesitate to label us, we will love to see them through the networks!
Do you join us on social networks? You will find us on Facebook, Twitter, Instagram and Pinterest!