Pickled potatoes are a typical dish from the north of Extremadura, a region known for the olive oil of the Sierra de Gata, paprika de la Vera and cherries from Valle del Jerte.
But this area of ​​Spain also stands out for its wide variety of escabeche recipes, a kind of marinade to flavor the food that has its origins in Arabic cuisine, and that has also been used to preserve food.
Although pickled potatoes are a tradition to prepare, especially during Lent and during Holy Week, they are ideal for the hottest months due to the coolness of their ingredients and the way they are served, which is cold.
This makes them perfect for consumption outside the home, either on field trips or at work, because they do not need to be heated and, in addition, pickling keeps them in optimal conditions for longer.
As for the nutrients they provide, these potatoes are very rich in carbohydrates that provide us with energy, and also in fiber , vitamin C , potassium , calcium , phosphorus , magnesium and, in smaller quantities, in beta-carotene .
Below you can see what ingredients you need and the steps to follow in order to make this different and super tasty potato recipe.
| | | |
| --- | --- | --- |
| Difficulty level | Preparation time | Rations |
| Easy | 1 h. y 30 m. | For 4 people |
Ingredients
1 kg. potato (new potatoes)
4 tablespoons flour Yolanda
250 ml. extra virgin olive oil
3 tablespoons vinegar
1 teaspoon salt
2 bay leaves
4 cloves of garlic (big)
1/2 teaspoon turmeric
1 l. water
Instructions
We wash the potatoes well to remove the soil and put them in a pot with plenty of water. We let them cook for 30 minutes and put out the fire.
We take a clean kitchen cloth and take the potatoes, one by one. We peel them hot and chafamos with the help of the cloth so as not to burn ourselves. We put them on the table or in the marble on a tablecloth or clean kitchen cloth, and we put them all letting them cool and then fry them.
In a bowl, we toss the flour Yolanda and add a little water to form a thick mass, stirring with a spoon so that the water mixes well with the flour. We reserve
In a deep pan, we put enough oil and put it to heat. When it is hot, we go over the potatoes in the mixture of flour and water and we are frying them in batches, leaving them to brown on both sides. When they are golden brown, we remove them with a slotted spoon and place them carefully in a large pot.
In another pot, take a couple of tablespoons of the oil in which we fried the potatoes, add the vinegar, turmeric, salt and water. We put it in the fire and, when it breaks to boil, throw it on the potatoes so that they are covered.
Add the bay leaves and garlic to the pot and let it cool, stirring the pot from time to time, carefully, so that the potatoes are taking the flavor. Once the potatoes have cooled completely, we serve them.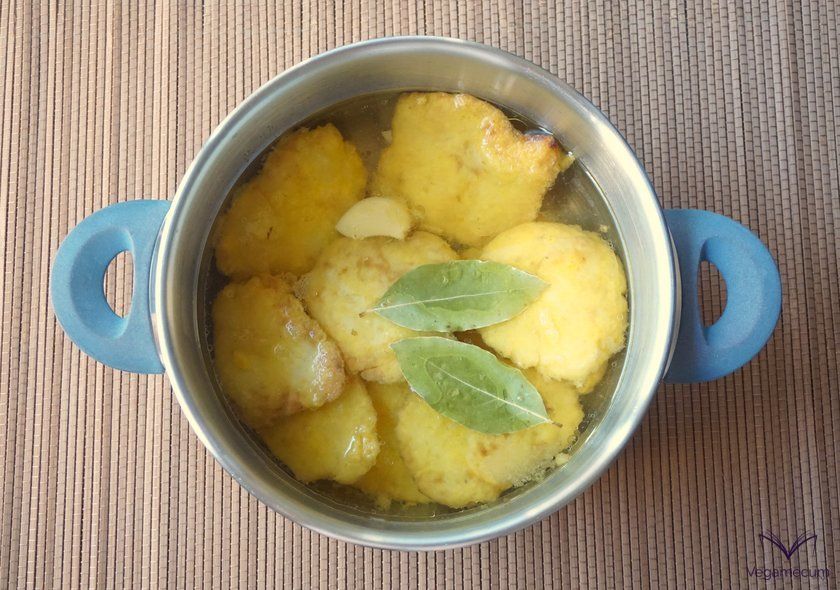 Notes
If at the time of throwing the pickle on the potatoes, there would not be enough to cover the potatoes, we would add a little more hot water and vinegar.
If you prefer, when the potatoes have cooled, you can put the pot in the fridge to get a greater intensity of flavor and, when the sauce is very cold, serve them.
If you have any questions, you can leave it to us in the comments. And if you dare and want to show your creations to the world, do not hesitate to label us, we will love to see them through the networks!
Do you join us on social networks? You will find us on Facebook, Twitter, Instagram and Pinterest!