The fartons are sweet and very fluffy sweet buns of Valencian origin that are usually eaten wet in horchata.
This sweet was created in the Valencian town of Alboraya in 1960 by a family that, taking advantage of the fact that they were in the land of tiger nuts and horchata, and that it was customary to dip rosquilletas, decided to make a sweet that would allow to enjoy more and better the drink queen of the Valencian summer.
And the ideal is to consume accompanied by horchata, since its creation was designed to wet them in this, hence its spongy and tender texture and its elongated shape.
These fartons have no eggs or dairy, which makes them, in addition to tender, have a more delicate flavor and a higher quality nutritional value than conventional, they are free of cholesterol, lactose, casein and saturated fats.
Below you can see what ingredients you need and the steps to follow in order to make this delicious dessert so typical of Valencia's summer days.
| | | |
| --- | --- | --- |
| Difficulty level | Preparation time | Rations |
| Medium | 50 m. | For 10 units |
* Plus 2 hour and 20 minutes of rest
For the fartons
300 gr. strength flour
50 gr. whole cane sugar
50 ml. water
50 ml. extra virgin olive oil (soft)
25 gr. fresh yeast
3 tablespoons aquafaba
15 ml. lemon juice
1/2 teaspoon salt
For the glaze
50 gr. sugar glas
50 ml. water (tibia)
Instructions
With a blender of rods, we assemble the aquafaba until it is frothy.
Add the sugar and continue beating until it has reached consistency and the mixture is thick.
We sieve the flour with the help of a sieve so that the result is spongy, add the salt and stir to mix well.
We dissolve the yeast in a little warm water, stirring it to dissolve well and, when we have it ready, we make a hole in the middle of the flour, we throw the dissolved yeast in it, and we are throwing the flour around to the center, completely covering the yeast. When this is covered by the flour, knead until obtaining a homogeneous mixture.
Add the aquafaba and stir well, with enveloping movements, until we find it difficult to continue kneading. We pour the oil and lemon juice and knead again. When all the ingredients are well mixed, we pass the dough to the table where we are going to work it with a little flour sprinkled on the surface and knead with our hands for 20 minutes, until we see that it does not get caught in our hands.
When we see that it no longer hooks in our hands, we make a ball with the dough and pass it to a bowl, cover it with a cloth and let it sit at room temperature for 20 more minutes.
We remove the dough from the bowl and cut it into pieces of about 50 gr. approximately each one, making clean cuts, without tearing.
We form small balls with each one of the pieces that we have cut and, with a roller, we stretch them one by one giving them a rectangular shape of about 20 cm. long by 10 cm. Wide. We roll them along on their own and we place them together enough on the baking tray with kitchen paper. Let stand for 2 hours to grow. Fartons lifted ready to go into the oven

Fartons levados listos para entrar en el horno

Preheat the oven to 200º and, when the mass of the fartons has grown to double its volume, we introduce the tray in the oven and bake for 10 minutes at 180º, making sure they do not burn. Freshly baked fartons

Fartons recién horneados

When they are ready, we take them out of the oven and prepare the glaze in a bowl, gradually pouring the icing sugar into the warm water, stirring well until the mixture is homogeneous and the sugar dissolves. Glazed fartons

Fartons glaseados

We carefully separate the fartons from each other with the help of a knife and, with the help of a brush, varnish them with the glaze we have prepared. We let the glaze solidify, and we serve.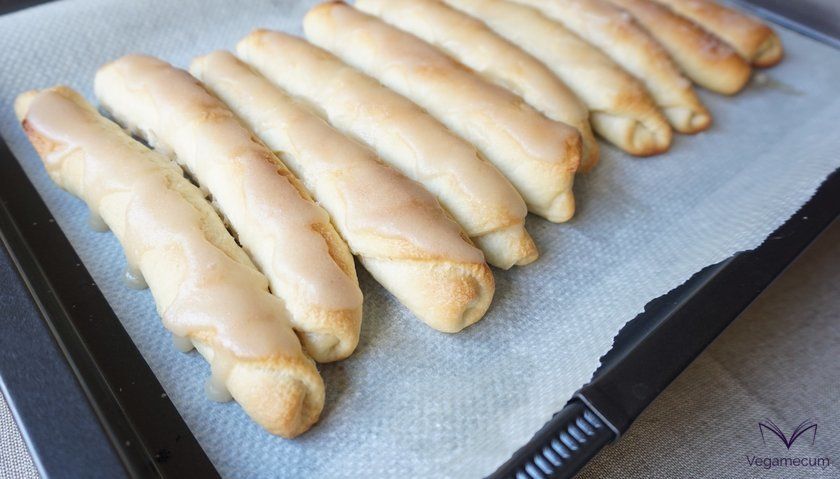 Notes
If you don't have icing sugar on hand, you can make it using a mixture of 95% sugar - 5% corn starch, and grinding it in a coffee grinder. In this way you can make icing sugar using whole cane and panela sugar.
If you don't have a rolling pin on hand, you can use a smooth, clean bottle to roll out the dough.
Ideally, when growing, the fartons are glued together, so we recommend that you do not leave more than 1 cm of separation between one fartó and another when placing them on the oven tray.
If you have any questions, you can leave it to us in the comments. And if you dare and want to show your creations to the world, do not hesitate to label us, we will love to see them through the networks!
Do you join us on social networks? You will find us on Facebook, Twitter, Instagram and Pinterest!