The rice with milk is a dessert of Arab origin made with some of the main ingredients that the Arabs introduced in the peninsula, such as rice, citrus, sugar and cinnamon.
It is a dish that has been expanded by a large number of countries over the centuries, which means that there are as many versions as regions of the world where it is consumed.
And is that in each place is done in a different way, as adding raisins, grated coconut or cardamom, pouring lemon or orange zest, serving it with a layer of toasted sugar or, as in this case, with cinnamon sprinkled on top.
It is a very easy dessert to prepare, which requires very few and simple ingredients, and is ideal to drink at any time of the year, it is equally tasty both hot and cold.
As you can see, besides being free of cholesterol, lactose, casein and trans fats, this version of the traditional dessert has a richer and exotic flavor, since the aroma of cinnamon merges with that of coconut and, this, together with its Soft and creamy texture, they make it absolutely delicious.
As for its main ingredients, rice is rich in carbohydrates that provide energy, vitamins D , E and group B ( B1 , B2 , B3 and B9 or folic acid ), calcium , iron and phosphorus ; while coconut milk , in addition to being rich in phosphorus and vitamins B1 , B2 , B3 and B9 , also provides vitamins B5 and B6 , potassium , selenium and chromium , although in less quantity than coconut milk that we can find in can, since the concentration in coconut is lower.
Below you can see what ingredients you need and the steps to follow to make this dessert that has captivated so many people throughout history.
| | | |
| --- | --- | --- |
| Difficulty level | Preparation time | Rations |
| Very easy | 1 h. | For 5 people |
Ingredients
100 gr. rice (round)
1 l. coconut drink
1 orange skin
1 cinnamon stick
80 gr. whole cane sugar
ground cinnamon
Instructions
We wash the rice by putting it in a colander and passing it under the tap until the water comes out clean. We drain it well and put it in a saucepan next to the orange peel, the cinnamon stick and the coconut drink, all cold.
We put it to heat on high heat and, when it starts to boil, let it cook for 30 minutes over medium heat, stirring occasionally so that the rice does not stick and little by little it thickens and stays creamy.
After this time, we remove the sugar, stir, lower the heat almost to the minimum, and let it be done for 10 more minutes so that the rice is finished.
When the rice is ready, turn off the fire, remove the cinnamon stick and orange peel, distribute the rice with milk in bowls, and let it cool to room temperature. Once cooled, sprinkle a little ground cinnamon in each of the servings and serve directly, or introduce a few minutes in the fridge so that when it is cold.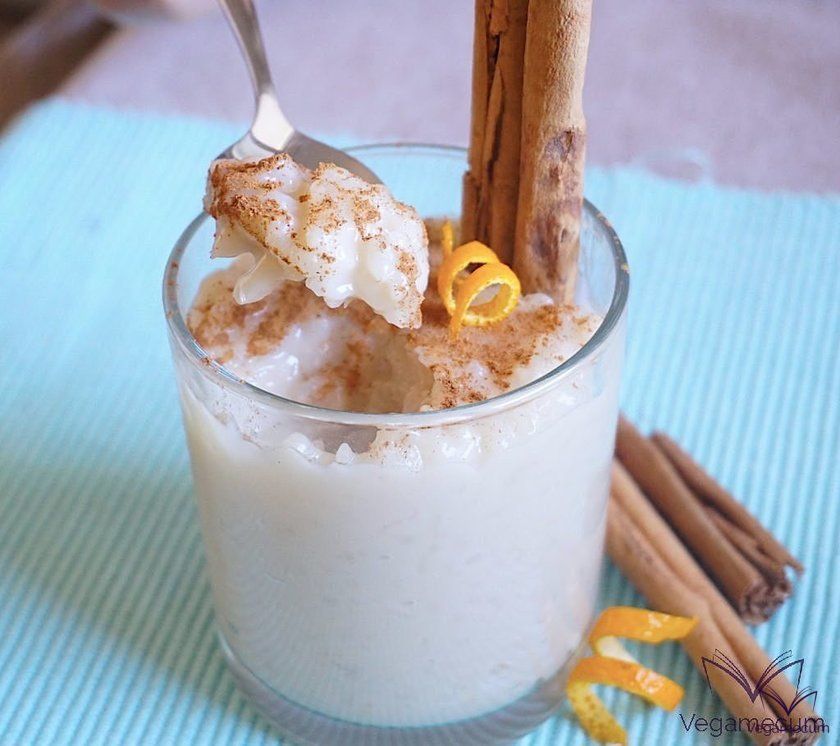 Notes
You can use both coconut drink and soy, oats or rice, although with coconut the flavor is richer and more aromatic.
The coconut milk that is used for this recipe is the one you will find in brick format, with a lower percentage of coconut than that sold in cans.
Keep in mind that if the coconut drink you use is sugar free, you should increase the amount of sugar so that the rice pudding is very sweet. The same goes for soy, oatmeal and rice drinks.
If you have any questions, you can leave it to us in the comments. And if you dare and want to show your creations to the world, do not hesitate to label us, we will love to see them through the networks!
Do you join us on social networks? You will find us on Facebook, Twitter, Instagram and Pinterest!