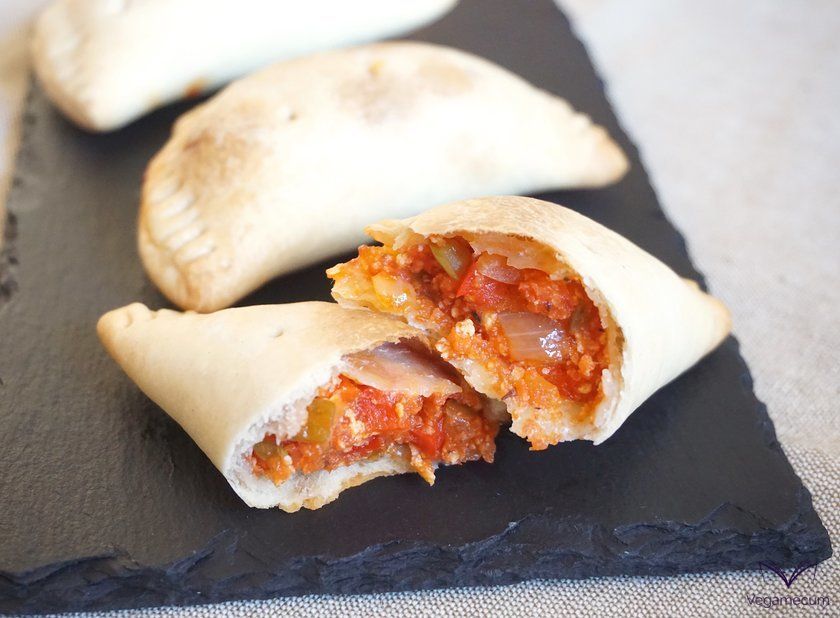 The filling of these empanadillas is mellow and very tasty, since the combination of ingredients generates a mixture of flavors and textures absolutely delicious.
And the softness of the vegetables and tofu is highlighted by the intense accents of tomato sauce, which gives these empanadillas a flavor so alive and tasty that it is impossible to stop eating them.
In addition, when making them with homemade dough, we make sure that they do not have palm oil or any ingredient of animal origin, so we will have the certainty that they are as healthy, ethical and sustainable as possible.
The filling of these empanadillas is rich in proteins , lecithin , omega 3 fatty acids, beta carotene , lycopene , alliin , flavonoids , carbohydrates , fiber , vitamins A , C , E , K and group B ( B1 , B2 , B6 and B9 or folic acid ), sulfur , calcium , phosphorus , magnesium , potassium , sodium and, to a lesser extent, copper , iron , manganese , selenium and zinc .
Below you can see what ingredients you need and the steps to follow in order to make delicious 100% vegetable dumplings.
| | | |
| --- | --- | --- |
| Difficulty level | Preparation time | Rations |
| Medium | 1 h. | For 15 units |
* Plus 30 minutes of tempering
Ingredients
100 gr. tofu
1 onion (little)
1/2 red pepper
1/2 green pepper
500 gr. tomato
1 teaspoon whole cane sugar
1/2 teaspoon ground garlic
1/2 teaspoon dried thyme
3 tablespoons extra virgin olive oil
1/2 teaspoon salt
Instructions
Cut the onion and peppers into very small pieces.
In a pan, put the oil to heat and, when it is warm, take the onion and let it poach for about 5 minutes over medium heat.
Add the peppers and let them do everything together at medium heat for 10 minutes, stirring from time to time.
Grate the tofu and add it together with the garlic, thyme and salt. Stir well and also take the tomato and sugar. Let it be done for 10 more minutes over a low heat, stirring regularly.
Let the filling cool and, when it is warm, fill the dough with the dumplings. To do this, place a teaspoon of filling in the center of each of the wafers, take one of the ends of the wafer with your hands and fold it in half until it meets the other end, pressing lightly. Then we close them well with the teeth of a fork (with the external face of the fork), pressing until we see that they have been well closed.
Preheat the oven to 175º for 10 minutes, put the dumplings on a tray with baking paper, varnish them with a little oil, and bake them for 12 minutes, taking care not to burn.
We remove the dumplings from the oven and serve.
Notes
If you want, you can take the tofu instead of grating it to find more whole pieces in the filling.
If you prefer, you can substitute the crushed tomato for the same amount of ripe peeled tomatoes without seeds. The sweetest variety are pear-type tomatoes.
When making the dumplings in the oven, these are healthier and less caloric, but if you want, you can also fry them.
If you have any questions, you can leave it to us in the comments. And if you dare and want to show your creations to the world, do not hesitate to label us, we will love to see them through the networks!
Do you join us on social networks? You will find us on Facebook, Twitter, Instagram and Pinterest!