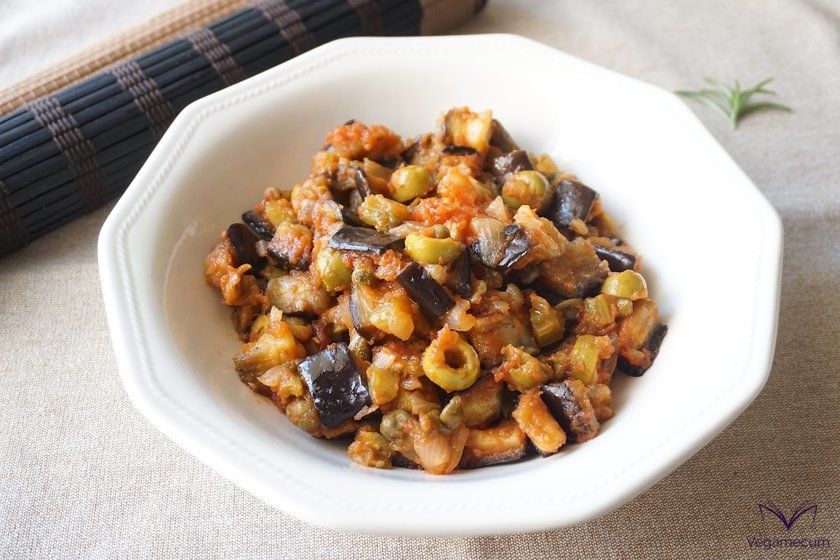 This version of Sicilian caponata is a light version, since the aubergine, which is the main ingredient of this dish, is baked. In this way we achieve a finer, tastier and healthier result.
Caponata is a traditional eggplant stew from the Italian island of Sicily, where it began to be made in the middle of the 15th century, after the introduction of eggplant in the region by the Arabs.
Its taste was considered, by then, a delicacy, especially among the Jewish population. So much so that when in the sixteenth century, it was expelled from the island and moved to the Italian peninsula, the fame of this dish began to spread throughout the territory, which caused the caponata had presence at the tables of all the country.
And it is a very juicy dish, with a rustic and bittersweet Mediterranean flavor, especially ideal for changing seasons. It is also very versatile, because it can be consumed both hot and cold and served as a stew, accompaniment or on a slice of bread, which is a very common way of doing it.

Thanks to its ingredients, caponata is a dish rich in flavonoids , fiber , lycopene , omega 3 , omega 6 and omega 9 fatty acids ; carbohydrates, essential oils, limonene and cimo selinene; apiin , allicin , alliin , carotenoid , vitamins C , E and group B ( B1 , B2 , B3 , B6 and B9 or folic acid ); sulfur , calcium , phosphorus , iron , magnesium , potassium , sodium , iodine and, in smaller quantities, copper , manganese , selenium and zinc .
Below you can see what ingredients you need and the steps to follow in order to make one of the most valued and representative dishes of Sicily.
| | | |
| --- | --- | --- |
| Difficulty level | Preparation time | Rations |
| Easy | 1 h. y 30 m. | For 3 people |
Ingredients
2 eggplants (big)
75 gr. green olives (pitted)
4 tomatoes
60 gr. celery (only the stems)
40 gr. capers
1 onion
2 garlic cloves
1 tablespoon whole sugar cane
25 ml. sherry vinegar
1 cayenne chilli
1 teaspoon salt
4 tablespoons extra virgin olive oil
Instructions
Wash the eggplants and slice off their top and bottom. Dry them, cut them into 2 cm wide cubes and place them in a strainer with salt for 30 minutes to remove the bitterness.
After this time, preheat the oven to 175º and, meanwhile, rinse the eggplant in the strainer. Dry it carefully with paper towel and place it well distributed on a baking tray covered with baking parchment. Sprinkle with a little oil, stirring the cubes so they get well impregnated; introduce the tray in the oven and bake for 20 minutes. After that time, when the eggplant is tender, take it out of the oven and set aside.
While the eggplant is baking, cook the remaining ingredients. Take the celery, cut the leaves, put it in a pot with boiling water and cook it for 2 minutes. After this time, rinse it under cold, running water, drain it and chop it finely. Set aside.
Peel the onion and garlic, chop them finely and set aside.
Rinse the capers under running water to desalinate them a little and cut the olives into slices. Set aside.
Wash the tomatoes, peel them, put 3 tomatoes in the blender jar and grind them. We reserve the remaining tomato.
put to heat the oil in a large pan and, when it is warm, add the garlic, onion and cayenne pepper and let cook for 5 minutes over medium heat.
After this time, add the celery and let cook for 3 more minutes, sautéing with the onion, garlic and cayenne pepper. Meanwhile, cut the remaining tomato into eights.
After this time, add the capers and olives and stir to incorporate all ingredients for a couple of minutes.
After this time, add the pureed tomato together with the cut one and cook for 5 minutes.
Add the vinegar, salt and sugar, stir well to mix all the ingredients and let cook for 5 more minutes.
When the sauce is done, add the eggplant cubes and stir very carefully so that they do not fall apart. Let cook over low heat for 10 minutes and, after this time, remove from the heat and serve.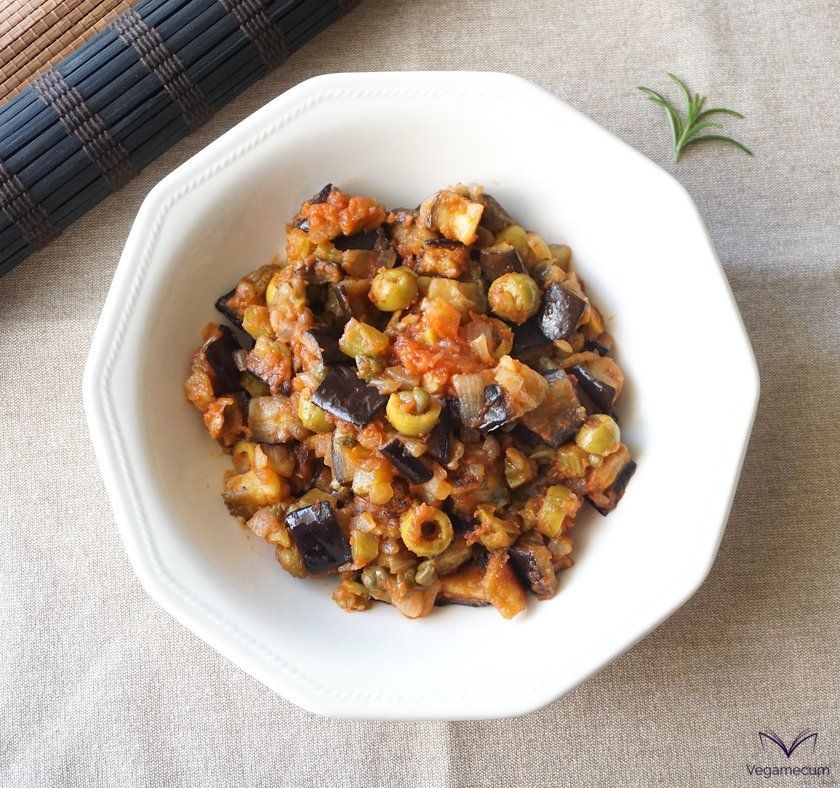 Notes
This caponata can be consumed both hot and cold.
The caponata can be eaten as much as first, as an accompaniment or served on slices of bread or toast.
If you have any questions, you can leave it to us in the comments. And if you dare and want to show your creations to the world, do not hesitate to label us, we will love to see them through the networks!
Do you join us on social networks? You will find us on Facebook, Twitter, Instagram and Pinterest!