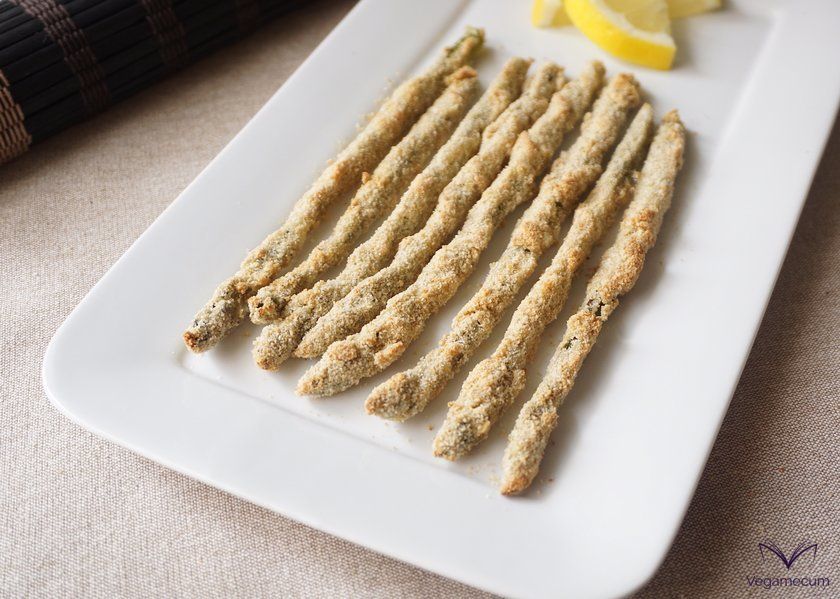 This recipe is a different and very original way to prepare asparagus. With it we get a delicious tender texture inside and crispy on the outside that, moreover, is very, very tasty.
And the subtle flavor of the asparagus is surrounded by a delicate aroma of Parmesan and a sparkling lemon point that take an exquisite prominence, which takes this simple dish to another level.
If we analyze the steps to make this recipe, we see that it is very easy to prepare and does not require many ingredients; but the best thing is that it is a very healthy dish, since it is free of cholesterol, because the parmesan with which it is prepared is made only with vegetable ingredients, which makes it taste finer and that is respectful with our health, with the environment and with animals.
Thanks to the combination of its ingredients, this is a dish rich in fiber , tryptophan , flavonoids , beta-carotene , proteins , omega-6 fatty acids, phytosterols , alliin , glycolic acid , vitamins C , E and group B ( B1 , B2 , B3 , B5 , B6 and B9 or folic acid , calcium , copper , chromium , phosphorus , iron , magnesium , manganese , potassium , selenium and zinc .
Below you can see what ingredients you need and the steps to follow in order to give an irresistible touch to the asparagus.
| | | |
| --- | --- | --- |
| Difficulty level | Preparation time | Rations |
| Very easy | 1 h. | For 3 people |
Ingredients
250 gr. asparagus
90 gr. breadcrumbs
zest of 1 lemon
80 gr. Yolanda flour
120 ml. soy milk
1 pinch of pepper
1 pinch of salt
Instructions
Wash the asparagus, cut away the hard part (the lower end) and set aside.
Put to heat water with salt in a large pot and, when it starts to boil, add the asparagus and cook for 3 minutes. After this time, take them out of the water and drain them, rinse them under running cold water in the strainer to keep the color bright and let them drain again. Set aside.
In a bowl, put the Yolanda flour, soy milk, salt and pepper and stir with a whisk so that no lumps remain. Set aside.
In a large bowl or dish, put the breadcrumbs, cashew parmesan and lemon zest and stir well to obtain a uniform mixture.
Preheat the oven to 200º and, meanwhile, prepare the asparagus. First, dip the asparagus one by one into the flour, soy milk, salt and pepper mixture and, then, dip them into the breadcrumbs, cashew parmesan and lemon zest mixture. As asparagus are coated, place them side by side in a baking dish, making sure they are not caked.
Introduce the baking dish in the oven and bake for 15 minutes, making sure the asparagus do not burn. After this time, when they are brown, take the asparagus out of the oven and serve freshly baked.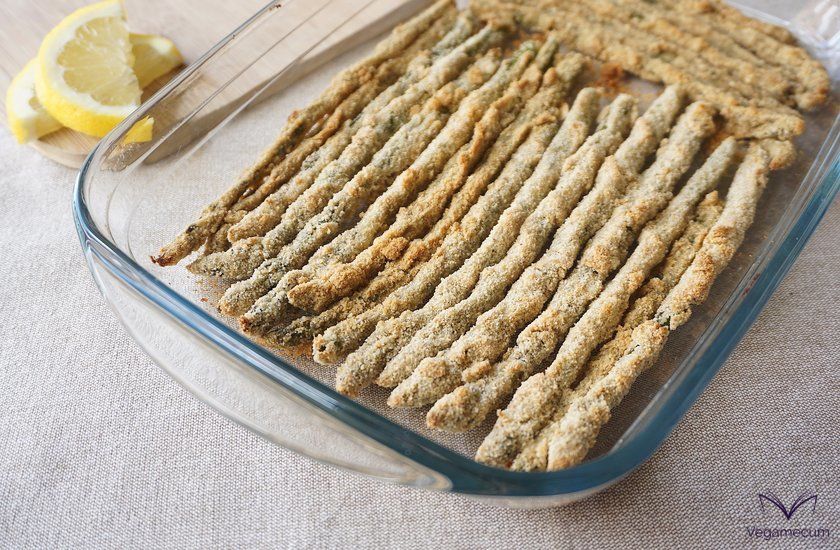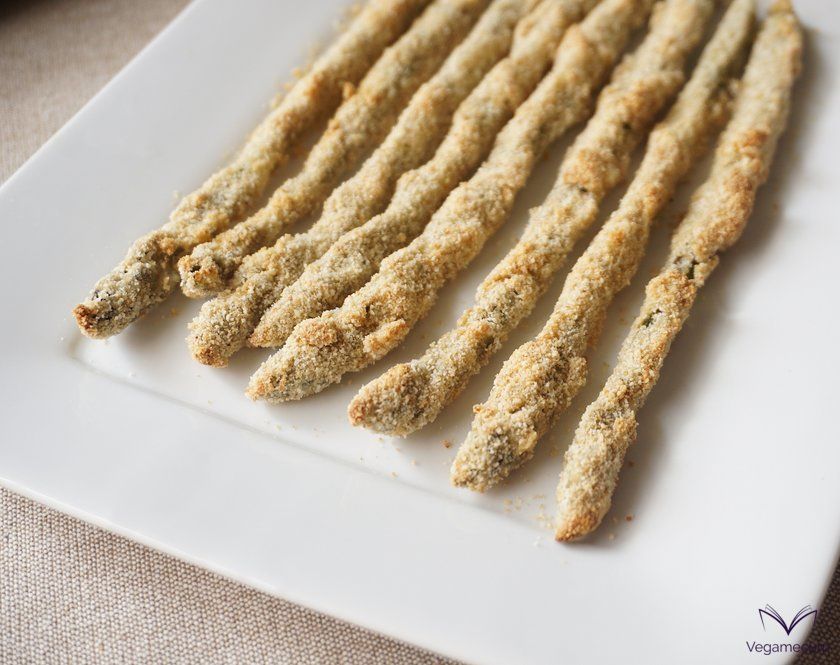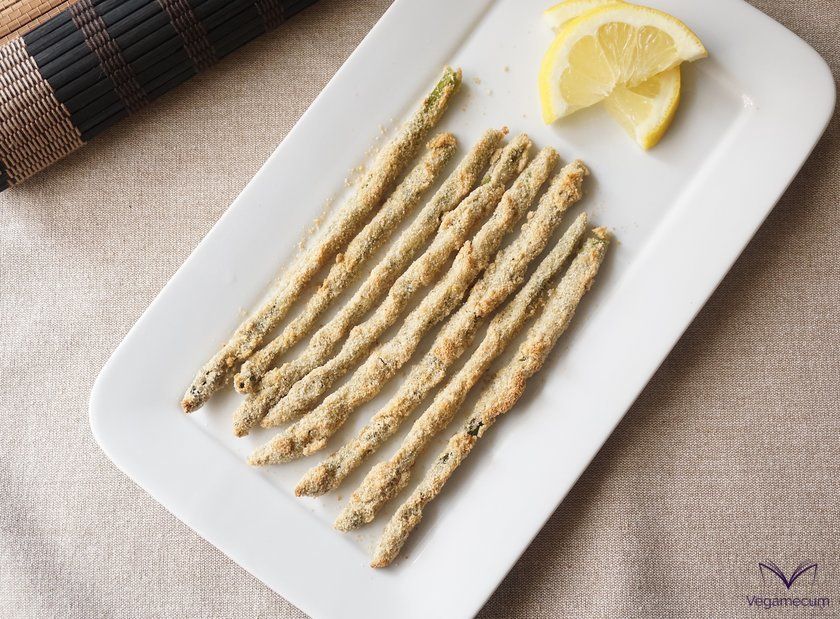 Notes
When it comes to grating the lemon peel, it is important that it be clean and, if possible, that it be organic.
So that the flavor is not altered, we recommend that soy milk be without added sugars.
It is important that the dish or bowl where we make the mixture of bread crumbs, cashew parmesan and lemon zest is wide enough so that the asparagus will fit well when batting.
If you want a thicker coating of batter, you can again pass the asparagus, once battered, by the mixture of Yolanda flour and soy milk and by the mixture of bread crumbs, cashew parmesan and lemon zest.
If you want an even crunchier consistency, you can bake the asparagus with the air from the oven placed during the last minutes to dry them.
We recommend that, once baked, you consume the asparagus freshly removed from the oven, as they soften quickly.
If you have any questions, you can leave it to us in the comments. And if you dare and want to show your creations to the world, do not hesitate to label us, we will love to see them through the networks!
Do you join us on social networks? You will find us on Facebook, Twitter, Instagram and Pinterest!