Sweet porridge is a recipe that is traditionally prepared in Spain for All Saints' Day (November 1st), especially in Andalusia and in the Badajoz region (Extremadura). Although they are reminiscent of custard, the process is more similar to that of a bechamel, so the result is a kind of sweet, creamy bechamel with exquisite and fragrant nuances.
The aromatic and sweet flavor of cinnamon and anise (matalahúva), together with the delicate citrus essence provided by lemon, make this classic All Saints Day dessert one of the most stimulating for the senses.
Popularly, this recipe is also known as 'Puches', which comes from the Latin word 'pultes', which is how the Romans called this dessert, as can be seen in the oldest cookbook on record to date: 'De re codamientos'; book written between the 1st, 2nd and 3rd centuries AD and which houses the recipes of Marco Gavio Apicio.
In fact, it was not until the 15th century when the term 'porridge' appeared, so it is not surprising that the most widespread name to refer to this dessert is 'puches', a word that some linguists consider to be one of the most ancient languages of the Castilian language, having even given a name to the pot.
This vegetable version is a more delicate and light recipe of the traditional dessert, since it is made without animal milk and, therefore, its flavor is more refined and does not contain lactose, cholesterol, or trans fats. On the contrary, what it does contain are isoflavones , protein , B vitamins (especially vitamins B6 and B9 or folic acid ), phosphorus , potassium , magnesium and fiber .
On this occasion, in addition, we have made the porridge using whole wheat flour, so they are even more nutritious, since all the nutrients of the whole wheat grain are used and it contains a higher level of fiber , as well as essential amino acids , vitamin E , vitamins of group B ( B1 , B3 and B9 or folic acid ) phosphorus , iron , magnesium , potassium and zinc .
As can be seen in the photos of this recipe, sweet porridge is used to accompany croutons (fried bread cubes), but they are even more exquisite, if possible, accompanied with fried almonds or walnuts, as well as more interesting nutritionally.
If we look closely at its characteristics, this dessert is slightly reminiscent of rice pudding (although with a softer and finer texture), as well as Catalan cream (despite the fact that the latter does not use wheat flour and has a thin layer of roasted sugar), which gives you an idea of how absolutely irresistible it can be. And it is a delicious treat, with a sweet and unmistakable aroma and that, in addition, it is very simple and easy to prepare.
Below you can see what ingredients you need and the steps to follow in order to make a classic and appetizing All Saints Day dessert that is very affordable and quick to prepare.
| | | |
| --- | --- | --- |
| Difficulty level | Preparation time | Rations |
| Easy | 1 h. | For 6 servings |
Ingredients
150 gr. whole wheat flour
1 and 1/4 l. soy milk
150 gr. whole cane sugar
1 tablespoon aniseed (Matalahúva)
1 cinnamon stick
1 lemon peel
100 ml. extra virgin olive oil (Smooth flavor)
50 gr. bread (of the previous day)
ground cinnamon (to sprinkle on top)
Instructions
In a saucepan, put to heat the soy milk with the lemon peel and cinnamon sticks over medium heat. When it is about to boil, remove from the heat and set aside.
While the soy milk with the lemon and cinnamon is heating, cut the bread into small cubes.
Put to heat the oil in a deep frying pan and, when it is hot, add the bread cubes, letting them brown. Next, remove them from the pan and let them drain in a colander to remove excess oil.
Put to heat again the oil where the bread has been fried and, when it is warm, add the aniseed and remove from the fire. Let the aniseed settle for 1 minute.
After this time, strain the oil, clean the pan to remove any traces of aniseed that may have remained and put to heat the strained oil on it. Add the flour to the pan and toast it over medium heat, stirring for 3 minutes to remove the raw flour taste. After this time, put the toasted flour in a large pot.
Put half of the sugar in the pot where the flour is, remove the lemon peel and the cinnamon from the soy milk and, with low heat, add half of the milk little by little and stirring constantly so that the flour mixes with the milk without lumps forming. When half of the milk is added, add the rest of the sugar and continue stirring without stopping while adding the rest of the milk. Continue stirring and, when it starts to boil, remove from the fire.
Once finished, pour the porridge into small bowls, put some croutons and a little ground cinnamon on top and serve.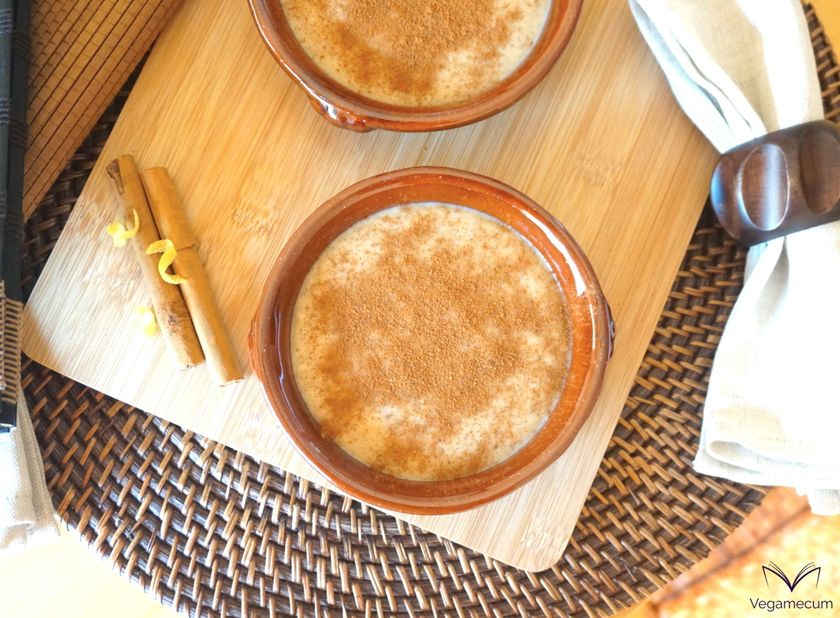 Notes
If you want a softer texture puches, you can use normal wheat flour.
Make sure that the bread you use does not contain anything of animal origin, such as butter, milk, egg and / or mono and diglycerides of fatty acids of animal origin (e471).
If you prefer, you can replace the croutons (fried bread) with fried almonds or walnuts.
If you have any questions, you can leave it to us in the comments. And if you dare and want to show your creations to the world, do not hesitate to label us, we will love to see them through the networks!
Do you join us on social networks? You will find us on Facebook, Twitter, Instagram and Pinterest!