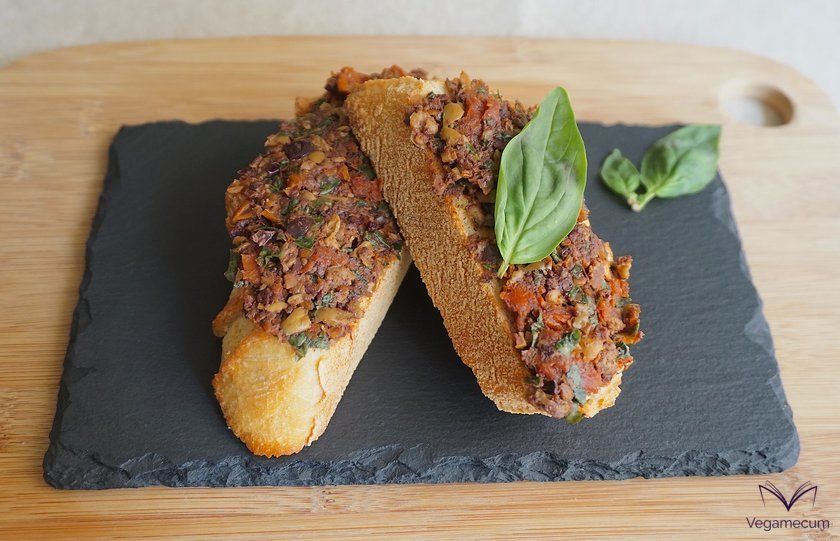 This tapenade of olives and dried tomatoes is something more rustic than the conventional one, since the texture has more body, giving us a lot of play when using it, allowing us to enjoy small explosions of delicious flavor in each bite.
The tapenade, whose name comes from the Provencal word 'tapéna' which means 'caper', is a kind of olive pate very popular from Provence, where it is believed that it was created by the French chef Jean-Baptiste Reboul back in the year 1880, specifically in the old restaurant 'La Maison Dorée' in Marseille, despite being very typical pasta made from olives until that date.
Another difference of this tapenade compared to the usual is the variety of its ingredients, as well as olives and capers, it has ingredients that give an irresistible degree of sweetness and acidity, such as dried tomatoes and lemons; and delicate aromatic notes provided by the basil.
Thus, its flavor is alive and intense, aromatic and with a refreshing citric point that, together with its fleshy texture, makes it ideal to take it as a starter, on slices of toasted bread alone or smeared with vegetable ricotta cheese , as a stuffing of Portobello mushrooms , artichoke hearts or buds; or to accompany with rich sticks of polenta flavor parmesan .
Regarding its nutrients, this is a recipe rich in antioxidants , flavonoids , fiber , omega 3 and omega 6 fatty acids , alliin , beta carotene , lycopene , caffeic acid , essential oils , vitamins A , B1 ( thiamine ), B6 ( pyridoxine ), C and E , calcium , phosphorus , iron , magnesium , manganese , potassium , selenium , sodium and iodine .
Below you can see what ingredients you need and the steps to follow to make this spreadable so tasty.
| | | |
| --- | --- | --- |
| Difficulty level | Preparation time | Rations |
| Very easy | 15 m. | For 200 grams |
* Plus 15 minutes of hydration
Ingredients
60 gr. black olives (boneless)
60 gr. green olives (boneless)
60 gr. dry tomato
1 teaspoon caper
20 gr. fresh basil
1 clove of garlic
2 teaspoons lemon juice
1/2 teaspoon pepper
Instructions
We put the dried tomatoes to hydrate in hot water for 15 minutes
We debone the black olives and the green olives, toss them together with the rest of the ingredients in the glass of the chopper and chop everything until all the ingredients are well blended, being careful not to pass in order to obtain a coarse texture.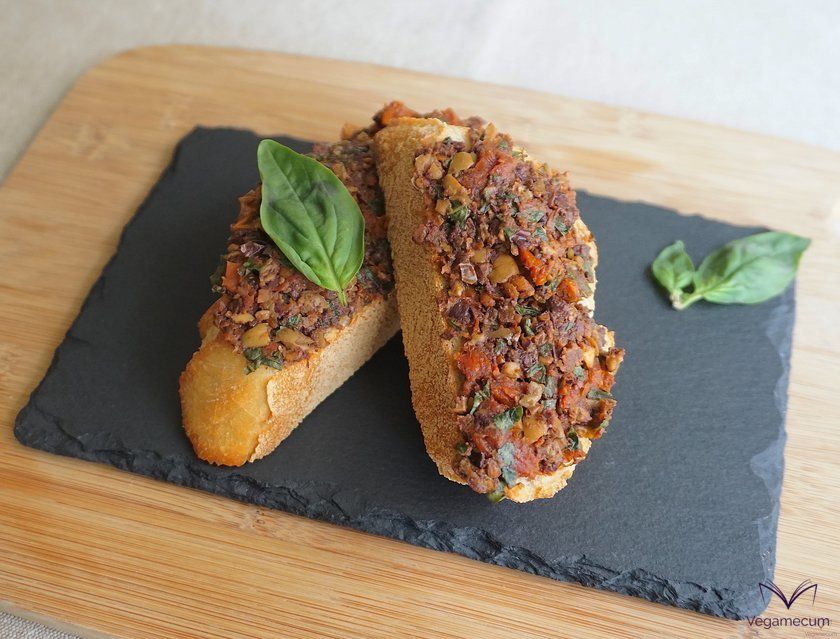 Notes
If you want a smoother texture tapenade, you can prepare it with a blender instead of a chopper, beating until it is a homogeneous paste.
This is an ideal spreadable dish, on slices of toasted bread alone or with vegetable ricotta cheese , as a filling of Portobello mushrooms, artichoke hearts or buds; or to accompany with rich sticks of polenta flavor parmesan .
If you have any questions, you can leave it to us in the comments. And if you dare and want to show your creations to the world, do not hesitate to label us, we will love to see them through the networks!
Do you join us on social networks? You will find us on Facebook, Twitter, Instagram and Pinterest!