This enchilada dip is a delicious and easy to prepare entree that conquers by its juicy texture and rich flavor, subtly sweet and with an irresistible spicy point.
It is an ideal dish to dip with nachos and very nutritious, since it is made with beans, natural tomato, sweet corn and portobello mushrooms, all well seasoned with vibrant spices and covered with a tasty layer of homemade 100% vegetable parmesan.
This recipe is rich in proteins , flavonoids , carbohydrates , allicin , alliin , omega 9 fatty acids, terpenoids , lycopene , fiber , vitamins A , C , E and group B ( B1 , B3 , B6 , B7 and B9 or folic acid ) ; Gamma Butyric Acid (GABA), sulfur , calcium , phosphorus , iron , magnesium , manganese , potassium , selenium , sodium , zinc and, to a lesser extent, copper .
In addition, sprinkling cashew nut parmesan on top, we add proteins , omega 6 essential fatty acids, tryptophan , phytosterols , fiber , vitamins E and group B ( B1 , B2 , B3 , B5 , B6 and B9 or folic acid ), magnesium , potassium , phosphorus , selenium , copper , manganese , chromium , lithium , vanadium , molybdenum and zinc .
Below you can see what ingredients you need and the steps to follow in order to make this appetizing version of enchilada to dipe.
| | | |
| --- | --- | --- |
| Difficulty level | Preparation time | Rations |
| Easy | 1 h. | For 3 people |
Ingredients
1 red onion
2 garlic cloves
200 gr. portobello mushrooms
240 gr. cooked black beans
3 pear tomatoes
1 teaspoon cumin (ground)
1 teaspoon raw cane sugar
1 cayenne chili pepper
1 teaspoon "for chicken" seasoning
4 tablespoons extra virgin olive oil
1/2 vegetable stock cube
200 ml. water
1/2 teaspoon salt
1/4 teaspoon pepper
75 gr. boiled corn
Instructions
Wash the mushrooms, cut them in thick slices and cut that ones in half. Set aside.
Chop finely the onion and garlic cloves. Set aside.
Wash the tomatoes, make a cut in the skin and scald them introducing them in boiling water for 20 seconds. When scalded, rinse with cold water and peel them. Then, chop the tomatoes and set aside.
Heat the oil in a pan and, when it is warm, add the mushrooms and cook for 5 minutes, until they release the water. After this time, take the mushrooms out of the pan and drain them in a colander or a drainer to remove excess oil. Set aside.
Heat the pan where the mushrooms have been cooked, add the onion and garlic and sauté over medium heat for 5 minutes, until the onion is transparent.
After this time, add the tomatoes, cumin cayenne pepper and let cook for 5 minutes. When the tomato is fried, blend until puree and set aside.
Heat the water in a pot, add the vegetable stock cube and stir to dissolve it well. When the stock cube is dissolved, remove from the heat and set aside.
In a large pot, heat the puree over medium heat and add the broth. Stir, reduce heat to low and cook it for 15 minutes, stirring occasionally.
When the sauce is ready, add the beans and corn well washed and drained, add the mushrooms, pepper, seasoning and more salt (if necessary). Cook for 5 minutes, stirring carefully from time to time.
After this time, turn off the heat, sprinkle with cashew parmesan and serve.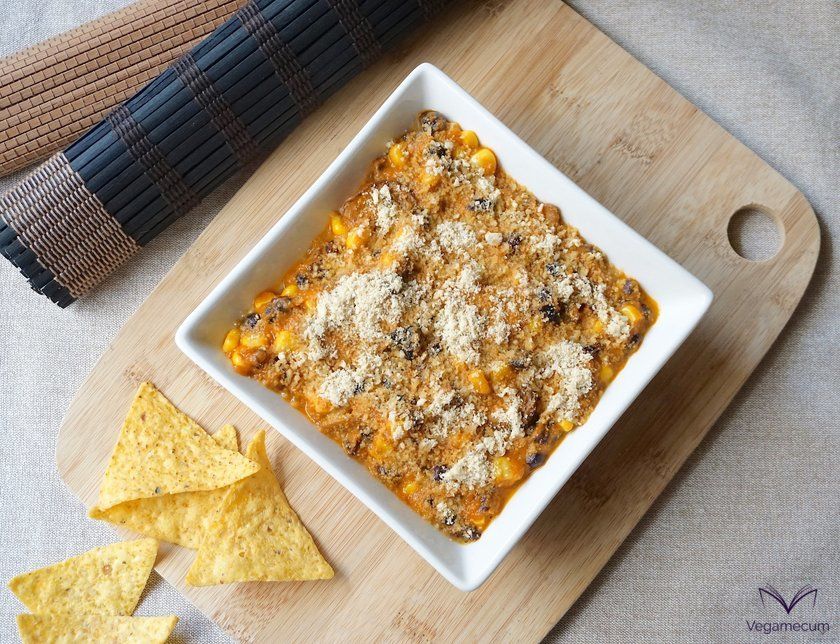 Notes
If you have any questions, you can leave it to us in the comments. And if you dare and want to show your creations to the world, do not hesitate to label us, we will love to see them through the networks!
Do you join us on social networks? You will find us on Facebook, Twitter, Instagram and Pinterest!