Pão de Deus is a traditional bun from Portugal that is consumed on All Saints' Day. Also known as estaladinho or wrinkled, it is a tender bagel, brioche type, with a soft and delicate flavor with subtle citrus notes and covered by a creamy lightly toasted layer of coconut, lemon and sugar.
All Saints' Day is a holiday that, like Halloween, has its origin in the feast of Celtic origin 'Samhain'; and in the Portuguese country it is also called 'Dia do Bolinho'. This celebration takes place on day 1 in the morning, when Portuguese children walk the streets asking for sweets, since its beginning dates back to the year 1756, the year in which an earthquake devastated the city of Lisbon and the neighbors were asking for bread and alms from Door to door, especially for the little ones.
The taste of this bun is not extremely sweet, since it is the coverage that brings all the sweetness. This makes it a sweet but cloying thing in which you can easily appreciate the taste and aroma of each of the ingredients.
In addition to its flavor and texture, the best thing about this recipe of Pão de Deus is that it is made without eggs and without dairy, so in addition to being respectful of animals, it is free of cholesterol, lactose, casein and trans fats.
Below you can see what ingredients you need and the steps to follow in order to make this traditional and delicious Portuguese sweet.
| | | |
| --- | --- | --- |
| Difficulty level | Preparation time | Rations |
| Half | 45 m. | For 12 units |
* Plus 95 minutes of rest
For the mass
600 gr. wheat flour
75 gr. cane sugar
75 gr. non-hydrogenated margarine (at room temperature)
50 ml. soy milk (warm)
zest 1 lemon
200 ml. water (warm)
11 gr. dry yeast
1 teaspoon salt
For coverage
1 tablespoon flax seeds
3 tablespoons water (warm)
80 gr. grated coconut
50 gr. sugar
125 ml. soy milk
powdered sugar (to sprinkle)
Instructions
In a bowl, we take 102 gr. wheat flour, we make a hole in the center and we add salt, yeast and soy milk (warm). Knead for 5 minutes.
Once kneaded, form a ball, cover it with a clean cotton cloth and let sit for 20 minutes in a warm place away from air flows.
After this time, put the rest of the flour in a bowl and add the sugar, lemon zest, margarine and warm water. Mix all the ingredients, add the ball of the other bowl and mix and knead well for 10 minutes, until obtaining a soft, smooth and elastic dough.
After this time, form a ball, cover again with a clean cloth and let sit for 30 minutes in the same conditions as before (warm place without air flows).
After this time, take the dough ball, divide it into portions of 85 gr. each one and place them in a baking tray covered with oven paper. Cover the tray with the cloth again and let sit for 45 minutes in the same way as the previous times (warm place without air flows).
Meanwhile, prepare the topping. Grind the flax seeds and, in a small bowl, mix them with the warm water, stir and let them hydrate for 15 minutes. Set aside.
Once the flax seeds have been hydrated, mix with the grated coconut and the sugar and gradually add the soy milk, until it forms a thick and consistent dough. When the topping is ready, set aside and preheat the oven to 175º.
When the buns have risen, coat them with a little soy milk and cover them with the topping so that they are well covered.
Once all the buns are covered, introduce the tray in the oven (in the penultimate guide) and bake for 15 minutes, ensuring that they do not burn on top.
After this time, remove the tray from the oven and let the breads cool a little. When they are warm, sprinkle a little glass sugar on top and serve.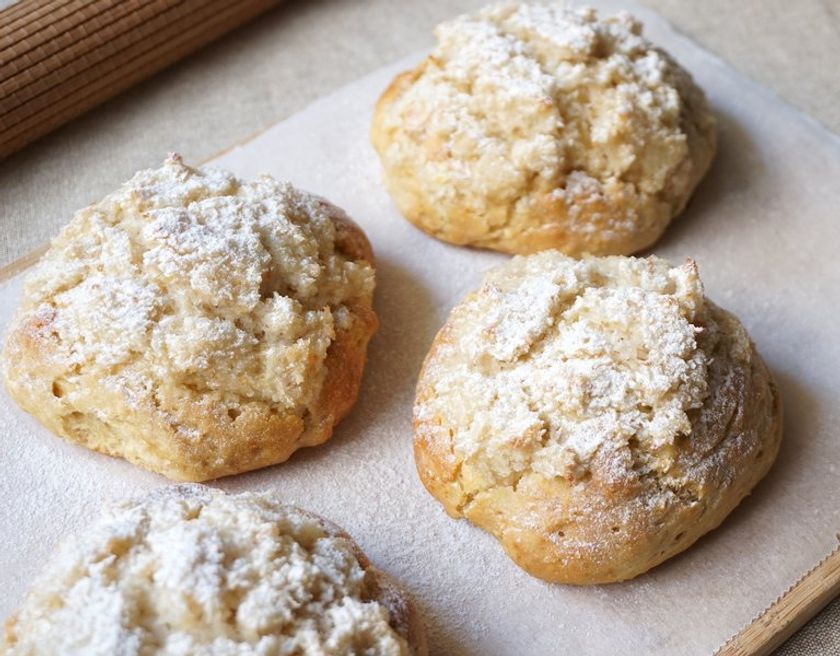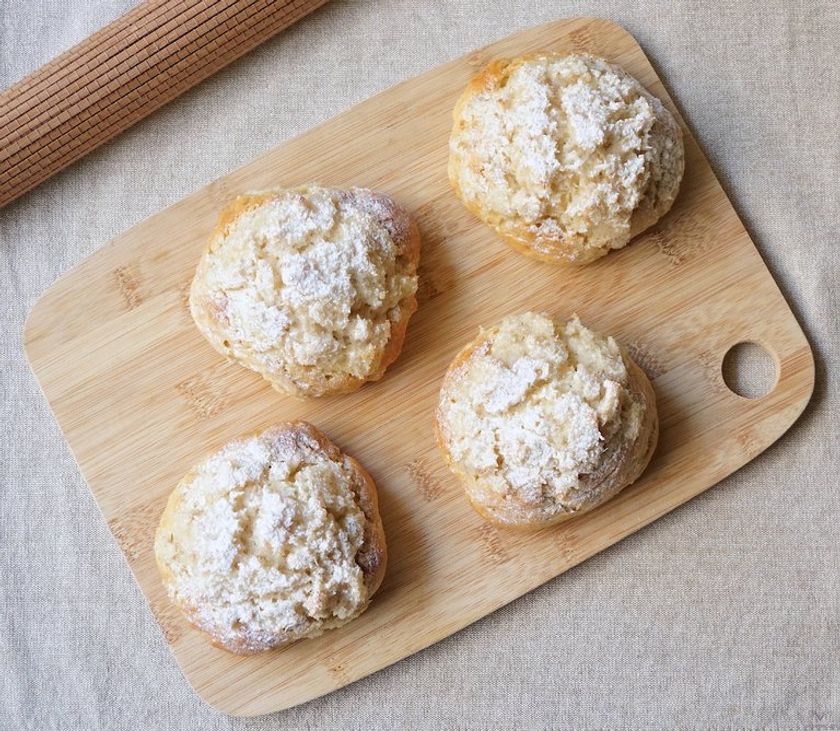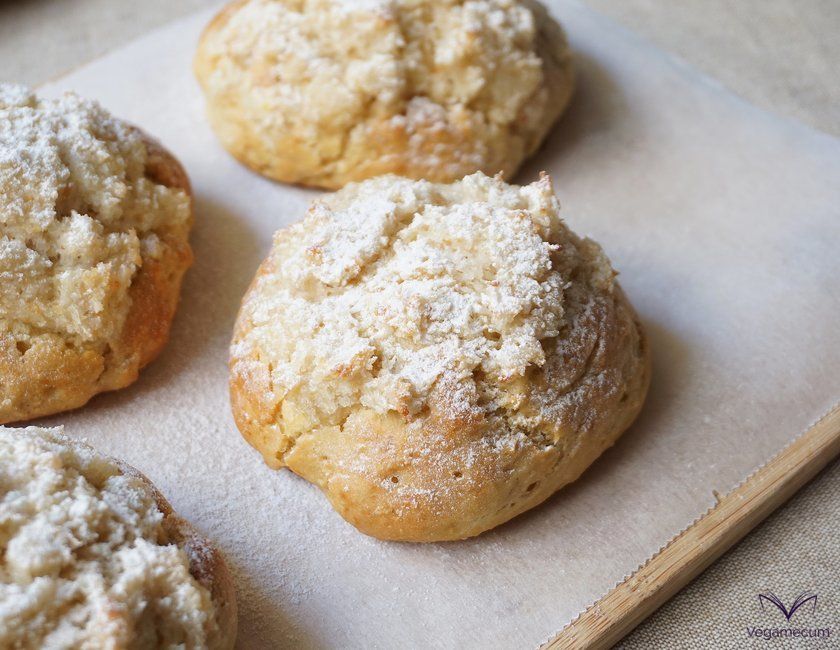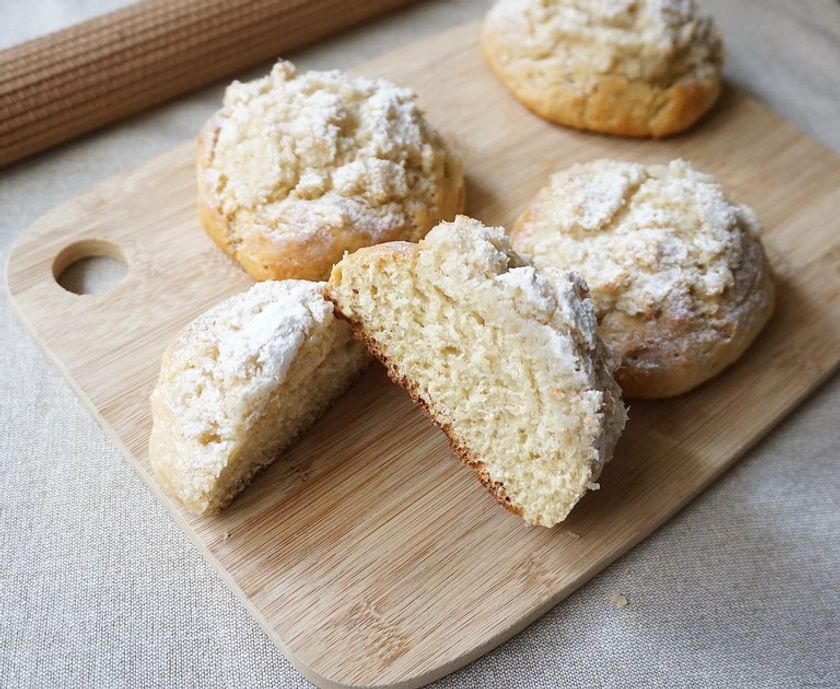 Notes
Pão de Deus is characterized by being a sweet little sweet bun that highlights the sweetness of the cover, but if you prefer a sweeter bun, you can add a little more sugar to the dough.
When choosing margarine, see that it is not hydrogenated and does not contain palm oil among its ingredients or any component of animal origin (eg, gelatin or whey).
We recommend washing the lemons very well before grating them and that, if you can, use them organic.
If you don't have glass sugar on hand, you can do it using a mixture of 95% sugar - 5% corn starch, and grinding it in a coffee grinder. In this way you can make glass sugar using cane and brown sugar.
If you have any questions, you can leave it to us in the comments. And if you dare and want to show your creations to the world, do not hesitate to label us, we will love to see them through the networks!
Do you join us on social networks? You will find us on Facebook, Twitter, Instagram and Pinterest!